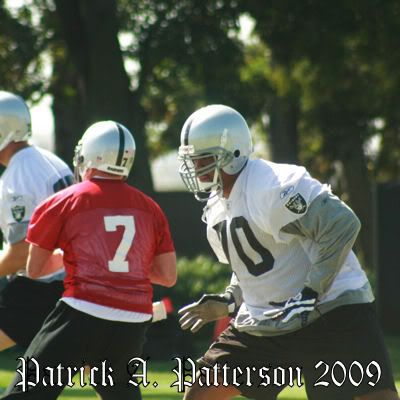 Jeff Garcia (7) was among the Raiders cuts today.
(Photo by Parick A. Patterson)
The Raiders have announced their cuts. The biggest names were leaked prior to the conference call with Tom Cable. However, there were a few minor surprises when the final list of cuts were announced.
Another draft choice could not crack the final 53man roster, joining Stryker Sulak as washouts from the 2009 Oakland Raiders draft. Conversely, there were two undrafted free agents who were able to overcome the odds and make the final 53 man roster.
Here is a look at who made it and who didn't on a position by position basis.
Quarterbacks:
Cut: Jeff Garcia
The biggest surprise today was the move to eliminate projected second string quarterback Jeff Garcia. However, Cable alluded to Garcia having issues adapting to the role of a backup as to the reason for his cut. "I think that the fact that whether or not he's comfortable in his role as a backup, it is what it is. JaMarcus is our guy and those other two guys did a great job in terms of performing on game night."
Running backs:
Cut: Gary Russell and Marcell Reece
Halfback Gary Russell and fullback Marcel Reece were the victims of the numbers game. Ultimately, Louis Rankin's second consecutive strong camp was enough to grant him a roster spot. Luke Lawton's veteran presence at fullback and abilities on special teams gave him the nod over Reece.
Tight Ends:
Cut: Darrell Strong
Strong was simply outplayed by sixth round pick Brandon Myers. Tony Stewart is a warhorse on special teams, and no way Zach Miller was ever in any danger.
Wide receivers:
Cut: Jonathan Holland
Undrafted free agent Nick Miller played his way onto the team at this position as a return man, which was evidenced in the release of Justin Miller. The bigger surprise is that Todd Watkins did not make the cut list. He is probably insurance against Chaz Schilens's foot injury.
Offensive line:
Cut: Seth Wand, James Marten, John Wade & Mark Wilson
No surprises in this position at all.
Defensive line:
Cut: Ryan Boschetti, Terdell Sands, & Greyson Gunheim
The writing has been on the wall for Terdell Sands since the 49ers game. Gunheim has been one of those players on the margins, and the addition of Matt Shaughnessy pushed him away. Boschetti was not impressive enough to crack the final 53. The biggest surprise is the emergence of undrafted free agent Desmond Bryant who had the only sacks by a defensive lineman for the preseason.
Linebackers:
Cut: David Nixon, Slade Norris, Morlon Greenwood, Chris O'Neill
Slade Norris was a fourth round pick out of Oregon State just could not make the transition from defensive end to linebacker. Cable said, "Just overall development and his ability to make the transition from being a guy rushing the passer with one hand down to standing up and playing it enough. Although he did some of it in college it just didn't feel like it came along quick enough. So we'll see what it means." Beyond Norris not adjusting, there aren't any surprises here.
Defensive backs:
Cut: Jerome Boyd, Rashad Baker (injury cut), Justin Miller, Michael Hawkins (injury cut), Darrick Brown
The Raiders have to be hoping that Boyd can clear waivers and be added to the practice squad. He played well, and it is surprising that Michael Huff was kept ahead of him. Justin Miller lost his spot when Nick Miller showed promise in the return game.
Special teams:
Cut: Ricky Schmitt
No surprise at all.