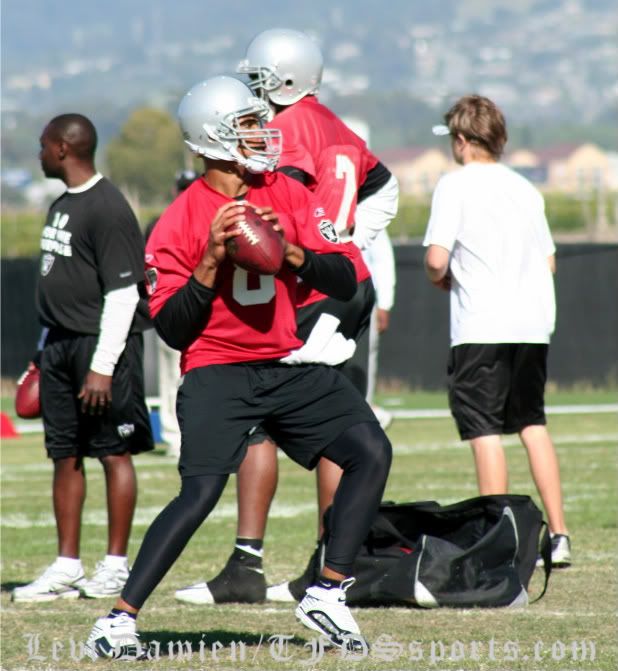 Campbell throws a pass at Raiders minicamp
Perhaps the story of the 2010 draft's third day was the trade by the Oakland Raiders to acquire QB Jason Campbell from the Washington Redskins for a fourth round pick in 2012. This weekend at the Raiders mandatory mini-camp, the ex-Redskin had his first opportunity to participate in practices with his new teammates. While he was finishing up his weekend in Alameda on Sunday, I was busy searching the net and trying to dig up all the dirt I could find on the Redskins first round pick from 2005.
started by watching nearly all his highlights/lowlights from the 2009 season, provided via NFL.com's Redskins video page. One of the things that I noticed during my video research process was that he got better as the season went along. This could be due to several factors. For one, the fact that the Redskins changed play callers about halfway through the season last year. Number two, they lost 3 or four starting offensive lineman last year, so the back-ups took some time to gel. Or, it could be due to the fact that the Redskins really never gave him a vote of confidence to start the year off on the right foot. There was constant talk of starting Todd Collins, drafting Mark Sanchez, and trading for Jay Cutler during the 2009 offseason.
Regardless of all the undermining done by the Washington staff, Campbell performed at a decent level in 2009, throwing for over 3,000 yards and 20 touchdowns. His passer rating in the red zone was through the roof at around 110.0 with 18 touchdowns and 0 interceptions. His completion percentage was a soaring 64.5 percent overall for the year, up from the 62.4 percent mark he hit in 2008. While he increased his career touchdown pass mark to 55 total touchdowns, but he also threw a disheartening 15 interceptions, which was also his career high for a season.
I have to admit, when the idea was first posed that the Raiders should trade for Campbell my initial thought that there had to be other options. I even wrote an article saying that the Raiders should look at other team's back-ups before they looked at this former Washington starter. However, in just a few short weeks, Campbell has grown on me. I read an article today that was written by a colleague of mine on Silver and Black Pride; it was called "The Bacon Fat on Jason Campbell." In it, the author describes how he made it a point to go to the Redskins blog of SB Nation, and get thoughts from actual Redskins fans on Campbell. I'm going to give a few examples of what the folks of Hogs Haven had to say about Campbell:
ENsDad27 wrote- "I think you guys got a quiet leader who will instantly make your team better. It was obvious how your team rallied around [Bruce] Gradkowski last year & started playing better football; look for the same with JC. He will be the 1st one in the locker room in the morning & the last one to leave the film room at night. Good Luck, you got a steal"
RVA wrote- "He is WAY better than any other QB on Oakland's roster. I wish we had kept him instead of getting McNabb. I will admit McNabb is better but I just thought we have lots of things to improve and we could have used those picks to build some depth. I hope I am wrong and McNabb makes a huge difference. Raiders are now my 2nd favorite team because of JC."
And finally, Scorin' Scalps wrote- "Eyes like a deer caught in the headlights of a Mac truck; or at least that's what he looked like behind a Redskin's O-Line. Maybe, with some good receivers, and a line that can give him a little time to find the open man, he might get better. But, somebody's gotta convince him it's okay to pull the trigger, and keep the ball in the field; not always throw the ball to the sidelines."
I thought this was a fantastic way to get some honest insight in the opinion of people who actually lived through the Jason Campbell era in Washington. Campbell himself offered some insight into the situation in Washington last year when he spoke to the media on Saturday following his practice with the Raiders, "Last season, we had a pretty good year. We had a lot of injuries in our offensive line; we lost like three or four guys from the start. It made a pretty tough situation, but at the same time, you know, that doesn't mean anything as far as my career or myself. It's just a different situation."
Campbell is treating his trade to Oakland as a new start to his career. It is a career that has never really had any kind of stability as the Redskins have had nearly as much turnover in their coaching staff as the Raiders have. Campbell said once that he has had eight different offensive coordinators over the past ten years. He also talked about how much time it takes to adjust to the changing of offensive systems.
"It's going to take time all summer, OTA's and mini-camps, and then when training camp comes, that's going to be the mesh part of it," Campbell said Saturday. "Then once the preseason comes, you get in the games, you get accurate with the guys around you and hopefully by the time the season comes we be ready to roll."
Almost all of the Redskins fans who offered insight into the Silver and Black Pride article agreed that Campbell was a good worker who has the drive to be successful in the league. Campbell reiterated the sentiment by saying, "You have to have a mindset to come out every day and work extremely hard and understand when you get your reps you gotta make the most of them."
Raiders Head Coach Tom Cable spoke highly when asked his first impressions of Campbell, "Very smart, seems to be very poised. He's the one guy out there that this is all relatively new, but he seems to handle it. Very, very poised guy; doesn't seem to let anything really bother him. If he makes a mistake he's quick to want to know how he can fix it and move to the next play; a lot of maturity there."
It's easy to see how this type of guy can grow on you quickly when you really dig into who he actually is as a person. Compared to what Oakland has had over the past few years, I'd say they got a significant upgrade at a very low cost. He is said to be a guy who can shred zone coverage's with his laser arm when given the time to accurately assess the defense. Arm strength and 4.6 forty time speed make Campbell a dangerous passer on roll-out type plays. Hypothetically, if Oakland can find some success in their running game this year and Campbell can beat out Bruce Gradkowski (and the other challengers) for the starting QB position, he should have a chance to grow and become a staple in what is a very young Oakland Raiders offense.