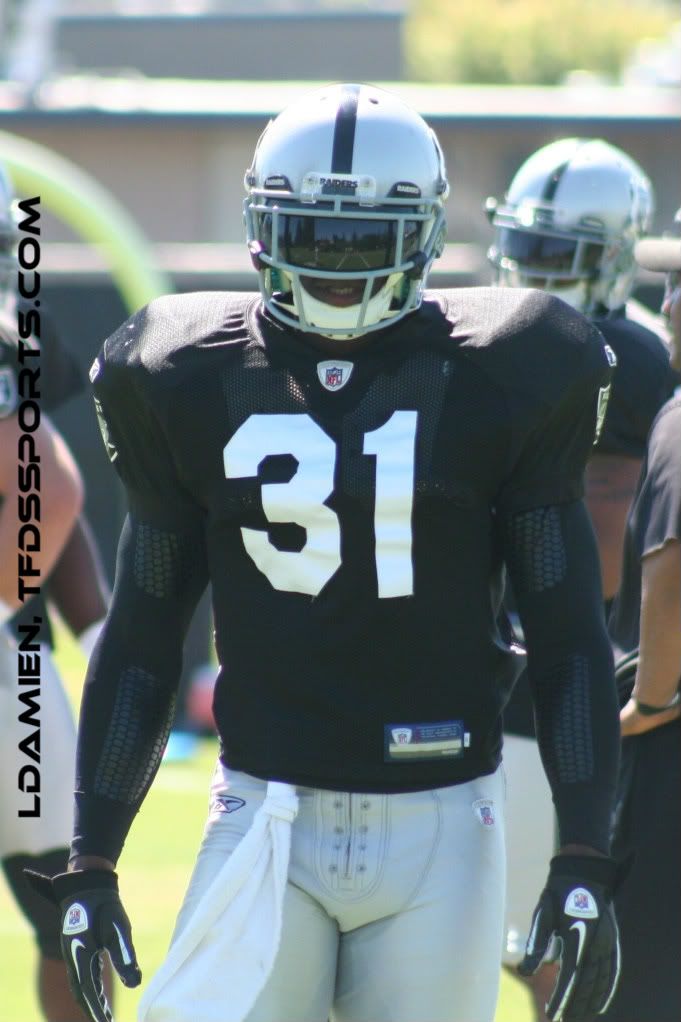 On this edition of four down territory, we'll talk about the Raiders losing their special teams ace, Hiram Eugene. Then we'll talk about the deepest position on the team this year and whether or not the Raiders can overcome the penalty bug. And finally we'll cap it off with some talk about depth at cornerback and whether the Raiders are winners or losers in their cornerback drafting over the last two seasons.
1st Down – What does the loss of Hiram Eugene really mean for the Raiders?
BA's Take: It's a big blow to the special teams unit because Hiram Eugene basically replaced Isaiah Ekejiuba, who used to be their second special teams ace to Sam Williams. But with the addition of Rock Cartwright last season, they actually had three guys nearly strictly for special teams. Some say that he is Michael Huff's back-up, but Stevie Brown has effectively replaced him as the second free safety at this point. In the long run, the Raiders have a lot of guys who can contribute to special teams, and putting Eugene on IR gives a new guy a shot at making the roster and could save the Raiders about $2 million in cap space this year.
Dizzle's Take: At the safety position, Eugene was not a big factor. He was re-signed this offseason and it was thought the team would lose Michael Huff. But Huff is back, Stevie Brown is listed as the second string free safety. Eugene's worth is on special teams. He is an asset in the return and coverage teams, something the team has put a premium on in recent years. His loss will be felt there but with last year's addition of players like Travis Goethel, Stevie Brown, and Rock Cartwright, they shouldn't suffer too much.
2nd Down – Is wide receiver the deepest position on the Raider roster right now?
Dizzle's Take: If it isn't, it is tied with the defensive tackle position. The defensive tackles have more talent top to bottom but the receivers are much younger. I would have said the safeties were the deepest until the team lost Hiram Eugene for the season.
BA's Take: It's hard to make an argument against it, but you could also go halfback here with McFadden, Bush, Cartwright, Bennett, Rankin, and rookie Taiwan Jones. It's definitely not cornerback, they proved that last year and in the first game this preseason. The quarterbacks looked good, but wide receiver is going to be that position this year where it will be hard to determine the final depth chart. Several of them serve as returners also, so that's going to be a factor. Injuries could also come into play.
3rd Down – Hue Jackson will likely keep the referees at training camp for the entire three week period. Can the Raiders effectively resolve the penalty issue?
BA's Take: Well, for one thing, the NFL referees are generally not kind when it comes to penalizing the Raiders. But having ten in the first preseason game that went for 84 yards actually isn't bad compared to their average yardage for ten penalties last season. Like Coach Jackson pointed out, it was basically a handful of guys out there. They can work on it, but to have it completely not be an issue is almost impossible. They are going to have to overcome some of this issue.
Dizzle's Take: The referees in practice don't change much, if anything. Hue has put an emphasis on penalties all camp thus far and they still had 10 penalties in their preseason opener. Excusing false starting as if it is somehow a lesser penalty just doesn't cut it. A penalty's a penalty's a penalty. This team has been destroyed by costly false starts for years, and they always seem to happen at the worst times. If the team is in scoring position, the line knows they must get a good jump so they get nervous and flinch. That can turn a third and short into a third and long, change from going for it on fourth and one to punting the ball away. Or in the case of the game last week, turn a field goal attempt into a punt. If false starts were so easily fixable, how is it that this team has been plagued by them for so long? I don't see much change in penalties for the Raiders. At least not this season.
4th Down – If you end up with one good corner out of the four over the last two drafts, is that a win?
Dizzle's Take: Yes. Because they were all mid to low round picks. Most teams, the Raiders included, would like to have those odds on first and second round corners. Cases in point since 2002: Phillip Buchanon (first round), Nnamdi Asomugha (first round), Fabian Washington (first round), Stanford Routt (second round), and John Bowie (fourth round). That is one great corner and one good corner out of five corners drafted in the previous eight drafts — four of whom were in the top two rounds. Not great odds for their draft positions. Getting one good corner of four corners drafted between rounds three and seven would absolutely be a win.
BA's Take: I can't say that it is because there have been so many of them. If undrafted rookies count in this, I'll take one of the drafted guys and the undrafted rookie from SMU, Sterling Moore. That to me would be a win. But if they only take one guy out of the last two draft classes, they are at a loss with only three total cornerbacks. That just will not work, quite frankly. I just can't wrap my mind around this being a winning situation. They need more than one guy to pan out for them. Honestly, of the group they drafted, I like Chimdi Chekwa to be the most physical of them. It's just too bad he has missed so much time and a game already.
Follow Levi Damien on Twitter @LeviDamien
Follow Bret Armstrong on Twitter @Raidersblogger
Follow TFDS on Twitter @TFDS
Search TFDS on Facebook