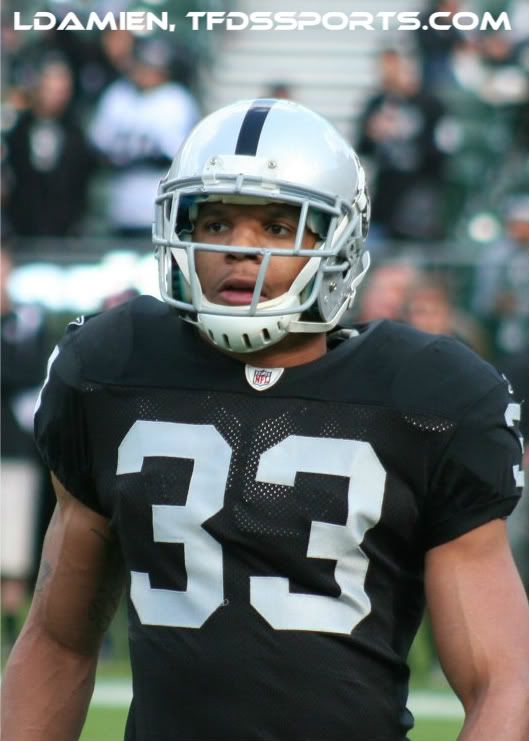 Raiders GM Reggie McKenzie declined to use the franchise tag on either of his priority free agents, OT Jared Veldheer and Lamarr Houston, earlier this week.

With the team opting against using the Franchise tag, one or both players are now eligible to go to free agency, which starts next Tuesday. Using the Franchise tag on one would have guaranteed the player on the team for 2014 would not have meant the player would necessarily sign a long term deal from there.

In fact, looking at the history of the tag, it appears that signing franchise players to long term contracts was at or near a low this last season.

There are many reasons that this could be. Perhaps teams are coming to the realization that players are no more likely to sign a long term contract that they like in a year's time than they are now. Perhaps it's driven by the players wanting more and more to test a free agent market that can give them a large payday (this seems the most likely to me, especially with the salary cap bump).
In the moment, it's always difficult to say what is happening. With hindsight, more of a pattern becomes clear and in the next few years, we will see if this is, indeed a pattern, or if 2013 was simply an aberration.
What was most surprising to me was that more players that the team deemed good enough to franchise were not then signed to a long term contract. Over the last five seasons only 58%, or basically 6 of every 10 players, were signed to a multi-year contract by the team that franchised them.
Prior to looking into it, I would have expected a number much closer to 75% or 3 of every 4 players.
Here is a list of the franchise players from the last five seasons. A * symbol before the name means the player and team eventually came to terms on a long term contract.
2013:
Safety Jairus Byrd, tagged by Buffalo
DT Henry Melton, tagged by Chicago
DE Michael Johnson, tagged by Cincinnati
LB Anthony Spencer, tagged by Dallas
*OT Ryan Clady, tagged by Denver
Punter Pat McAfee, tagged by Indianapolis
OT Branden Albert, tagged by Kansas City
1 of 7 (14%) received long-term deal (could go up)
2012:
*DE Calais Campbell, tagged by Arizona
CB Brent Grimes, tagged by Atlanta Falcons
*RB Ray Rice, tagged by Baltimore
*RB Matt Forte, tagged by Chicago
*Kicker Mike Nugent, tagged by Cincinnati
Kicker Phil Dawson, tagged by Cleveland
LB Anthony Spencer, tagged by Dallas
*Kicker Matt Prater, tagged by Denver
DE Cliff Avril, tagged by Detroit
*DE Robert Mathis, tagged by Indianapolis
*Kicker Josh Scobee, tagged by Jacksonville Jaguars
*WR Dwayne Bowe, tagged by Kansas City
WR Wes Welker, tagged by New England
*QB Drew Brees, tagged by New Orleans
*Punter Steve Weatherford, tagged by New York Giants
*Safety Tyvon Branch, tagged by Oakland
*WR DeSean Jackson, tagged by Eagles
Safety Dashon Goldson, tagged by San Francisco
*Kicker Connor Barth, tagged by Tampa Bay
*Safety Michael Griffin, tagged by Tennessee
TE Fred Davis, tagged by Washington
14 of 21 players (66%)
2011:
*LB Lamarr Woodley, franchised by Pittsburgh
*OG Logan Mankins, franchised by New England
*QB Michael Vick, franchised by Philadelphia
*LB David Harris, franchised by New York Jets
WR Vincent Jackson, franchised by San Diego
*DT Haloti Ngata, franchised by Baltimore
*QB Peyton Manning, franchised by Indianapolis
*Tamba Hali, franchised by Kansas City
*LB Chad Greenway, franchised by Minnesota
Kicker Phil Dawson, franchised by Cleveland
*Center Ryan Khalil, franchised by Carolina
*TE Marcedes Lewis, franchised by Jacksonville
OLB Kamerion Wimbley, franchised by Oakland
*DT Paul Soliali, franchised by Miami (only signed two year extension but we'll count it)
11 of 14 players (79%)
2010:
DT Aubrayo Franklin, franchised by San Francisco
Kicker Olindo Mare, franchised by Seattle
*DT Ryan Pickett, franchised by Green Bay
Kicker Jeff Reed, franchised by Pittsburgh
*DT/DE Richard Seymour, franchised by Oakland
*DT Vince Wilfork, franchised by New England
3 of 6 players (50%)
2009:
*LB Karlos Dansby, franchised by Arizona
Punter Michael Koenen, franchised by Atlanta (only a 2 year contract extension)
*LB/DE Terrell Suggs, franchised by Baltimore
DE Julius Peppers, franchised by Carolina
Kicker Shayne Graham, franchised by Cincinnati
CB Dunta Robinson, franchised by Houston
QB Matt Cassell, franchised by New England
*RB Brandon Jacobs, franchised by New York Giants
*OT Max Starks, franchised by Pittsburgh
RB Darren Sproles, franchised by San Diego
*LB Leroy Hill, franchised by Seattle
*Safety Oshiomogho Atogwe, franchised by St Louis
WR Antonio Bryant, franchised by Tampa Bay
*Kicker Rob Bironas, franchised by Tennessee
7 of 14 players (50%)