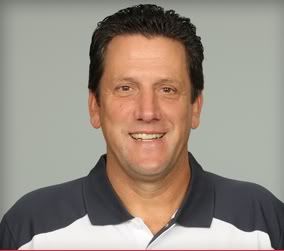 The coaching search for the Raiders has been a long mysterious process with mysterious names popping up seemingly out of nowhere. Dennis Allen as head coach was a somewhat unexpected move and his staff is shaping up much the same way. Or at least the hiring of Greg Knapp as offensive coordinator.
Up until Monday, it appeared Al Saunders was the odds on favorite for the job. He was the only Raiders coach from last season to be retained and was at the Senior Bowl in Raider gear. But at Dennis Allen's press conference, Allen appeared very hesitant when asked about whether Al Saunders could be his offensive coordinator.
"Al Saunders is a guy that is under contract with us right now and again we're exploring all our… avenues as far as what we're going to do there."
That other avenue, or at least one of them, turned out to be former Raiders offensive coordinator and now former Houston Texans quarterbacks coach, Greg Knapp.
Allen and Knapp have history. They served on Jim Mora Jr's staff in Atlanta for two seasons in '04-05. Allen was a defensive assistant while Greg Knapp was the offensive coordinator. During those two seasons, Allen must have seen something he liked in Knapp.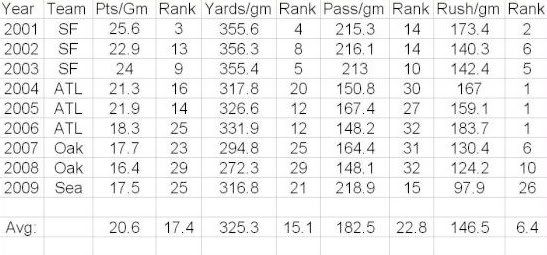 Knapp comes back to Oakland after previously coaching there in 2007-2008 under then head coach Lane Kiffin and interim head coach Tom Cable. Then, when Tom Cable had the interim removed from his head coach title, he decided he wanted to call the plays and Knapp moved on to the Seattle Seahawks to rejoin his former head coach Jim Mora Jr as offensive coordinator.
When Mora was fired after one season, Knapp went as well. He has been the quarterbacks coach for the Houston Texans the past two seasons. In his first season coaching the quarterbacks in Houston, Matt Schaub threw for 4370 yards. Last season in Houston Schaub went down with an injury and rookie round five pick TJ Yates took over at quarterback. The Texans rode Yates to their first division title and their first playoff win.
When Knapp was hired the first time in Oakland, he had previously served as offensive coordinator for the 49ers and Falcons. Despite being a quarterbacks coach, he is known for being a coach who likes to run the ball. Some of that reputation is skewed by the fact that he coached Mike Vick in Atlanta. He is also known for running the West Coast offense.
He is a surprise candidate to be sure but his coaching style fits what Reggie McKenzie and Dennis Allen are accustomed to. Allen said in his press conference on Monday what type of offense he would like to see with the Raiders.
"On offense we're gonna be uptempo; we're gonna be fast, we're gonna be aggressive," Allen reiterated. "We're gonna be able to run the football and run the football solidly so we can stay ahead of the chains on first and second down. And we're going to be explosive in the passing game. We've got those weapons in place to be able to do that."
Run-first offenses are what Knapp has been known for during his nine years as an offensive coordinator, though as an offensive coordinator he has never been given a quarterback with the talent of Carson Palmer before.
Knapp has had to coach several quarterbacks who were not known for their passing skills. His first stint as OC was in San Francisco with Jeff Garcia at QB who is more known for making plays with his legs and in the short passing game. Then he moved on to Atlanta and the extremely mobile Michael Vick.
Knapp's time in Oakland is what Raider fans remember him by, but that may not be a fair judgment. During his time in Oakland, his quarterbacks were Daunte Culpepper and Jamarcus Russell. His primary running back was Justin Fargas. There is not much he could do with that lack of talent. It is near impossible to judge him based on that.
This time around, he will have Carson Palmer at the helm with Darren McFadden and Michael Bush running the ball. With those kinds of toys, Knapp can open up the playbook.
However, with his history, Knapp and Carson Palmer would appear not to be a good fit. Oddly enough, Jason Campbell would be far more suited to what Knapp is used to having at quarterback. But there are a few things to consider about the West Coast offense.
First off, let's look at the two most prolific West Coast offenses in the NFL: the Saints and Packers. The Packers are Reggie McKenzie's former team and the Saints are Dennis Allen's former team. In both cases, despite the fact that they ran the West Coast offense, they were also known for airing it out with the big arms of Drew Brees and Aaron Rodgers.
Palmer is not known for his abilities to create plays with his legs but he has shown he is capable of doing so. He is not known for his skills in the short passing game but he has never been put in an offense in which he would have a chance to prove his abilities in that arena. What he does have, like Brees and Rodgers, is the ability to throw the long ball.
Greg Knapp is also known for running the zone blocking scheme. A statement by Dennis Allen at his press conference now becomes clear with the Knapp hiring.
"I think the more that you can substitute, the more you can show them different formations, the more you can show them different shifts, and still at the end of the day be able to run a lot of the same plays and still make it simple for your players, that's what's critical."
The zone blocking scheme relies on stunts and pulling guards to confuse opposing defenses. But the ZBS, like the west coast offense, would appear not to mesh with the Raiders' strengths.
Darren McFadden has never played well in the zone blocking scheme, though it is a bit of a mystery why he doesn't. He has the characteristics that would suggest he could. The success he has had the last two seasons could actually have more to do with a renewed running style than a change in scheme, which could mean another change in scheme would disrupt his new running style. It is hard to say.
The Raiders' current offensive line also has played much better since ditching the zone blocking scheme before last season.
Not to say they couldn't make the switch. The ZBS requires smart, athletic, offensive linemen, and the Raiders have a few of those. Jared Veldheer and Stefen Wisniewski are both very smart, the team traded for Samson Satele because they thought his athleticism would fit the ZBS, and Cooper Carlisle is a veteran of the ZBS. The only member of the current offensive line who may not fit the ZBS is right tackle Khalif Barnes. But the Raiders will be looking to replace him as the starter anyway.
There is no doubt the hiring of Knapp will mean considerable changes in the Raiders' offense. But with the new regime, big changes were expected.
Dennis Allen was asked if he would confirm the hiring of Knapp as offensive coordinator to which he responded, "I'm not going to confirm anything. When the time is right." That sounds like a non-denial to me. He and Reggie McKenzie both said that no offical announcements will be made until the staff is complete. So when that happens, the time will be right. The team still does not have a defensive coordinator so they are a long ways off from a complete staff.
In the meantime, Raiders former special teams coach John Fassel has joined the St Louis Rams in the same position. He was not expected to be brought back by the Raiders.
Follow me on Twitter @LeviDamien or befriend me on facebook.