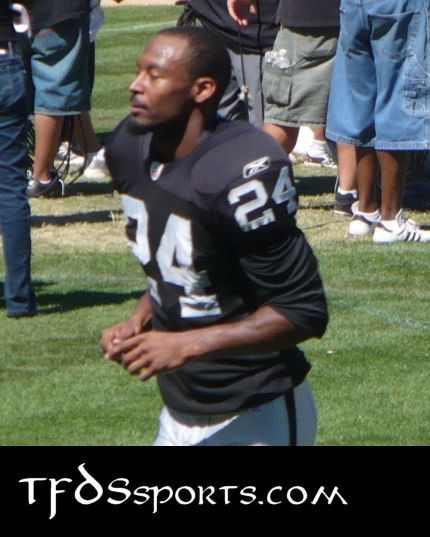 Every year there are familiar faces that find themselves unemployed once it comes time for the Oakland Raiders to announce their final 53 man roster. On the first, there will be five players who will no longer don the Silver and Black. That is a drop in the bucket compared to the 22 players the Raiders will have to jettison to get down to the regular season required limit.
Here is a look at the guys who will have to show something in the final game against Seattle in order to secure their roster spot come opening night.
Michael Huff- Huff has been invisible for much of the preseason. He was a big part of the defensive meltdown against the New Orleans Saints. He has never emerged as the payer the Raiders were expecting when they selected him with the number seven pick in the 2006 draft. He lost his starting gig near the end of last season, and has not done anything this camp to win that job back.
Todd Watkins- It may be too late for Watkins already, as it would not be a surprise to see him let go on the first. However, if he makes it beyond that cut down he will need a big game against the Seahawks to have any chance at that final receiver position.
Nick Miller- Miller was the story early in camp. However, his production has fallen off after he made the spectacular catch against the Dallas Cowboys. He is behind both Johnnie Lee Higgins and Justin Miller as a returner, and he could find himself on the practice squad if he doesn't show up against the 'Hawks.
Louis Rankin- Rankin was a sensation as an undrafted free agent in camp last year, but the trio of Darren McFadden, Michael Bush, and Justin Fargas as well as the Raiders keeping two fullbacks kept him on the practice squad. He is being outplayed by Gary Russell, and the practice squad is no longer an option.
David Nixon- Nixon had his name called a few times for tackles against the Saints. However, that is the only game where he has seen any significant action. He is going to need to have a big game against Seattle to get his name on the final roster.