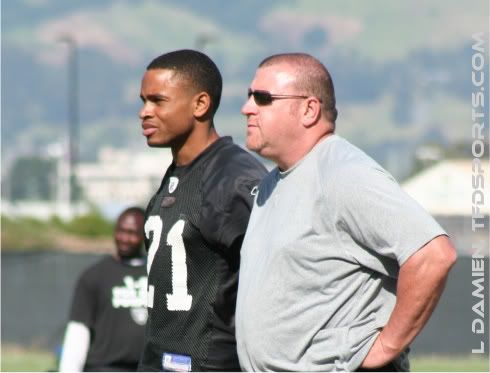 There is a lot of talk this offseason about what this Raider team is capable of. Sure, in years passed there are those fans who have managed to convince themselves that the Raiders were capable of great things every season. But the optimism about this team is not just coming from the die hard fans these days. And for the first time in seven years, the general consensus around the league is that of the expecation this Raider team will compete for a playoff birth.
Every offseason many fans find reasons to have hope for a winning season. For those couple seasons after the Super Bowl season of 2002, there was always the 'Hey, this team is just barely removed from being in the Super Bowl' kind of optimism. But not since the 03 season was anyone actually expecting the Raiders to win.
In 2005, the team traded for Randy Moss and fans had visions of long touchdown bombs from Kerry Collins that would harken back to days of the mad bomber Darryl Lamonica who led the Raiders into Superbowl II– it didn't happen that way. The defense gave up at least 21 points in 12 of the 16 games and soon Moss was taking plays off and the Norv Turner was fired.
Then in 2006, Art Shell was brought back as head coach, which had fans thinking the Raiders would return to glory under the Hall of Fame offensive lineman. That season turned out to be the worst season in Raider history as they finished 2-14.
During the 2008 offseason, Al Davis spent big money to sign Super Bowl winning safety Gibril Wilson, former Pro Bowler Javon Walker and former All-Pro corner back, DeAngelo Hall. On paper, the secondary was touted as the best in the NFL. All of those big money signings were disasters. Hall was gone by midseason, Wilson was released after one season and Walker may as well have been because he spent almost the entirety of last season inactive before being released following the season.
Even prior to last season there was some cautious optimism among the fans. Russell looked like he was progressing to finish the 08 season and the team acquired Pro Bowl defensive end Richard Seymour. But that cautious optimism crumbled quickly and after just a few games into the season, the fans had given up on the team. The all-time low game attendance reflected that.
After week ten, JaMarcus Russell was benched and we discovered that this team was capable of playing at an extremely competitive level with some decent quarterback play. The defense played well at times but, through the first part of the season, it was overshadowed by poor offensive play and turnovers. The team went from 2-7 in the first nine games with Russell at the helm, to 3-2 of over the next five with Russell on the bench.
But with Russell still on the team through mini camps, there was always a feeling that he could be handed an unearned starting role as he did last season. Especially after he looked the best among the quarterbacks on the first day of mini camp. That solid play dwindled and by the third day, he was back to throwing at ankles again. Even so, the possibility lingered until he was released a few weeks ago.
The other lingering worry about this team succeeding was it's awful offensive line play. The team spent two mid round picks on offensive lineman in Jared Veldheer and Bruce Campbell. But even before they step on the field, the offensive line is improved. Robert Gallery was plagued with injury nearly all of last season and is now back healthy. Right tackle Cornell Green was the weakest link on the line and he is no longer with the team. He will be succeeded by one of two capable offensive tackles in Langston Walker and Khalif Barnes. And the rookies will provide solid depth and insurance in case of injury. Depth along the offensive line was another serious problem last season.
Also helping with the offensive line is new quarterback Jason Campbell. He and Bruce Gradkowski both have great pocket presence and mobility. That mobility will keep the oncoming rushers honest as they will have to account for the possibility of the QB tucking it and running should the ends over pursue. This also opens up the running game and screen passes which this team is built for but has never really been able to execute consistently.
On the defensive side of the ball, the linebackers needed the most help and so that is the area that received the most attention. The team traded for two starting calibre outside linebackers in Kamerion Wimbley and Quentin Groves. Then they drafted a couple of middle linebackers in first round pick Rolando McClain and sixth rounder, Travis Goethel while simultaneously trading away former longtime starter, Kirk Morrison.
Local and national sports media have begun taking note of the changes happening in Oakland. And for the first time since the year following the Raiders Super Bowl run, they are actually expecting this team to be good. One of the more improbable sources of good mention came from former Bronco and ESPN analyst, Mark Schlereth. He predicted the Raiders would compete for a playoff spot this season. He was even sure to preface his prediction by pointing out just how shocking that assertion is being that it came from him.
The most recent news comes from the Raiders 2nd set of OTA's where everyone is talking about Darrius Heyward-Bey having had his best practice as a pro. During mini camps, Coach Cable was telling everyone who would listen just how impressed he has been with Heyward-Bey's progress. It wouldn't take much to be considered progress after the 7th overall pick's 9 catch rookie season. But Cable insists it is more than just a little progress. In mini camps and OTA's prior to Wednesday, we had yet to really see what he was talking about. While I would caution getting too excited about one practice, I would also be remised to simply write it off as a fluke. We are quick to point out when he drops a pass or two so it is only fair that when he looks great that we give that some press as well.
That sentiment goes for the entire team. Of which, lately there has been almost nothing negative to be said about them. To the contrary, the mentions have been positive nearly across the board. There isn't even much controversy to speak of (knock on wood). This is not the type of Raiders team any of us are used to.
Last year, I made much of the fact that whenever this Raider team got confident, they struggled. Likewise, when they were criticized, they rose to the occasion. Now we will see if they can survive the sports world placing expectations on them to succeed.
It's like my company commander in boot camp once said to us "You're in trouble now! Now I KNOW you can do it and I will be expecting it from now on!"