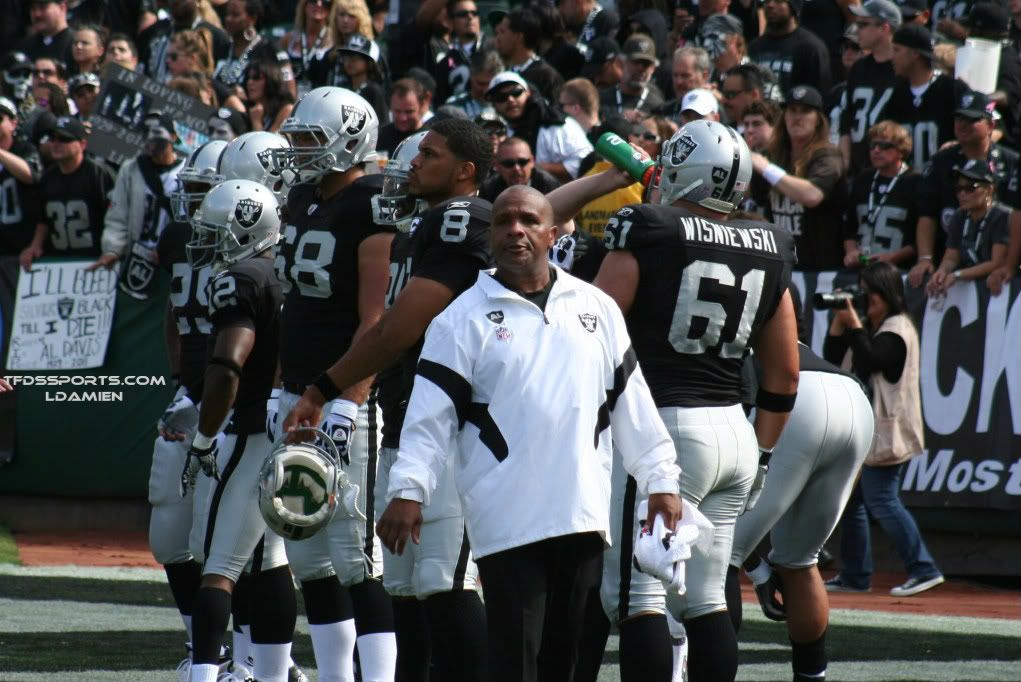 The Raiders have been blitzing more this season than they have in several years. Perhaps more than ever. This is all part of a new philosophy here, and head coach Hue Jackson takes the same approach as he has with the offense. He also did not pull punches when he spoke recently of the Raider defense.
"I think we're putting our players in a great situation to make plays," said Jackson. "I think we can be a great pressure team. I think it assists us in sometimes getting people off the field. I think it's a combination of everything but we still are a man team. We play a little zone every now and then but I wanna mix it up. I don't wanna play the same thing all the time. I think it's been pretty vanilla here in the past, and I think guys have kinda known how to attack us. Not that people beat us that way but I think we need to get better and do things differently and give these players more opportunity to have success."
That change in defense has ramped up considerably in the past two weeks. The team has blitzed 57 times in the last two weeks compared to just 34 in the first four games combined. In addition, opponents were averaging 9.6 yards per Raider blitz in the first four weeks and 3.4 yards per play in the past two.
The elephant in the room is the passing of Al Davis. As Jackson pointed out, the Raiders have been pretty predictable for a long time. You wouldn't expect the Raiders' defensive scheme to change overnight but in this case, it literally DID change overnight.
The blitzes the Raiders have been putting on their opponents are nearly unprecedented by this franchise. The mixing up of man and zone coverage is uncommon as well. The Raiders have long been known as a man defensive team. The result of the change up has been back to back wins, one against a good Texans team on their home field.
"I think [it is surprising teams]," said Mike Mitchell. "Especially some of our zone blitzes. Last week you had Colt McCoy come up to us and say 'Man, I thought you guys were going to play more man.' It's good when the quarterback says that because we are known for so much man coverage. But when we can throw wrinkles with some of our fire zone and other things, it gives them different looks."
One of the beneficiaries of the new blitzing philosophies is safety Matt Giordano who had a sack and a hit on the quarterback last week.
"I think we're just realizing who we are and what our strengths are," says Giordano. "We have great corners who can play man to man, and we have a great front line that can create havoc. And we have guys that know how to blitz. You put that all together, and you have a good pressure defense… I look forward to it, whenever I get the chance to blitz. I love blitzing."
Kamerion Wimbley sees the difference of late as well.
"Well, I think we have the talent to get after the quarterback, and we were trying to do that over the past couple games. I think we've been successful in some cases, getting to the quarterback and disrupting the flow of the game. If it's something that helps us win the game, I think we'll continue to do that."
The common thread among what the players are saying in regards to the defense is the Raiders have always played man coverage and not applied a great deal of blitz pressure on the quarterback and in the past two games all that changed. This has worked wonders and has really shaken opposing offenses out of their comfort zones.
They are right when they say the team has the players for it. They have the speed and coverage ability to blanket the receivers long enough to send a safety, corner, or linebacker on a blitz and be very successful in it.
Al Davis built the team with fast cover guys who can drop into coverage as well as they can get in the quarterback's kitchen in a hurry. As he used to say, "The quarterback must go down and he must go down hard." With this new aggressive playcalling, no one in the opponent's backfield has been having much success. It may not be the way Al would draw it up, but the results are something he would be very happy with.
Follow me on Twitter @LeviDamien or befriend me on Facebook.