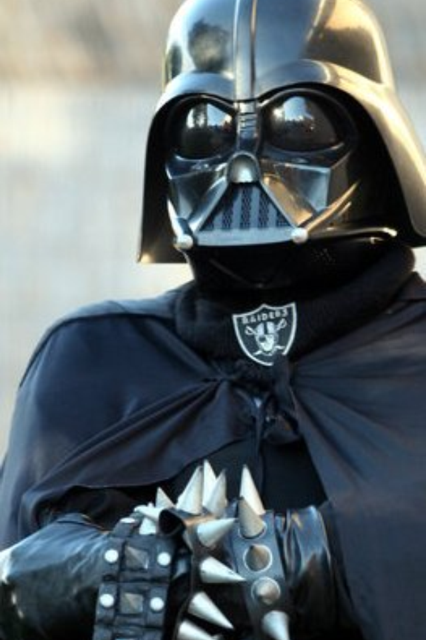 So this is it? This is how we discover what kind of team the Raiders are?
After all that was said in the past, after all of the grinding, promises about change, and continuous banter about the greatness being in the future, this is how we show what we truly are? Into the garbage chute, flyboys!
This hurts like getting your damn hand was cut off, doesn't it? (believe me, I know the feeling)
Truth be told, though, if you were honestly a good observer, you'd know we didn't have a chance in holy Hell of beating a team like this one. You hope for the best and all, but you honestly know the inevitable is coming.
All I can say is, if the greatness of the Raiders is in the future like a wise, old man once said, I just hope it's coming more sooner than later, kids.
Offense:
Here we are again. I really want to blame Palmer like the rest of you. I really do. But when you have an offense without the help of your number 1 and 2 Running backs, wield an under achieving offensive line, faulty playbook, and carry injured wide receivers, I just can't put it on him, fans.
We all know he makes mistakes at times and tries to fit passes in areas that shouldn't be thrown, but have you ever pondered why? He's simply trying to make a play!
You also have to question the unsure hands of the tight ends/receivers and also realize that miscommunication follows the offense. Take time to ask yourself once in a while; Who is not getting the playbook? A seasoned Veteran that has years under him or players that are young and just starting off in their short careers?
At least there was a silver lining. Marcel Reece had the game of his life. He almost racked up 200 yards of total offense! (193). He ran with the ball like a battering ram, caught the ball like a Vet and punished all of those who got in the way.
It was a great honor to meet him at a Warrior game and I will always remember how cool of a cat he actually was. Good things happen to good people, indeed.
I'll also give an honorable mention to Darrius Heyward-Bey (4 catches for 69 yards) and the continuing progressive, Brandon Myers (6 for 55 yards, 1 TD). He failed to catch a ball on a key down and beat himself up for it but a few plays later he caught a difficult pass in the Black Hole's end zone. That's what I call redemption, Raider Nation.
Defense:
We all know who is at fault most of the game and during the season, right? I mean, you don't get to be WORST in the NFL at giving up points for nothing, right?
Instead of listing the guys that I don't think had a great game or season, I'll simply list the guys we should keep around for the 2013 season: Miles Burris, Phillip Wheeler, Matt Giordano, Tyvon Branch and Mike Huff. The rest are open for debate.
An honorable mention goes to Rolando McClain for an ok game with 3 tackles with 7 assists. I only wish he were faster and improved on his coverage skills.
Notes from NFL game summary:
Owner Mark Davis made a rare appearance in the locker room after the game and said he wasn't happy with what he has seen the last few weeks.The Raiders (3-7) lost their third straight game under first-year coach Dennis Allen as their banged-up defense got picked apart by Brees' precision passing. Oakland has allowed 135 points in those defeats — the most in a three-game span for the franchise since allowing 141 in the first three games in 1961.
"I'm patient. But I want to see progress," he said. "I don't want to see regression. Nobody does. And that's why I'm unhappy today."
Carson Palmer threw one interception that was returned for a score and another in the end zone, the Raiders left receivers open all day and Oakland struggled to tackle in another thorough beating. The Raiders have been outscored by 56 points the past two games.
The only bright spot for the Raiders was fullback Marcel Reece, who rushed for 103 yards and added 90 yards receiving as he started at halfback in place of injured Darren McFadden and Mike Goodson.
"It doesn't make you feel good," Allen said. "I know we're better than that, and I know we can play better than that. And we'll continue to work, and we'll get better."
Travaris Cadet then returned the second-half kickoff 75 yards and Ingram ran it in from the 27 on the next play and the rout was on. Brees and Moore connected one more time in third quarter to make it 35-10.Brees broke open a close game late in the first half when he found Moore all alone in the end zone behind Michael Huff and fill-in safety Mike Mitchell for a 38-yard touchdown pass in the final minute of the first half to make it 21-7.
"I just know that all of us aren't playing well right now," Oakland linebacker Philip Wheeler said. "We're just not playing well, and we just got to get better. We've played well in spurts, we just have to play well all the time."
The Saints easily scored on their first possession as Brees completed five of six passes on an 80-yard drive capped by a 1-yard toss to Jimmy Graham.
Palmer then threw a pair of interceptions on passes to Brandon Myers with Malcolm Jenkins returning the first 55 yards for a touchdown and Roman Harperpicking the second one off in the end zone after it went through Myers' hands.
Brees has won his last seven starts against the Raiders with 16 touchdowns and no interceptions. … The Raiders failed to score in the final 2 minutes of the first half for the first time this season. … Former Raiders coach Jon Gruden lit the torch honoring late Oakland owner Al Davis.
To read the entire game Summary, click here
Nation, it's a tough day and month for us all. Take pride in knowing you still have a loving family that will honor, cherish, love, and support you as long as you breath.
Hope for a better day, look for the positives for the up and coming year and try to find solutions that will make us better. Help me Obi-Wan, you're my only hope.
Have a great Thanksgiving!
Go Raiders,
-DR