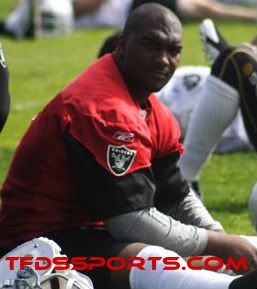 Whatever "It" is, doesn't seem to exist in JaMarcus Russell. Analysts talk about "It" all the time when they reference successful quarterbacks in the NFL. It could be they are refering to those qualities of which can't be taught. Those qualities that you either have or you don't.
Would they include arm strength in that argument? Afterall, the lack of that quality the main reason that keeps many great college quarterbacks from being considered as an NFL quarterback by the draft gurus. That and height. JaMarcus Russell certainly has both of those qualites. He's a big, tall quarterback with a cannon for an arm. As have many highly touted quarterbacks before him.
There is a very long list of quarterbacks that couldn't make it in the NFL that had tremendous arm strength and ideal size. And yet, despite constant NFL failure from these big arm Qbs, what never seems to fail is the level of hyped surrounding them every year. Hype that some NFL team inevitably can't resist. The temptation is too great and the Alex Smiths and Ryan Leafs get drafted with a high pick. JaMarcus Russell is the latest evidence of the hype machine claiming another NFL team as it's victim.
If size is such a deciding factor, how do they explain the six foot tall Drew Brees being the number one QB in the NFL? Or guys like Joe Montana, Chad Pennington and Rich Gannon having the kind of success they had while never being considered as having great arm strength? What caused Tom Brady to slip to the sixth round? But better yet, what qualities do they have that proved the "experts" wrong?
One quality that gets talked about often is pocket presence. The ability of a quarterback to sense pressure and react. Whether it be to step up into the pocket, escape the pocket, tuck the ball and run or to get rid of it. Russell has always been considered an elusive quarterback while still being a pocket passer. But don't mistake that for mobility or pocket presence. He will often make his decision too late or not at all which is how he ends up getting sacked as well as fumbling the ball so often.
Last Sunday the Raiders gave up six sacks to the Giants and Russell fumbled the ball on three of those sacks. Oddly enough, the Giants quarterback for most of the game was the most sacked quarterback in the NFL– David Carr. His career started as a #1 pick just like Russell. Also just like Russell, he never had much in the way of pocket presence. Which is the main reason he is now a career backup.
Another quality that a quarterback has to have is accuracy. The draft gurus in recent years discovered that every successful NFL quarterback had a completetion percentage above 60% in college. Steve Young recently pointed out that accuracy is the one thing that is most important and also one characteristic you cannot teach. If it is bad technique, it can be fixed. But simply poor accuracy is unteachable and unfixable.
Russell is the most inaccurate quarterback in the NFL among starting quarterbacks this season. His passes are almost never on target. Often, even when they are on target, he looks like he is trying to throw the ball right through the receivers chest from a short distance away. Balls coming in that hot are hard for any receiver to catch, let alone two rookie receivers. Joe Montana once said "I don't throw darts at balloons, I throw balloons at darts." A quote that Gannon could certainly identify with after his years in Oakland throwing to Tim Brown and Jerry Rice. Well, the Raiders still have a few "darts" at receiver, including this year's number one pick Darrius Heyward-Bey. Whether Heyward-Bey could even catch a balloon, is yet to be seen. But Russell has never really given him the chance to try.
Which brings us to instict and improvisation. How many times have you seen Russell tuck the ball and run this season? I can think of three times. Two of those times were in the game against the Giants. Each run went for about 2 yards. One in which he needed three yards, and the other in which he needed two. The first time, he waited too long to make his decision and couldn't pick up the first down. The second time he just made it and it proved what he should have been doing all along. Usually he presents no threat to run which makes it much easier on the defense.
Screens and dump-offs fall into the improv category as well. Way too often, he will underthrow, or overthrow a back on a screen. Or he will throw it so hard that they don't have time to adjust to it and it falls incomplete. There are never any instances of him improvising like escaping pressure and flipping a ball to a back to turn negative yards into positive yards. You just never see him do it. Those are the types of things that people have raved about Brett Favre for years. Trust me, I don't expect Brett Favre type moves from Russell, but it would be nice to see some shred of that kind of instinct from him. But it has never happened so why would it start now?
Another quality and one in which Al Davis is very familiar is poise. As in "Pride and poise"? Something that Jim Plunkett and Ken Stabler had in spades. Few quarterbacks in the history of this game had as much poise as Stabler and Plunkett. NFL minds will tell you that they would put Stabler against anyone in the two minute drill. And Plunkett never wowed anyone with his numbers but when the game was on the line and the Raiders needed a win, he came through– every time.
After the Week one game against the Chargers in which Russell threw the huge long bomb to Louis Murphy to put the Raiders ahead in the final minutes, there were many that forgave his terrible play leading up to that throw. Then in the Kansas City game in week two, after another terrible game by Russell, he engineered a drive late to bring the Raiders back and give them the lead of which the lowly Chiefs could not overcome. That was nice to see but I still had very little optimism in regards to Russell. Simply because; his play for the first three quarters was so bad that only the worst teams in the NFL (like the 0-5 Chiefs) would not have such a huge lead by the time "crunch time" rolled around, that no amount of last minute heroics could overcome it. That sad fact has come to fruition in the past three weeks against the Broncos, Texans and Giants. And it only stands to get worse in the next three weeks against the Eagles, Jets, and Chargers.
Then there is work ethic. A quality that can be taught but for whatever reason Russell is just not motivated enough to have any. It could be the $30+ million in gauranteed money he will receive. Key word of course is "gauranteed". It means that he could play…well like he is playing right now, and he will still be wealthy for the rest of his life. Who knew that his LSU Sugar Bowl victory over Notre Dame was that valuable? I know two people who knew– JaMarcus Russell and his agent.
Since then, his accomplishments have included holding out until two games into the season causing him to miss nearly his entire rookie season. Showing up at post game press conferences in fur coats and sunglasses even when the Raiders lose. Helping the Raiders win five games last season, three of which were with the season already lost. Showing up several days late for mini camps and getting called out in the media by Tom Cable. Reporting to camp clearly overweight and out of shape. Taking no responsibility for his poor performance in games and in practice. And now the recent reports of him being fined multiple times for missing meetings and showing up late to practice. This lackadaisical attitude is rarely put up with from any position player, let alone the quarterback. The quarterback is the one player that should be at practice before anyone else and spending more time than anyone studying. Especially a quarterback that is trying to prove his worth in the NFL. Excuse me, IF he is trying to prove his worth. Which by all indications, he is not.
And the final quality is intelligence. Which oddly enough, as it turns out, is something you can't teach. At least you can't teach the drive it takes to learn the intricacies of the game and one's responsibilities in it. The Raiders' playbook is the equivelant of a first grade education when everyone else in the NFL is studying for a graduate degree. It wouldn't have been all that complex anyway which makes it that much more revealing that Cable has had to dumb it down for Russell and feed it to him in small doses. Every team that the Raiders play know what is coming before it happens. There are very few disguises or trick plays built in. What you see is what you get.
In Russell's case, what we see is a large, physically gifted player without the motivation, instinct, pocket presence, improv skills, mobility, poise, accuracy, work ethic or intelligence it takes to be an NFL quarterback.
Many NFL Qbs get by with some of these qualities but none of them get by without any of them. And if that is what it means to have have "It" then JaMarcus Russell absolutely does not have "It". And that's it.