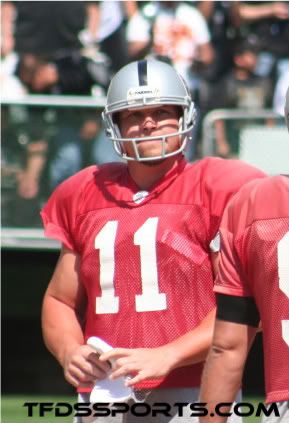 Raiders kicker Sebastian Janikowski has taken home the AFC Player of the Week honors, the NFL announced today. He won the award by going 3 for 3 in field goals on Monday including a 63 yarder which tied him for the longest field goal in NFL history.
Janikowski seemed like a shoo in for the honor for the record, but he was not alone in special teams performances. There were eight return touchdowns on NFL opening weekend, one of which went for 108 yards. All the big returns were part of the reason Janikowski also booted every one of his kickoffs out the back of the endzone. I would like to think that contributed to his being named AFC STPOW but let's be honest, it was all about the 63 yard field goal.
That field goal turned out to be the difference in the game for the Raiders as they won by a score of 23-20.
Hitting long field goals is nothing new for Janikowski. Prior to tying the record, he was fourth on the all-time list with a 61 yard field goal. He has every one of the longest field goals in Raider history. He has hit from 63, 61, 59, 57, 56, and 55 (twice). He also leads the league in touchbacks every season. And yet he has NEVER been named to a Pro Bowl. He hit his 61 yarder in the final game of the season in 2009 after the votes had been tallied. Perhaps tying the record in week one will give the voters plenty of time to think about it. Or forget about it, whichever.
Others to earn AFC player of the week were Patriots QB Tom Brady and Ravens OLB Terrell Suggs.
Follow me on Twitter @LeviDamien or befriend me on Facebook