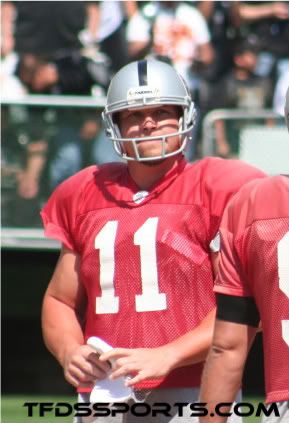 Just when you thought Sebastian Janikowski was done setting records this season, he goes out and does it again. He already tied the longest field goal in NFL history with his 63 yard field goal in a week one win in Denver. Now the Raiders' big footed kicker has tied yet another NFL record.
He made three field goals of 50 yards or more which ties the NFL single game record. This is a feat that has only been done three times before in NFL history and has never been outdone. Janikowski was also the last player to have a game with two field goals over 50 yards.
He had field goals of 50, 54, and 55 in this game to tie the record. Those three 50-plus field goals bring him within one of his own personal best for an entire season. He had six field goals of 50 yards or more in 2006. It also puts him within three of the season record (8) with 11 games left in the season, a number that has been reached just twice in NFL history by Morten Anderson (1995) and Jason Hanson (2008).
It also gives Janikowski some extremely impressive numbers in Raider history.
He is the only Raider kicker to ever kick a field goal longer than 54 yards. He has now done it nine times.
Just two other field goals in Raider history have been made from 54 yards out. Jeff Jaeger did it once in 1992 and George Fleming did it in 1961. Janikowski has hit nine 54 yard field goals in his career.
That gives him 18 field goals from 54 yards or more in his career. He has made four field goals this season alone from 54 yards or more (63, 55, 54, 54) and he is 5 of 6 from 50 yards or more.
He has made 11 field goals this season which means that nearly half of his field goals this season are from over 50 yards. He has attempted 12 field goals and 6 were from 50 yards or more. He has missed just one field goal all season—a 56 yarder.
He is on an historic pace to be certain. Maybe he will actually be considered for the Pro Bowl for the first time in his career.
Follow me on Twitter @LeviDamien or befriend me on Facebook