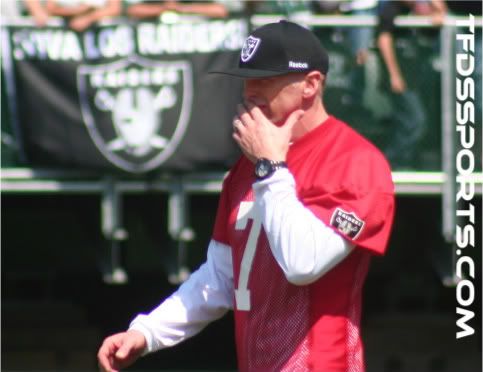 (TFDS photo/Patrick A. Patterson)
This could be written off as a case of Jeff Garcia whining after realizing that his release from the Raiders didn't materialize into a starting job elsewhere. However, with the similarities between what a long procession of former Raiders have said about the so called "Team of the Decades" and Garcia's recent comments in a radio interview they likely have some merit.
Last week it was Rich Gannon offering his take on the struggles of the Oakland Raiders and JaMarcus Russell. For his efforts, he received a strong rebuke from the franchise he helped rise from the ashes. Garcia's comments, which are even more critical, definitely eliminate any possibility the Raiders would consider bringing him in to spell the struggling Russell.
When Garcia was asked if he would return to the Raiders if he was given the starting nod he said:
"I just felt like for what I went in for both from a contract standpoint and the situation as far as I was concerned…I have no problem going into a situation and helping a young guy out and really trying to help the team out overall more so than anything. I just feel like it's an unfortunate situation when the entire work ethic and the entire goal of the team is really put upon one guy's shoulder who really isn't maybe ready for that situation or ready to take on that sort of responsibility. And I'm not saying JaMarcus can never be that guy. It's just right now he's still young, he has a lot of growth that needs to take place within himself from a mental standpoint and a physical standpoint. Yeah, the guy's extremely talented…When you put him on the field in a one-on-one workout session he'll make every throw for you, but when it comes down to making things happen in the heat of the battle and rallying the troops around you and making a case for the team, that's where maybe things aren't where they need to be. Right now that team is going through those growing pains. And I think I could have helped in a lot of ways had I still been there and had I had that opportunity to step on the field and lead the team and really show what it takes from a standpoint of leadership and work ethic and knowledge of the game. But the way things were working out and with the contract that I had signed, I didn't feel like it was the right situation for me to be there anymore."
This tells the tale of Garcia asking for his release. He didn't think that Russell was ready, and the play on the field seems to have borne that out, and he felt that the only way he could have helped Russell would have been for Garcia to be the one on the field for Russell to watch. This does make Garcia look a bit selfish, especially when it came out during the offseason camps that Garcia didn't spend much time talking to Russell.
When Garcia was asked if it was "that bad" in Oakland, he had this to say:
"It was to a point where I felt like guys who walked through those doors that just were there to collect a check and not really interested in putting everything that they had within themselves on to the football field. And that was the frustrating thing for me to see. There were a lot of good young guys in that locker room who really want to do whatever it takes to win, but unfortunately it's not everybody. In order to compete at this level in this game, everybody needs to be on board, everybody needs to be on the same page, everybody needs to really be accountable and be able to look at each other and have responsibility within themselves that they're going to bring the best that they can have to bring…Not just on Sunday, but every single day during the work week and when you're not seeing that and maybe it's because how things have been for a number of years now out there and they just don't see the hope… I was the guy who was trying to bring in a fresh outlook and a fresh new start. I was trying to really be that type of guy that could help motivate my teammates and help create a certain attitude, a certain mentality and it was just tough to break through to everybody and that's where I found it to be more discouraging than encouraging. And for me at this point of my career, being 39 years old, as much as it meant so much to me to return back home and be close to the family and friends and play for a team that I grew up watching as a kid…To see the reality of the situation and realize what I may be up against staying here for the entire year. It hurt me, it broke my hurt to do that to step up, but I just felt like it was something I really didn't want to put myself through anymore."
This is a pretty damming assessment of the Raider organization, but it is not something the fans haven't sensed. It also goes along with Greg Ellis's recent criticism of his teammates practice habits. However, missing most of training camp with a mysterious calf injury, as well as disappearing for a week with 'personal issues' are not the hallmarks of a player who is trying to create a motivational attitude.
Frankly, there is definite self-aggrandizing in these statements so they need to be taken with a few grains of salt. However, here is yet another look at the dysfunctional nature of the Silver and Black.