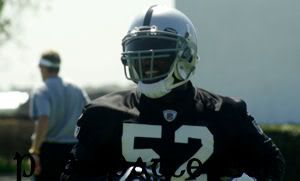 Morrison is a restricted FA. (P A Patterson/TFDSsports.com)
As is the case with the Oakland Raiders, they are waiting until the last minutes to extend the franchise tenders to their potential free agents. With Bruce Gradkowski already tendered, the big names remaining are linebackers Kirk Morrison and Thomas Howard.
Whilst neither of these players appear to be Pro Bowl candidates in the immediate future, they are both key figures on the Raiders defense that are not easily replaceable in the short term. As restricted free agents, the tender the Raiders offer will control their destinies. Both Morrison and Howard would likely garner action from other teams as they have been consistent performers.
Both the Cleveland Browns and the Denver Broncos could have interest one or both of them. Former Raider defensive coordinator Rob Ryan is the defensive coordinator in Cleveland, and he worked with both Morrison and Howard in Oakland. Morrison spoke well of Ryan in the run up to the Raiders game against the Browns. Over in Denver, their former position coach Don Martindale has been named defensive coordinator.
Thoughts from the Dark Side
---
Related Articles
If the Raiders fail to tender either one of them, they will get interest from more than just their former coach. They would be among the highest rated linebackers in this free agent class.
If the Raiders only keep Morrison around on a tender, then he can become an unrestricted free agent in 2011 if there is a season based on his six years of service. If the Raiders feel that Morrison is worthy of a long term deal, this would be the year for them to do it. If not, they could give him a either an original draft tender and receive a third round pick if he signs elsewhere, or a second round tender and receive a second round pick if he is signed elsewhere. It is doubtful that he would be worth a first or first and third tender.
If the service requirement remains six years, the Raiders have two years left of control of Thomas Howard. With Howard originally being a second round pick, the Raiders could slap the original pick tender on him which would cost less than a second round tender, and still get them a second round tender.
Either way, how the Raiders handle the tendering of Morrison and Howard will go a long way towards gauging the Raiders long tem interest in their two young 'backers.
NOTES: The Oakland Raiders announced the dates for their annual youth skills camp. It will be held on June 12th and 13th at the Raiders permanent facility in Alameda.
Among the highlights for participants:
Tour of the Raiders facilities including the lockerroom.
One on one instrcution and assistance
A chance to get autograhs
Gift bag, camp t-shirt, and lunch both days
It is open to all boys and girls ages 8-14
For more information go to Raiders.com or raidersforkids.com.