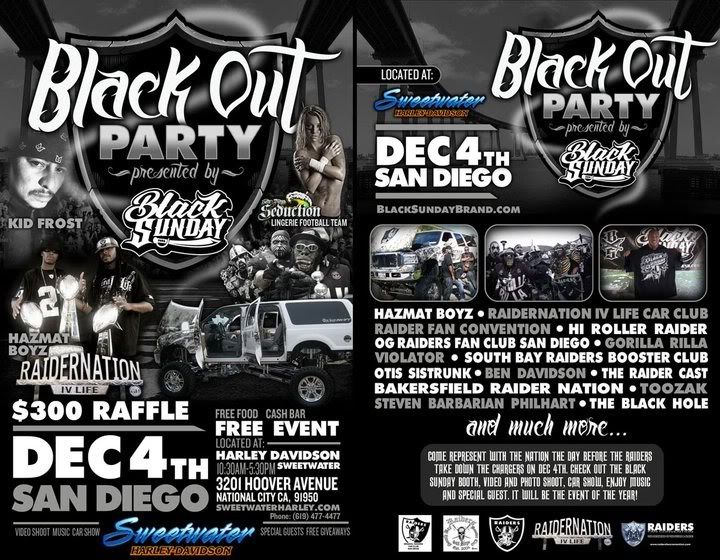 If you were looking for one more reason to head to San Diego this weekend, other than the Raiders vs Chargers, you now have it. The South Bay Raiders Booster Club of San Diego has planned one Hell of an event on Saturday from 10:30am-5pm. Among the festivities will be autograph signings by legendary Raider players Ben Davidson, Otis Sistrunk and Cliff Branch. The autograph signing will be to support Toys for Tots so for each player autograph, fans should bring a toy to donate.
But the autograph signing is only a portion of the Raider party planned. It will be held at the 8000 square foot lot of Sweetwater Harley Davidson so there is plenty of room for the massive Raider Nation that they hope to have on hand.
There will be a car and motor cycle show with performances by Cirkulo, Kid Frost and the Hazmat Boyz. Also in attendance will be Raider superfans Gorilla Rilla, Violator, Raider Predator, Toozak, The Barbarian and more. And oh yeah, there will also be appearances by the San Diego Seduction girls of the Lingerie Football League.
Food and admission is free although they ask that you bring a non-perishable food item (ie canned goods) to donate to needy families for the holidays.
The South Bay Raiders Booster Club- San Diego has been doing toy, food, and coat drives since their Establishment in 2002. This is just the first event they have thrown of this magnitude, and they hope with the help of the Raider Nation, it will only get bigger and better in the future.
The Event is hosted by Black Sunday Clothing line and sponsored by The Raiders Fan Convention, Raidernation IV Life Car Club, Hi Roller Raider, OG Raiders Fan Club San Diego, Bakersfield Raider Nation, and The Black Hole.
Here's a little history on the Raider Legends at the event:
Ben Davidson played defensive end for the Raiders from 1964-71. During that time he was named to the Pro Bowl three times and All-Pro once and he is widely considered one the the greatest Raiders of all-time. Certainly one of the first great Raider defenders.
Otis Sistrunk played for the Raiders for his entire seven year career from 1972-1978. He started every game during the Raiders first Super Bowl winning season of 1977. In that Super Bowl win, he was tremendous and a big reason the Raiders dominated Fran Tarkenton and the Vikings.
Cliff Branch needs little introduction. But I will give him one anyway. He played for the Raiders his entire 14 year career. By the time the Raiders had won their third Super Bowl in 1984, he was the NFL's all-time leader in postseason receiving yards. Despite those numbers and his amazing career numbers, he has been a Hall of Fame semi finalist just twice and has yet to been enshrined. But he is not forgotten among the voters because one of those years was this year's class. If you want my vote as to the next Raider that should be in the Hall of Fame, it's this man.
These three will be signing from 1pm to 4pm on the day of the event. For every toy you bring, you will receive an autograph. If you bring three toys, you receive three free autographs. You must also bring the item you wish to have autographed. If you do not have an item to be autographed; Ben, Otis, and Cliff will also have items available to be purchased. If you do not bring a toy, then you can pay for an autograph but their goal is to collect as many toys as possible.
Need more incentives? Ok, in addition to your free autograph, each person who brings a toy will be entered into a raffle. The prizes include $300, 2 NFL jerseys, and a Black Sunday gift pack.
Sweetwater Harley is located at:
3201 Hoover Ave.
National City CA, 91950
Here are the details with event times:
Admission, food and parking are free (There will be alcohol available for $$)
There is an Auto and Motorcycle show
11:00am- photo/video shoot
11:30am- Taco caterer arrives
1:00pm- Raider Legend signings begin
1:30pm- The San Diego Seduction girls from the Lingerie Football League arrive to sign autographs, pics and promote their events.
2:30pm- Performances by Cirkulo, Kid Frost, then The Hazmat Boyz
3:45pm- Raffle off 300$, 2 nfl jerseys and a black sunday gift pack
This event is a perfect leadup to the Raiders vs Chargers game and should give you all the incentive you need to head down to San Diego this weekend.
The game looks to be sold out but as always, there are still plenty of tickets available at Dark Side Tickets— many of which are available with E-ticket for printing at home. Also, if you are taking a large group, there are several ticket groups together. To view ticket prices or to purchase game tickets >>>>>CLICK HERE<<<<<
So get your game tickets, get some toys and canned goods to donate and get down to San Diego for a great weekend of Raider Legends and Raider football.