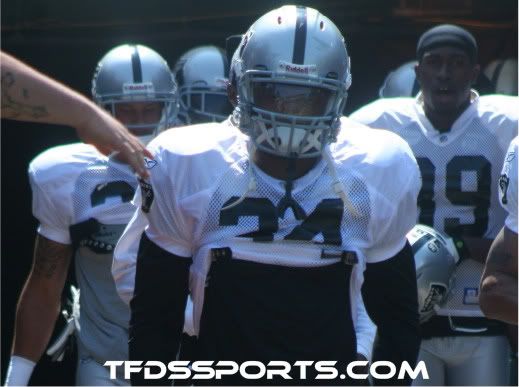 Well, I am back from my vacation just in time for the Raiders to start contact drills. This is when practice really gets interesting. There are going to be a lot of guys that are just itching to hit somebody– some more than others. A few Raider players have earned a reputation for getting a bit more physical in practice than their teammates would prefer. Others just simply talk a lot of trash leading to some heated moments.
We can expect some scuffles in camp as always.  But here are a few guys that will be safe bets to be involved:
Lamarr Houston
The rookie 2nd round pick got into it with Langston Walker several times during mini camps. Lamarr is fighting for a starting job and Langston is fighting for a roster spot. That is a volatile combination. Walker was never known for getting into camp squabbles before so I don't completely expect him to get in them again. Although, if Houston faces off against him, we may see some continuation. I suspect that Lamarr will continue getting into it with whomever he lines up against at one point or another as he did with Robert Gallery on the opening day of practice.
Jerome Boyd
Here is another guy who is fighting for a roster spot. He is entering his second year in the league as an undrafted free agent out of Oregon. He is a former linebacker who the Raiders converted into a safety so he likes to hit. He also has a tremendous ego so there will certainly be some trash talking going on. Second year Brandon Myers took exception to the amount of contact Boyd was making in non-contact drills during mini camps and came after him. Expect more of the same with the pads on.
Louis Murphy
Murphy is as big of a loud mouth trash talker you will ever see. He will get into shouting matches with anyone in ear shot. Whether it be opponents in a game or teammates in practice. It became pretty heated last year when he was ranting and raving about having been on the National Champion Florida Gators and needed to be reminded that he is on a different team now and all of these guys are no longer rivals but fellow teammates. Even after a season with the Raiders, he will be as loud and obnoxious as ever. It is just what he does.
Mike Mitchell
This is a guy who was a surprise 2nd round draft pick out of University of Ohio that had the ESPN draft day crew searching through draft manuals trying to find him. The pick was criticized as a huge reach and immediately Mitchell felt like he had something to prove. One of the primary factors in his getting drafted so high was his tremendous hitting ability. It is what he was known for. So what better way to send a message than to hit some guys? He was one of the more excited guys last season when he came in and was able to hit some guys for the first time. He called it "thud" which seems pretty appropriate. He also is fighting for a starting role. So look for a few of the receivers to pick themselves off the turf extremely angry at Mitchell for planting them there.
John Henderson
I am not sure about his reputation as far as scuffles in practice. But what I do know is that he is a firey and passionate defensive tackle. He was also given up on by his former team and left unsigned for quite a while as teams thought he might not have anything left in the tank. He has a lot to prove and my guess is he will be out to prove it with a vengeance.