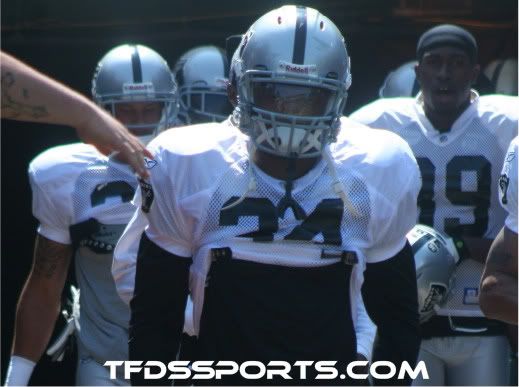 (Photo by Patrick A. Patterson)
The Oakland Raiders had a practice Thursday evening at the Oakland-Alameda County Coliseum to get ready for Monday's matchup against the San Diego Chargers.
The Raiders injury problems are fading as the team gets healthier. Second round pick Mike Mitchell will be seeing action. In fact, only Khalif Barnes and Chaz Schilens are expected to miss the opener. Barnes is back to practicing, despite being limited, but it won't be long until he is back in action. Schilens could be back in action as soon as week three.
With the Richard Seymour situation, the Oakland Raiders are doing what they do best and have begun stonewalling. Other than to say that he had talked to Seymour since Monday, but would not commit to having spoken with the MIA defensive end in the past 24 hours. Other than that, Cable would not comment on any status of the ongoing saga either directly or indirectly. He would not even cofirm or deny whether or not the Raiders had sent a "Five Day Letter" to Seymour as had been reported then retracted by ComCast Sports Net, after a misunderstanding involving Raiders radio personality Greg Papa.
***
Despite his gaudy numbers career-wise against the Raiders, he said the Raiders have gotten better. "I don't necessarily go into the game thinking I'm going to have a big game. I just go into the game and take what they give me a lot of times. I've just been fortunate ebough to have some good games, especially at an earlier point of my career. But I will say, the last few times they actually have played us really well against the run." He credits the Raiders improvement to their often maligned defensive tackle tandem of Tommy Kelly and Gerard Warren. "The guys that they got up front. They got Kelly and Gerard Warren up front. Those guys really gave us some trouble. Kirk running around and Thomas running around, their speed has really caused us a little trouble and allowed them to make some plays."
***
Trevor Scott who will be sentenced to the second string if Seymour arrives had the following to say about his potential teammate, "I mean, I'll still be coming in on first, second down. But I mean, obviously, he's a bigger guy, he's got more lead in his butt and I'll be coming in on, uh, you know, passing downs. Stuff like that."