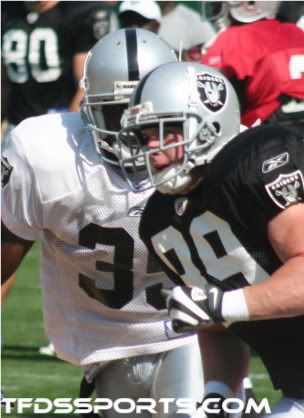 After a short week, the Raiders will play the Seattle Seahawks on Thursday for their final preseason game. After which, the team has all of one day to trim the roster from 75 players down to 53. That means that there will have to be 22 decisions to be made. Many of those decisions will be difficult ones. Others have already been made.
The team made their first cuts on Tuesday to trim the roster from 80 to 75. They released OL Marcus Johnson who they had picked up in free agency from the Vikings this offseason. And they waived WR Sean Bayes, DT Joe Cohen, OL Jonathan Compas, and WR Will Franklin. Sean Bayes is a sure fire Practice squad invite after a fine camp.
Here is what the offense should look like come Friday and who will be let go.
Quarterback
JaMarcus Russell: Guaranteed starting QB job. Has played much better of late
Jeff Garcia: More than capable backup. Could be starter if called upon.
Bruce Gradkowski: Earned a roster spot after great camp and preseason.
Out:
Charlie Frye: Was the latest arrival of all the quarterbacks in camp. He started behind Gradkowski in the depth chart and never played well enough to surpass him.
Running back
Darren McFadden: Set to be starting RB but still plenty of touches to go around.
Justin Fargas: Will be the grind it out back as usual
Michael Bush: Will be used as a change up and short yardage back.
Out:
Gary Russell: Jack of all trades, master of none. He is a great guy to have around really but he won't do anything spectacular. He is a Randy Jordan type player but with three great backs on the team already, there is no room for him.
Louis Rankin: He has shown flashes of potential but could never quite get it going consistently. This is his second shot at making this roster and probably not his last.
Fullback
Oren O'Neal: Back healthy after being out with injury all of last season.
Marcel Reece: Has improved his run blocking to match his receiving and pass blocking skills.
Out:
Luke Lawton: He was released last year in preseason and re-signed after the injury to Oren O'Neal. But it was only a matter of time when Reece would make the transition from TE to FB and from the looks of it, that transition has happened. Reece in, Lawton out.
Wide Receiver:
Chaz Schilens: Hardest worker on the team. Number one starter when healthy.
Darrius Heyward-Bey: seventh overall picks make their teams.
Javon Walker: Will fill in for Schilens and hopefully the team won't miss a beat.
Jonnie Lee Higgins: Lost starting job but looks to be used as slot receiver.
Louis Murphy: Despite the drops, he has the ability to get open consistently.
Nick Miller: He has been the best receiver on the team not named Chaz and his return abilities raise his value. His play reminds me of a cross between Wes Welker and Eddie Royal. Although not quite that level yet.
Out:
Todd Watkins: In years past, Watkins has looked great in the preseason and then disappeared in the regular season. This time he didn't appear in the preseason either.
Jonathan Holland: That great juke after the catch and subsequent dash into the end zone for the Raiders only touchdown against the Saints let us all see why he has stuck around with this team for a couple seasons. But that isn't enough. Not on a team stacked with receivers. The Raiders will likely keep six receivers as it is. The last of which was the best looking receiver in camp besides Schilens- Nick Miller.
Tight End:
Zach Miller: Uh yeah. No brainer here. Pro Bowl calibre TE
Brandon Myers: Drafted in late sixth round as a blocker. But he can catch too.
Tony Stewart: A hard working gamer on offense and special teams.
Out:
Darrel Strong: Myers is turning out to be a gem of a sixth round pick and Stewart earns his check and then some every time he steps on the field. Strong was almost no where to be found.
Center:
Samson Satele: Traded for to replace Jake Grove. Will start regardless.
Chris Morris: Good option as back up. Versatile.
Out:
John Wade: Is beat out by Morris for a few of reason. Morris is more athletic, younger, and also can play either guard position.
Guard:
Cooper Carlisle: Not starter quality but there is no one threatening to take his job.
Robert Gallery: Pro Bowl calibre LG. Hopefully he will get recognition this year.
Chris Morris: Good for an extra roster spot with his play at guard and center.
Out:
Paul McQuistan: One of the tougher decisions after he played so well filling in at right tackle two seasons ago. He was to fill in for Robert Gallery at left guard when he was out with injury but he was supplanted by Chris Morris. I thought McQuistan might beat out Cooper Carlisle or Cornell Green for the right guard or right tackle position but he never did so he could be seen as expendable at this point.
Tackle
Mario Henderson: Earned starting left tackle job after fantastic 08 season
Cornell Green: Incumbant starter, will be good backup RT when Barnes returns.
Erik Pears: Currently the primary back up at both tackle positions.
Khalif Barnes: When he comes off injury will likely be starting RT.
Out:
Mark Wilson: Either not given a fair shot or didn't play well enough to supplant Cornell Green as the starting right tackle
Seth Wand: Was only re-signed due to the Barnes inury. Now he will be on his way.
James Marten: Was seen only to finish out preseason games which means he never progressed from the scout team
Check back tomorrow to see the defensive edition.