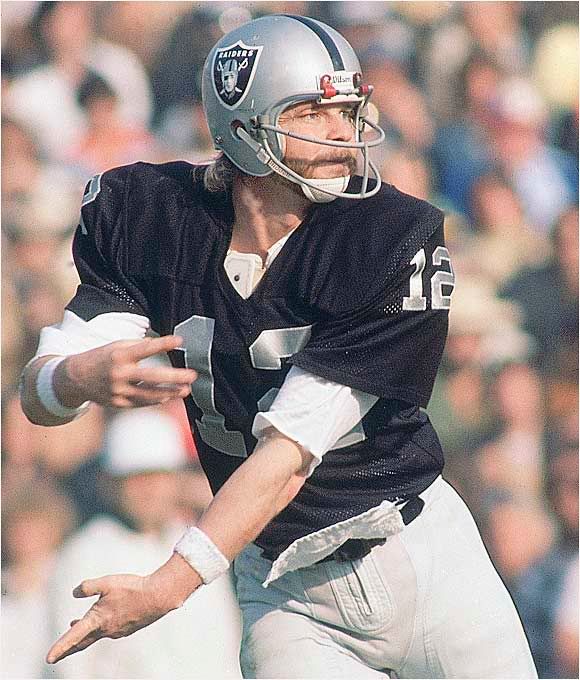 Every year when the Hall of Fame enshrinement comes around, the Raider Nation and indeed the rest of the football world is reminded of those players who have long deserved enshrinement but have yet to get the call.
We all expect Raider fans to think that there are several Raiders that are deserving and have been snubbed of their rightful honor. But on Friday, Mike Florio at Sportingnews.com (more commonly known as the founder of Profootballtalk.com) put together a list of players he thought deserved to be and it has a surprising Raider feel to it. I guess Raider fans are not alone.

The list of those who he thinks deserve to be is topped by Kenny Stabler and also includes Jim Plunkett. He doesn't have Ray Guy on the list but says he deserves to be in because Jan Stenerud is enshrined. So according to Florio "If any specialist should be in the Hall of Fame, it should be former Raiders punter Ray Guy. Great punters like Guy tilt the field, making it easier to play defense and in turn easier to score points on offense. So put Guy in, or take Stenerud out. Or both."
Other players he has on the list that he says deserve enshrinement are Shannon Sharpe, Don Coryell and Pat Tillman. Along with a list of players he thinks should never have been enshrined– none of whom are Raiders.
Aside from mentioning Guy as being snubbed despite Jan Stenerud's undeserving place in the Hall, he mentions Joe Namath and his lackluster stats. The primary argument being similar to the Guy/Stenerud argument. "Joe Namath achieved less than Ken Stabler during his career. So either Stabler should be in or Namath should be out. It's that simple. Statistically, Stabler was the better quarterback. Each won a single Super Bowl."
But Stabler, Plunkett, and Guy are not the only legendary players that have seen their names fall off the list of nominees once the finall tally comes up. Paul Gutierrez of the Sacramento Bee conducted an unofficial poll of who fans think is the most deserving of enshrinement of those Raiders who haven't gotten in.
My top five list goes like this: 1)Ray Guy, 2)Cliff Branch, 3)Ken Stabler, 4)Jack Tatum,  5)Tom Flores. Tim Brown deserves it but he has only been eligable for a year so there other greater priorities.
Gutierrez' unofficial poll results were: 1)Guy, 2)Plunkett and Tatum, 4)Branch, Brown, Flores and Stabler, 8) Lester Hayes, 9) Steve Wisniewski.
When the Hall of Fame voting was being conducted a few months ago, several Raiders were among the finalists in online voting but the Hall of Fame committee ignored the voting and went with others anyway. The most shocking of all was the omission of Kenny Stabler altogether. He wasn't even among the names eligable to be voted on by fans. His absence seemed peculiar to say the least.
The voting results had Ray Guy topping the list by a large margin along with many other of candidates that we all mention every single year and Florio reiterated in his Sporting News article.
The Hall of Fame induction ceremony will be held this Saturday and Raider fans will have to settle for Jerry Rice taking the podium as he spent his last few good years in the Silver and Black and helped them return to the Super Bowl in 2002. Hopefully he will put in a good word for his teammate Tim Brown at least. We'll see.
Follow me on Twitter @LeviDamien or befriend me on Facebook