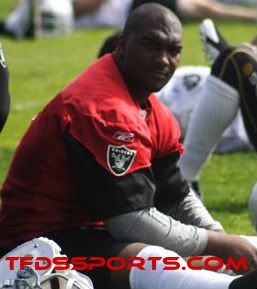 A second year starting quarterback who is part of a team's weekly game-plan usually doesn't post a faint 35.2% completion rate after two games.
But in Russell's defense he did produce when it really counted– in the final minutes of the past two games. He threw a 57 yard touchdown pass to rookie wideout Louis Murphy against San Diego in their week one loss, and led the Raiders to a 9-play, 54 yard game-winning drive against the Chiefs at Arrowhead last Sunday.
Russell claimed the ball was "coming out funny" against Kansas City. An observer may claim that his career thus far has been, "coming out funny".
The Raiders signal-caller had enough tenacity to overcome a head-coaching change, as well as three different offensive coordinators since entering the NFL in 2007. Russell is entering his third year as a pro, but only his second as a starter. He missed nearly his entire first season due to the drawn out contract dispute during what should have been his rookie campaign of which he played in just two games.
Is there enough evidence to judge Russell just yet? That is arguable. Just look back on Matt Ryan and Joe Flacco's success last season. Both played well enough to get their team to the playoffs. And although both were eventually eliminated, a solid rookie season expectation was set. Both Flacco and Ryan had a completion rate above 60 percent. A level of which Russell was able to reach in the final two weeks of the 2008 season.
Certainly, Russell was supposed to look better by now. The Raiders gave him Paul Hackett as a quarterbacks coach, who has taught some of the best, such as Joe Montana. Ted Tollner, whose NFL resume includes teaching quarterbacks as well, was also brought in as the new passing game coordinator.
The problem may be Russell getting to the comfort level he was at the end of last season with Cable as the play-caller, scribbling through former head coach Lane Kiffin's playbook. This is not a make a break year for JaMarcus Russell , even if some pull out the bust labels early. He will need to improve, but it's not like Al Davis is itching to sit him.
Eli Manning's play was questioned up until he won a Superbowl for the Giants. A game that was decided on one of the best drives in Superbowl history in which Manning was clutch. If nothing else, Russell has been clutch so far this season for the Raiders. There is still hope, and much more football to play.
Patience is a virtue.
–AJ DeMello, TFDS Guest Contributor