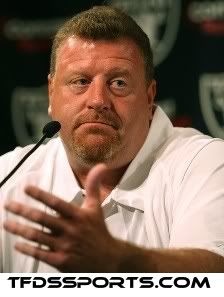 As if the horrible showing of effort and execution in a 23-3 loss to the hated division rival Denver Broncos wasn't bad enough, matters just got even worse for the silver & black.
According to NFL Network's insider Jason La Canfora, Raiders defensive assistant Randy Hanson has talked with Napa police  confirming that it was Tom Cable who delivered a blow to his face that ended in his sustaining a broken jaw. The Napa police department has not updated their stance on the matter since August 21st, but if the report is true, expect something to happen rather soon.
Unless this is Tom Cable's first offense, it is hard to judge how this is handled. The NFL will, of course, take their swing at Cable once the Napa police department is finished with him, so it's possible the Raiders could lose their fourth head coach in the past five years.
The questions are; What kind of punishment is Tom Cable looking at and will he be away from the team for a significant amount of time? Al Davis will do his best to protect Cable but if Cable did indeed do the deed of a causing Hanson's broken jaw, he could be charged with felony assault. 
For a team that has struggled to gel and connect with one another while going through head coach after head coach over the past decade, this is not good news.
If Cable does have to leave the team, who will he or Al Davis appoint as the replacement head honcho for the short term?
One option could be defensive coordinator John Marshall, but this is his first year with the team and he has never been a head coach.
Passing game coordinator Ted Tollner and quarterbacks coach Paul Hackett are also in their first year with the team, but neither have ever been a head coach either.
The likely choice would be Willie Brown given how much the players respect him and his time with the Raiders.
Runningbacks coach Kelly Skipper, who has been with the team since 2007, could also be another option.
As if the Raiders didn't have enough on their plate with an inaccurate quarterback and a tough schedule ahead, things are going to get worse before they get better.
Stay tuned.
— AJ DeMello, TFDS Guest Contributor