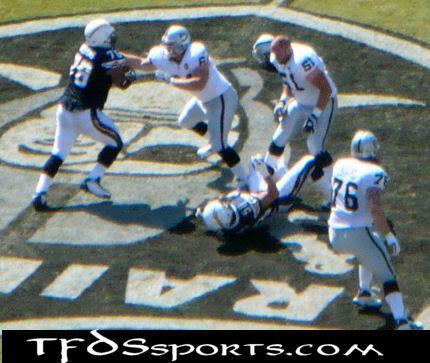 In continuation of my series for the path to the draft for the Oakland Raiders, today I will break down the current offensive line and list some options that could be available to the Raiders through the draft or otherwise. There is no doubt the offensive line is an issue for the Raiders, and many fans are holding out hope for one of those premiere young left tackles in theupcoming NFL draft. The Raiders realize this too and they have already begun visiting with prospects who are expected to be taken throughout various points in the draft.
The Raiders most standout offensive lineman currently on the roster comes in the form of 2004 second overall pick Robert Gallery. Gallery was moved around on the offensive line a lot early in his career as the Raiders cycled through different coaches and schemes, but ultimately he may have found a good home for himself at left guard. Fighting through injury issues last season cut Gallery's '09 season short, and made some of theRaider Nation wonder about his future with the team. His season was ended with a back surgery that was said to be "not career threatening," but nonetheless, back surgery is usually not a good thing. Especially when your job involves dealing with men who can reach weights of 350 plus pounds and have impressive, often superior, strength to boot.
Gallery, however, is confident that his 2010 season will be a triumphant comeback rather than one that could lead him to contemplate his retirement. The Raider Nation can only hold out hope,because nothing is set in stone. One thing is for certain, Gallery is the voice of the offensive line, a leader by example. He is alsoa trueasset to the Oakland community with his fund raising car cruises. Here's wishing Gallery the best of luck in his attempt to be one of the best guards in the NFL.
Opposite Gallery at right guard is the crafty old veteran, Cooper Carlisle. Carlisle has been with the team for a while now, and fans are beginning to become familiar with the type of player he is. He is a zone blocking scheme technician who does not make too bad of a name for himself with stupid or costly penalties. The rag on Carlisle is his age, an 11 year pro that will turn 33 before the start of the season. Sad to say, but for offensive lineman in this league, 33 is considered to be on the downtrodden side. The fact that he hasn't exactly been a monumental presence leads me to believe that the Raiders may be searching for a new right guard sooner rather than later. For now though, Carlisle does not necessarily need to be replaced. He goes to work, does his job, and does not really suffer from too many injury issues and that makes him a valuable commodity alongside his veteran leadership skills. If not a starter, he is very valuable as a back-up.
Now let's moveon to the tackles. We start with the left side and 3 year pro Mario Henderson. Henderson took over the starting role late in 2008 and has been starting ever since. He is considered by some to be one of Al Davis' project players, one who former head Coach Lane Kiffin said he couldn't work with. That may have forever bonded Henderson to quarterback JaMarcus Russell who Henderson defended during the 2009 season. In 2009, Henderson started out strong, giving up just a couple of sacks, but as the season wore onhe beganto fade. In my opinion it was in large part due to trying to overcompensate on a line that was in a constant state offlux due to injuries to Gallery and right tackle Cornell Green.
Henderson started out the 2009 season on a very good note and proved that he deserves to be a starter. He can play left tackle in this league and this year heshould prove that. With what will hopefully be an injury free season with Robert Gallery manning his interior, Henderson can be a lockdown left tackle for years. I highly doubt the Raiders are looking to replace him with a rookie, so if they do draft a tackle in the top eight of the draft, I fully expect that guy to be competing for time on the right side.
The current right tackle on the squad, although he has not been named as such yet by the staff, is Khalif Barnes. Barnes joined theteam lastoffseason andlooked to bein a heated competition for the left tackle spot with Henderson before he broke his ankle early in training camp. After he came back (which I believe was around the same time the Raiders got a mud hole stomped in them by the AFC runner-up New York Jets) he ended up being moved around a bit, but never really found a good spot for himself on the offensive line.
It was a surprise, because some folks in Jacksonville might remember him being their starting left tackle for much ofthose yearsthe Jaguars were a competitive and playoff caliber team. However, the Jags offensive line suffered some serious injuries in 2008, including 3 starters going on IR before the season even started. Barnes' play suffered dramatically that season with the loss of his teammates and in 2009 he was released. Still, Barnes is a really good tackle when he has other starting quality offensive linemen playing with him. So the choice by the Raiders to bring him back and sort of push the reset button on his Oakland career is probably a really good decision by this staff.
Now we move to the middle of the offensive line. Center is perhaps the most important position on the pre-snap offense next to the quarterback. He is in charge of calling out all the blocking schemes for his line teammates as well as delivering the ball to the quarterback on the correct snap count. The center for the Raiders is former Miami Dolphins second round pick Samson Satele. The Raiders appeared to get a steal when they traded for him early on in 2009 for amere 5th round pick. Tom Cable said soon after the trade that Satele was the best offensive lineman in his draft class. But the hype was short-lived for Satele, whofailed towin the starting position heading into the season in favor ofback-up guard/center Chris Morris. And for a moment, Raider Nation believed they may have found a diamond in the rough with Morris, but that hype was short lived as well.
Soon, Raider Nation realized that the center position was a position in need of further review. Tom Cable did ultimately start Samson Satele at center, and went on to say that Satele really came on towards the end of the season. The dilemma had been that Satele had a hard time adapting to the zone blocking scheme used by the Raiders, but he apparently figured outwhat he was doing and finished out the year as the starting center for Oakland.
The Oakland Raiders back-up offensive linemen who are currently on the roster according to Raiders.com are Morris, Eric Pears- who started a few games last year and proved his worth as a run blocking third tight end, Brandon Rodd- who has yet to be an active contributor on Sundays, and Langston Walker- who was drafted by Oakland, took a free agency trip to Buffalo, and came back to play a little bit of guard in replacement of the injured Robert Gallery. Langston Walker, however, is not currently under contract with Oakland and is an unrestricted free agent who has yet to receive any offers. If he does get any offers, I'd expect the Raiders to match it up to a certain point being that he did such agood job filling in.
Ah yes, Raider Nation, what a gaggle of stampeding linemen your team has assembled. It leaves plenty of room for head scratching and longing for the days of Upshaw and Shell. So now that we've broken down the current stable, let's look ahead at the potential draftees for the 2010 class of Oakland Raiders.
But first, I want to hit on a topic that was addressed by Levi Damien earlier this week. Evidently, according to Jason La Canfora of NFL.com, the Ravens have lowered their asking price for their starting left tackle, Jared Gaither. The tackle whose stats are quite impressive, was originally tendered a first round draft choice, but can now be had for an early second round draft choice. Before I start analyzing the 2010 class, let me just say that this is a trade that is in the Raiders best interest. It's a trade that they should be all over and not waste time letting anybody else take advantage of. Gaither fills a need with a second round pick that the Raiders may be looking to draft with their first round pick. In addition, he is a proven starter in this league who leaves little to doubt of his abilities.
That being said, let's take a look at some of my favorites in this year draft class to become Oakland Raiders. The first guy on my list is Idaho Vandals guard Mike Iupati. He is a consensus first team All-American who is 6'6″ 330 pounds. A Samoan giant, Iupati played left guard for the Vandals and did struggle when he was put at right guard during the Senior Bowl against better competition, but Iupati could learn a lot from guys like Tom Cable and Robert Gallery.
nhFMZROcNZ8&[/youtube]
While Iupati is not expected to be able to convert to tackle, he is a mauler who eats up his competition once he gets locked on. In 807 plays for Idaho, Iupati allowed no sacksby his opponent. For his size, he is a great mover who can get out in front and give great lead blocks for running backs when he pulls. His nice long arms and good athleticism make it possible that he could become a right tackle for a team with a desire to train him. I'd say let it be what it is and bring him in as a solid right guard who can play opposite Gallery. Iupati is currently ranked 17th on Scouts Inc.'s Top 32 behind only projected right tackle Brian Bulaga, and left tackles Russell Okung and Trent Williams—the topic of my next focus.
While he might have been overshadowed by combine hit Bruce Campbell, Trent Williams made himself noteworthy with his combine performance as well. The Raiders would be very foolish not to take a good long look at Williams.
-icEPTOeKhk&feature=related[/youtube]
He was the left tackle who did much of his blocking in college for Heisman trophy winning QB, and possible first overall pick this year, Sam Bradford. This 6'5″ 315 pound offensive standout is a dominate run blocker who some project to be a better fit at right tackle at the next level. As a pass blocker he shows good technique but lacks the top lateral range to stay with premier pass rushers coming off the edge. Williams has a good motor, and he is said to play angry and finish his blocks. He was a three year starter in a very good Oklahoma offense and he is fast enough to convert his game to the Raiders' zone blocking scheme. Williams could definitely come in and contribute on what appears to be a weak offensive line in Oakland.
Last but not least, is a guy who the "experts" think will be the eighth pick. I'm sure you've all heard of the combine beast from Maryland, Bruce Campbell. He is currently ranked the sixth best tackle in the draft by NFLdraftscout.com. They project him as a 1st to 2nd round pick. And guess what, his number 74 just happens to be open with the departure of Cornell Green. Campbell ran the fastest forty times ever run by an offensive lineman at the combine and looks like he was carved out of a rock by some 16th century sculptor.
VnMm7AcJ7RI&feature=related[/youtube]
Campbell was rated a top performer at the combine in forty yard dash, bench press, vertical jump, three cone drill, and the 20 yard shuttle. With his 36″ arm reach and his pre-draft hype, there is a good chance Campbellcould provide a solid option at the left tackle position for a team who has a little time to develop him. NFL network's Mike Mayock could not say enough good things about him during their coverage of the combine. While eight is a little high for Campbell, he is widely considered to be a special athlete…an offensive lineman with the body of a Greek god. He is a real beast that leaves it all on the field and generally takes his opponent right out of play.
So there you go, a close up look at just a few of the guys that could be with the Silver and Black on the offensive line next season. It's also worth noting that the Raiders have worked out some guys in personal workouts already. those prospects include Boston College center Matt Tennant , who is rated the second best center in the draft, as well as TCU guard Marshall Newhouse who is expected to goaround the fifth round– where the Raiders hold two picks. Let me know what you think below.
— Bret Armstrong, TFDS Guest Contributor
ALSO SEE:
Raiders in play for OT Gaither