The Rookie hazing haircuts happened today in Raider camp. And there was some styling masterwork happening for sure. The camera phones were clicking and some pretty awesome pictures came from it. My thanks to Raiders safety Tyvon Branch for his supreme photography.
Round two pick defensive end Lamarr Houston looking like he was playing Worlds of Warcraft and got hit by four mohawk grenades.
Round three pick offensive lineman Jared Veldheer had a fight with a shave. And it kicked his ass. Although, I think it missed a couple spots.
Round four pick offensive lineman Bruce Campbell looking like he is ready for his cameo role in the next Star Trek movie as a Klingon. Oh, sorry, SPOILER ALERT!!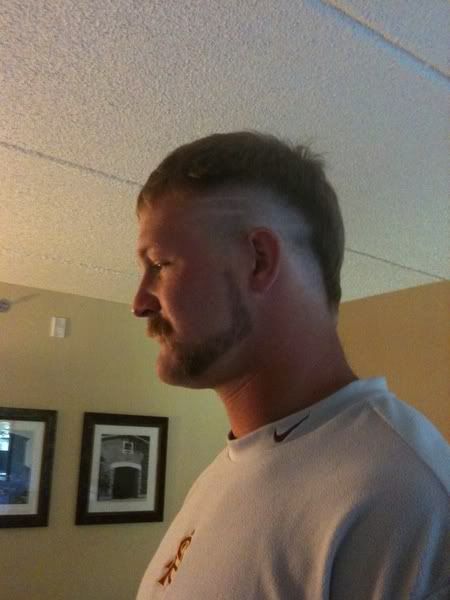 Round six pick linebacker Travis Goethel is ready to join the Funky Bunch. Someone get Marky Mark on the phone. Come on, come on! Feel it feel it!…
Undrafted free agent offensive lineman Alex Parsons actually gets a pretty stylish "Two Face" look here. That cut took some skill. He may decide to keep it.
Last but not least, number one pick linebacker Rolando McClain getting his pretty little do. He got out of it earlier in the day but he wasn't going to get out of it altogether. Thomas Howard enjoyed that far too much I'm sure. And since there is no practice tomorrow, this could be the only picture anyone will see of it.
Follow me on Twitter @LeviDamien or befriend me on Facebook