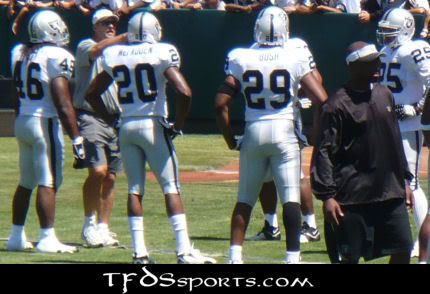 The Raiders face the NFL's worst run defense (32nd) this weekend in the Houston Texans.
Through three games the Raiders have had problems getting the running game going that was in the top ten the past two seasons. And Robert Gallery being out certainly doesn't help. The inconsistency at the center position has caused some problems as well.
Chris Morris handling the signals up front by default after Samson Satele proved he was not up to the challenge. The Raiders made a trade with Miami to bring him here thhinkin that they were getting a center that could move in space after being in a power blocking scheme with Miami last year. Satele saw action at center briefly when Gallery went out initially in the home opener while Chris Morris slid over to left guard. Then Gallery returned in week 2 and promptly broke his leg. However, Tom cable did not think enough of Satele to keep him at center.
Now journeyman offensive linemen Erik Pears is the starting left guard, which may have been one of the reasons the Raiders rarely moved the chains against the Broncos last Sunday. Then again, with a quarterback who's accuracy is suspect and a runningback that can't hold onto the football, just what can the Raiders do?
Mental mistakes were obvious the past couple of weeks. From JaMarcus Russell staring down receivers to Richard Seymour pulling Ryan Clady's hair, things need to get cleaned up and fast. Seymour commented on how the Raiders can correct their mistakes :
" I think you lead by example. I'm not a rah-rah guy coming out and giving speeches. You go out and get the job done by your play in practice, preparation. Cause it's really two games. It's the game throughout the week as far as preparation. And then it's also the game on Sunday. So we want to win both of those battles," Seymour said. "And if we don't do a good job throughout the week as far as preparation, then they'll have the edge on us when it comes to the game. So it's a process on getting it done, and I think guys are willing to put in that work."
For the record, Tom Cable said today's practice was "excellent," with good tempo. For the Raiders' sake let's hope that translates onto the playing field against Houston this Sunday. The defense was out on the field for over thirty-five minutes last week, with the offense laying even a bigger dud than it did in Kansas City. Tom Cable and company must find a feel for his runningback rotation while getting the offensive line in sync.
Darren Mcfadden was expected to have a breakout season now that he is fully healthy. He has struggled breaking for long gainers and holding onto the football. This weekend he get's his chance to have his second 100+ yard rushing game against the league's worst run defense. If he cannot produce then the Raiders ought to give Michael Bush a serious look going into week 5.
How do we get the Young Guy Involved?
Darrius Heyward-Bey so far has one catch for 19 yards which isn't exactly newsworthy. One may ask one's self 'why aren't the Raiders using him in much the same way they did speedster Johnie Lee Higgins last year?' Or 'why not use him in a more limited role  that would help him gain confidence instead of telling him to line up and "go" right from the start?'
The Raiders are holding firm with their two starting rookies at receiver, despite only nine catches between them (eight of which went to Louis Murphy). While the most experience receiver on the team, Javon Walker isn't being given a chance to prove if he is back to form.
–AJ DeMello, TFDS Guest Contributor