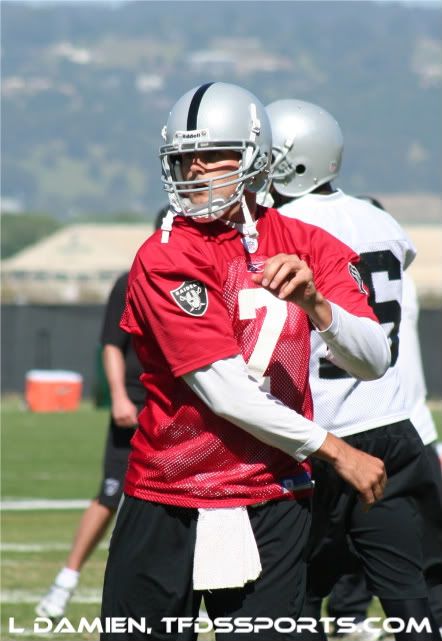 There were a few interesting things to go down this weekend but for the most part, we are reaching a part of camp where there are few new things to discover until these guys can get on the field and starting really hitting. And that means hitting someone not wearing the same uniform.
At this point, it is about getting veterans rest and letting the young guys and camp hopefuls fight for roster spots. For those guys, every practice is critical. A hiccup or two may not break them but any more than that, could mean that they don't hardly even see the field in preseason and therefore never really get a chance to prove what they are capable of in a game situation.
Here are a few guys who either helped themselves or hurt themselves in camp this weekend.
Winners:
Kyle Boller
He has gotten a lot of extra work with the injuries to Bruce Gradkowski (groin) and Charlie Fry(wrist) and he has made the most of it. The team signed recently released QB Colt Brennan to fill the voids left by the two injured quarterbacks. And the way Boller has looked, he may not have anything to worry about in regards to Brennan taking his job.
Nick Miller
Finally healthy after a missing all of last season and this season's mini camps. He has picked up where he left off. In the last couple of days in particular he has played extremely well. His kick/punt return abilities already make him a valuable member of the team, but it is his receiving abilities that continue to wow coaches and onlookers. He is fast and concise and has tremendous hands. The name Wes Welker would be a fairly accurate comparison. Although Nick is stronger and quicker.
Stevie Brown
He was the Raiders final pick in the draft this year. The 7th round conditional pick played both safety and linebacker at Michigan. Many would look at a guy like that and say if he played at two positions, he wasn't great at either one. But he has been playing some damn fine safety lately. He takes good angles on the ball and with linebacking experience, he is quite a nice hitter. The rub is that the Raiders already have Mike Mitchell and Jerome Boyd who have the exact same skill set. But if Brown keeps it up, he will find a place on this team. He seems bound to be a standout special teams player.
Tyvon Branch
After Friday practice, he was a little down on himself. He said "I got to refocus and get my swag[ger] back on this field." And so on Saturday he came out with a mission. He was ball hawking all over the field. On one series, after Jason Campbell had completed three consecutive passes to three different tight ends, Branch had seen enough and came up to bat the fourth attempt down. He had another pass defended in the endzone a bit later. His next statement was a completely different tone from the day before: "It's a beautiful day." Yes indeed.
Losers:
Manase Tonga, Luke Lawton
These two have been injured for quite a few days. These injuries cause Cable to try out UDFA defensive end Alex Daniels at full back. Daniels played well enough that he is now playing fullback full time. Cable announced the move after Daniels trotted out on the field wearing a new #39 signifying the switch.
"We're going move [Daniels] over [to fullback] and take it out of the experiment category and put it into the realistic category and see if we can develop him. Instead of waiting, let's just push this thing and see if we can do it. We've seen enough already to say, 'hey, there's a real chance here."
Just what these guys need is one more guy threatening to take their roster spot. Lawton is in the most trouble because he is suspended the first two games of the season anyway. Tonga, even if he doesn't make the regular season roster, can be placed on the practice squad– Lawton cannot. Marcel Reece and Chane Moline have held their fate in their hands at the position. Reece has looked the best so far.
Tommy Kelly
He has looked ineffective lately. Actually through most of camp he hasn't done much. Satele and Gallery have him almost completely neutralized. Veldheer was mauling him pretty easily as well. Kelly continues to run with the first team but if this keeps up, he could begin to lose snaps to Richard Seymour, John Henderson or Desmond Bryant. At the moment he seems relatively safe simply because the Raiders don't have a lot of good options. Seymour and Lamarr Houston playing the outside and Kelly and Bryant on the inside looks like the best first team option.
Yamon Figurs
He shows good quickness in the return game but his receiving skills are terrible. I had noted the first time I saw him catch, what I noticed most was the sound of the ball hitting his hands. You always knew when it was Figurs because you could hear it "smack!" when it hit his hands. They say that receiver should have soft hands and he does not. Those 'stone hands' reared this weekend pretty badly. Saturday  morning he had a ball bounce off his hands that was then picked off by Stevie Brown. Then in the afternoon practice he had two straight passes bounce off his hands. The first was a simple five yard short slant that was perfectly placed– doink! At this point he has little chance even as a return man with Nick Miller and Jacoby Ford playing as well as they are.
Jonathan Holland
He injured his foot and became the odd man out when the team needed to bring in another quarterback. This may not be the end for Holland with the Raiders though. The team will continue to pay him until he is healthy at which point they could possibly re-sign him should they so choose.
Quentin Groves
He has been beaten quite a few times of late. Saturday Reece took a swing pass and flat outran Groves and took it up the sideline. Then Reece caught another ball in front of him. Groves' only 'highlight' was when he got in a big fight with fullback Alex Daniels in which he actually kicked Daniels. When asked about the kick, he had this to say:
"Growing up in the streets of Mississippi that's what you kinda do. By any means necessary you get the job done"
But he was quick to play the fight off as no big deal. As a good thing in fact:
"On the field we battle, but off the field we're brothers. And that's what it's gonna take for us to get where we want to go."
"I just try to provide a spark. I talked to my backers last night and said we gotta come out and be one of the most feared groups in the league. Because that's what the Raiders are known for; being a feared defense, great running the ball, and great special teams."
Gotta like his attitude but less kicking and more playmaking would probably go farther in accomplishing those goals.
Follow me on Twitter @LeviDamien or befriend me on Facebook