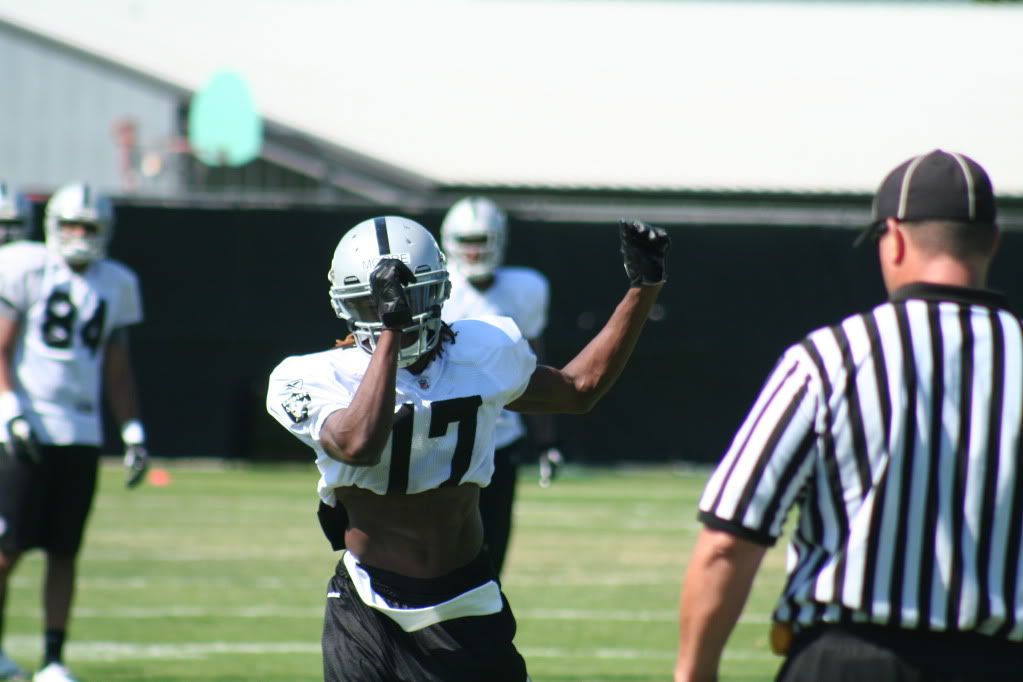 The Raiders embarked on their first day of camp after fumbling away their best offensive player in the last three seasons. Today it was about trying to move on and continue to build that bully. The task began last night with the signing of several offensive linemen and it continued today when they invited free agent tight end Kevin Boss in for a workout.
Before Boss took the field the Raiders had the business of practice. Yet again, rookie Denarius Moore stole the show. This time he stole it at Stanford Routt's expense.
Moore has gone from not knowing any of his routes and looking nervous, to looking like one of the best receivers on this team. Today in particular, he burned Routt badly on at least three occasions. In fact, after the first catch, whenever he lined up against Routt, the quarterback went for him the moment the ball was snapped.
That first catch was a beauty. It was a long pass up the sideline that Routt appeared to have tight coverage. But when the ball got there, Moore leapt in the air and snatched it away from Routt to come down inside the five yard line.
Next time they lined up, Moore ran a slant and got the inside on Routt; he caught the ball in stride for a big gain. The final time they lined up across each other, he ran a timing curl route and caught it in front of Routt. By this point, it had become an Eddie Royal size embarrassment for Routt.
After practice, Hue Jackson found himself commenting on the play of the young receiver for the second day in a row.
"Wow! You guys know I like using that term 'wow.' He's a tremendous young player. He's very talented, I mean that young man played at Tennessee and everything he did at Tennessee, he's doing out here on our field… every time you look up, there's number 17 making a play."
Moore did perform at a high level at Tennessee though he was very inconsistent. In his senior season he had two games with more than 200 yards receiving but he also had four games in which he had one catch or less. So far in camp, he has been more the 200 yards per game Denairus Moore than the 1 catch version.
As I alluded to, Moore has been playing well for the last few days. He explains that he was getting used to the playbook and that is exactly what it appears to be. I couldn't help but wonder, if he had made it out to the camp the Raider players had in Atlanta last May, would he have had a jump start to learning the playbook. His reason for not attending the camp was that he had "personal problems." I wonder if it was those same personal problems that kept him away from the Rookie Symposium?
Regardless of whatever "personal problems" Moore had before, he seems to have caught up. Said Moore, "I feel like I'm starting to get the groove of things, starting to get the plays down play by play, day by day."
On the other side of that is the Raiders' supposed number one corner, now that Nnamdi Asomugha has left the team. Stanford Routt has looked terrible throughout camp and today he took his performance level to a new low. Hue Jackson made excuses for Routt's poor performance by suggesting that he did not run the drills at full speed and that is how it is supposed to be. But from where I was standing, it looked like everyone was running near full speed — Routt included. Take that for what it's worth.
After practice was over, the field was used for Kevin Boss to have his workout with the team. He set up on the opposite field and went through drills with undrafted rookie Jordan La Secla throwing passes to him. He also did some blocking drills. From what I could tell, he looks very good. He is certainly a formidable specimen. That is obvious even from a good distance away.
Hue Jackson was not willing to say he was content with the group of tight ends the Raiders currently employ, saying, "We're going to always look to get better. This process isn't over. We're going to continue to find players."
Then he went on to admit that Kevin Boss was indeed on the premises to workout for the team.
Raiders' defensive line coach Mike Waufle is familiar with Boss as they won a Super Bowl in New York together. Boss started that Super Bowl with Jeremy Shockey out with an injury. That was the beginning of Boss' career as the starting tight end of the Giants. Quite a beginning for the young tight end out of little Western Oregon University.
I am going to go out on a limb and say, after the Zach Miller debacle, the Raiders will not let Boss out of their sight until he has signed on the dotted line. Expect that announcement right around 3:30 pm tomorrow.
Tomorrow is slated as the day the newly signed veterans report to camp. If the players sign off on the CBA, that will happen. If they don't, then they will continue to stand on the sideline watching their teammates practice. Let's hope it gets done so we can begin to get a better idea of who will be the Raiders' starters and at which positions.
Quick outs
The Raiders' current most veteran tight end, Brandon Myers, continues to be what he has always been — great at blocking, lackluster as a receiver. He does well in blitz pickup drills but gets outplayed by the two rookies in the receiving game. At this moment I am putting him on the bubble.
Demarcus Van Dyke had the first interception on a quarterback I have seen this camp. Hue Jackson has been stressing turnovers so no doubt that made him very happy. It was a high pass by Campbell that he leapt up and plucked out of the air on the sideline.
By tomorrow the top 51 highest paid players on the team must fit under the $120 million cap.
Injury updates
Darrius Heyward-Bey practiced for the first time this camp. It was never revealed what his injury was or how long he would be out. I asked him yesterday what his timetable was and he said "day to day." I guess he was not lying about that.
Louis Murphy and Cooper Carlisle were on the sideline with what Hue Jackson likes to call "nicks."
Jacoby Ford wore his new soft cast and will be out all of camp with a broken hand.
Mike Mitchell was on the sidelines late in practice and afterward he tweeted "prayers needed." No one knows exactly what that means but I will keep my eyes peeled.
Other injuries are Bruce Campbell (knee), Trevor Scott (rehabbing ACL), Chimdi Chekwa (shoulder), James McCluskey, Joe Porter, Eddie McGee, Taiwan Jones.
Follow me on Twitter @LeviDamien to keep up with all the training camp action. Or befriend me on Facebook.