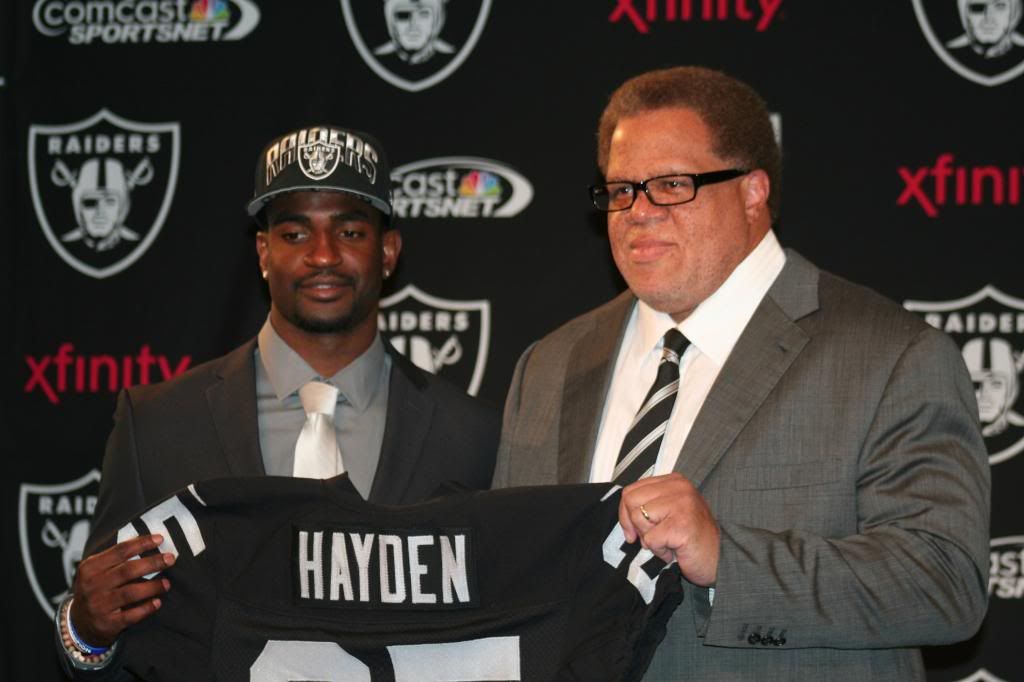 Here's a link to last year's rookie reports. Now let's get to this year's…
1st round pick: cornerback D.J. Hayden, Houston
Strengths
-Good change of direction/fluid in the hips and with his back pedal
-Past two years at Houston he's had six interceptions, with three stealthily scooted in for TD's
-Has good speed (ran a 4.33 40-yard dash), which would've probably made Al soak one of those towels of his
-Will swiftly maneuver inside/outside the receiver for a reach around
-Excellent ball skills with superb instincts
-When he gets inside your hip pocket, he'll pick your nose as an intimidation tactic
-Makes plays as a tackler
-Masterfully swipes & swoops the football out
Weaknesses
– Although fully cleared medically, Hayden nearly died in a collision during practice last year. But you should have seen other guy
-Some scouts say he's not physical enough on the field, even though he literally almost took one for the team
-Not typical height or arm length
-Can sometimes get boxed out on run plays
-Has been known after games to 'pop' 5-hour energy drinks all over the locker room
Hayden immediately makes the Raiders' secondary better, adding great depth to nice looking secondary on paper. If he can come back from his freak injury and be the difference maker the Raiders expect him to be, then this is a really good pick. As long as he comes up with some turnovers in year one he'll not have to be Superman right away to make this pick valid.
2nd round pick: offensive tackle Menelik Watson, Florida State
Strengths
-Helped FSU post its most impressive running game in school history (205.9 yards per game)
-FSU had a school record 40 rushing TD's running behind him
-Tremendous upside
-Good athlete
-Has a background in soccer, basketball, and boxing although 'Menelik knows' doesn't really have great ring to it
-His punch makes defenders thirsty
-Natural quickness
-Superb upper body strength
-Can jarringly shake defenders from side to side before driving them into the ground
-Amazing kick slide
-Gets to the 2nd level well
Weaknesses
-Raw talent, has not played a lot of football
-Can struggle to anticipate defenders
-Greasy fingers
-Hand placement is not great
-Eats 67 boiled eggs the night before a game (this could also go in the strength category)
-Sometimes whiffs on blitzers (No, that's not slang for some kind of recreational drug use)
-Can get a little grabby, but often get away with it
-Enters the NFL at 25 years of age, though his grandkids keep him grounded
-Sometimes when he's fast out of his stance he yells, "Ay, Mum!" real quick into the cameras
A lot of upside here with Watson, who some scouts say is a future all-pro tackle should he continue to pick up the game. The hope here is that he plays immediately over Khalif Barnes and starts to gel with the likes of Jared Veldheer and Stefen Wisniewski and become a staple on the Raiders line for years to come. In order to develop into a great starting o-line they'll have to do things like study and play a lot of ball together, as well as go out for the occasional meatball. Synergy is key.
3rd round pick: linebacker Sio Moore, Connecticut
Strengths
-Was a leader for the Huskies
-Had 8½ sacks with 15½ tackles for loss last year
-Quick as a crack (off the line)
-Can rush not only as an outside linebacker, but also as a defensive end
-Versatile enough to play strong side or weak side linebacker if need be
-Can lineup in the slot and cover tight ends
Weaknesses
-Needs to improve taking on blocks
-Struggles with bigger linemen (like you wouldn't)
-May be a one-trick pony as a pass-rusher but his silky, flowing mane and tail more than make up for it
-Does not have a pre-game ritual
-Some describe him as a 'weirdo' for not having a pre-game ritual
-May seriously need to work on getting a pre-game ritual
-May seriously need to work on getting more weaknesses so guys like me don't hit the F key when we read about some BS like his having no pre-game ritual
Really like this pick. Raiders already had him at the Senior bowl lined up at linebacker and defensive end, where he recorded a sack. Largely regarded as the steal of the third round. This pick (like Hayden's for the secondary) immediately makes the Raiders line backing corps that much better. This pick also makes up a little for not drafting a defensive linemen early. Moore's pass rush and coverage ability cannot be overlooked here.
4th round pick: quarterback Tyler Wilson, Arkansas
Strengths
-Lots of experience at Arkansas with 24 starts going 1-0 in his lone bowl game experience
-Completed 63 percent of his passes for 3,638 yards with 24 touchdowns and six interceptions in 2011
-Threw for 52 TD's with a 62.6% completion percentage over his career at Arkansas
-Above average arm strength, quick delivery
-May not be able to throw 65 yards from his knees…. but has flashed the ability to make defenders fall to theirs
-Smart with the football. Also smart without it.
-Good vision, is able to dissect plays and make quick decisions
-Very good pocket presence, underrated mobility under the rush
-Will stand there and deliver the ball with touch
-Even with small hands like a carnie, he's only fumbled dos times (or 'deux times' for you non-Spanglish speakers)
-Very vocal leader, will not back down from any fight — tells rushers he 'eats Cujo for breakfast'
-His intangibles project well as an NFL starting quarterback
-Compares to Brett Favre
Weaknesses
-Compares to Brett Favre
-Hands so small they make Gary Coleman look like Dikembe Mutombo
-May be a little too tough — known to swallow nails after losses to help calm himself down
-Footwork could be better if he ever plans on taking the NFL, Dancing With the Stars pipeline
-Injuries have been a concern
-Sometimes stares down his receiver way (WAY) after he's thrown the interception
-Will need to work on not throwing off his back foot
-Tries to do too much at times
Wilson could be the first of the signal-callers from his draft class to start, just with his intangibles and leadership qualities alone. He'll immediately come in and work just as hard as any quarterback, if not harder (just keep the nails away from him for the love of God). This rounds out the Raiders quarterback depth chart well and give Reggie his 'own guy' to groom going forward. A low-risk, high-reward pick…probably the steal of the draft if he becomes the Raiders starting quarterback. The NFL just might see another rookie Wilson beat out Matt Flynn for a starting job and cause him to yet again be cast away.

6th round pick: tight end Kick Kasa, Colorado
Strengths
-Lots of upside in his game
-Athletic, made transition from defensive end to tight end
-Moves fairly well for a 6'6, 270 pound non-fat guy
-Physical blocker
-Averaged over 20 yards a catch in the 4th quarter in 2012
-Quick out of his stance
-Can seriously impact the run game as a blocker
-Good work ethic, knows that he's not that polished
-WILL polish off some defensive ends for lunch, though
-Will polish off your lunch if you're not going to finish it
Weaknesses
-Raw in his game
-Only 25 catches in 2012
-More of a blocker than a receiver at this point
-Often uses his chest to help catch the football
-Route-running not too sharp
-Tends to step on toes in the shower
-Gloves make him sweaty
-Can't fake like the best of them
Raiders got to work with this mammoth tight end at the Senior Bowl, so there's some comfortability there. At the very least, Kasa comes in and is the Raiders best blocker at the tight end position day one. His measurables and upside make him a solid pick in the 6th round. He could turn into an every down player, which is just what the Raiders need at tight end right now.
6th round pick: tight end Mychal Rivera, Tennessee
Strengths
-Averaged 15.6 yards per catch adding 5 touchdowns in 2012
-Arrives with brownie points because he played at Reggie McKenzie's Alma mater
-Reminds scouts of Kellen Winslow Jr.
-Adjusts well to the football
-Doesn't drop it like its hot
-Has good speed for a tight end
-Can line up in a few different spots offensively
-Runs solid routes (can possibly be the 'yang' to Nick Kasa's 'yin')
Weaknesses
-Blocking is not his specialty
-Ran a 4.81 40 yard dash despite his good athleticism
-Not big enough to be an effective blocker
-SNICKERS at winded refs
-His crabwise quickness probably couldn't get him a date to Hooters
Even if this guy can't block, that's not what the Raiders drafted him for; they wanted a pass-catching tight end. Rivera is so atheltic and smooth catching the football I would be forkingly shocked should he not make the team. He treats that ball like its his baby and you gotta admire that.
6th round pick: runningback Latavius Murray, Central Florida
Strengths
-Led Conference USA in rushing
-Carried it 407 times for Central Florida without surrendering a fumble
-Accounted for 1337 yards with 19 touchdowns despite missing 3 games in 2012
-Keeps his feet trucking on contact
-Shifty; similar to Darren Mcfadden with his short area quickness in a power scheme
-Versatile enough to be used like Marcel Reece (as a back, blocker, and receiver)
Weaknesses
-Has had knee and shoulder injuries sideline him
-At 6'3, some question if he's too tall to carry the ball
-Runs upright
-Doesn't have great straight-line speed
-Used to work at Staples
-Doesn't pick up long runs consistently
Overall, Murray is a lot similar to Marcel Reece in a sense (besides being brutally fast for a phatback), because he can be used in multiple different ways, but he may also need a year on the practice squad. Got to love the versatility he can give you if you're Greg Olsen.
6th round pick: defensive tackle Stacy McGee, Oklahoma
Strengths
-Long arms
-Athletic for his size
-Known to step up in big games and to 'Step Up 2: The Streets' on the dance floor
-Has put prior incidents with the law behind — no Mc-kidding around. He will put all future incidents behind him as well
-Versatile
-Can play the three or five technique
-Gets off the line quick
-Chases ball-carriers well
Weaknesses
-Chases letter-carriers well, even if the gate is locked
-Lack of production (only 2.5 sacks in his career)
-Wrestled with drunk driving (no cup-holders)
-Was arrested for marijuana and DUI offenses
-More of a rotational player as in rotating from active to suspended
-Can't get enough of the 'Rocky Mountain High' (which in Oakland is downright UNACCEPTABLE)
Biggest chance Reggie Mckenzie's took with a draft pick since he got here. The upside as a 6th round pick for Reggie Mckenzie must have been too good to pass up on. If McGee can make the team and play big in games when the Raiders need it, then this is a pretty good pick.
7th round pick: receiver Brice Butler, San Diego State
Strengths
-Lengthy receiver
-Effortless in his stride
-Deceptively fast
-Good hands
-Can go up and get the ball
-Quick out of his cuts
-Dangerous with the ball in his hands
-Has a couple of pre-game rituals
Weaknesses
-Thin frame
-Sometimes allows the ball to get too far into his body
-Doesn't exactly make love to the football
-Not a lot of production, transferring from USC to San Diego state
-Only 24 catches in 2012
-Sneaks ham sandwiches
-Not overly psychical
-A little long
-Makes coaches get shorty with him
A wildcard pick here not because of his demeanor, but because of his lack of production. Recently signed undrafted free agent Conner Vernon may ultimately have a better shot of making the team. If one of these guys can contribute like Streater did as a rookie, then it's ALL good.
7th round pick: defense end David Bass, Missouri Western State
Strengths
-Good locker room presence
-Started all 50 games for the Griffons with 66.5 tackles for a loss
-School record of most career sacks (40.5)
-Had 19 Pass Breakups, 3 Interceptions (1 for a TD), 1 Forced Fumble AND 1 recovered fumble
-Great measurables (long arms)
-Has good quickness getting upfield
-Hand strength tends to prick people out
-Pursues well
-Can rush with his hand on the ground or as a stand up linebacker
-Drops well back into coverage out of his 3pt stance (that's hot)
Weaknesses
-Scouts don't know if he's a hand on the ground kind of guy or stand up kind of guy but they do like his personality
-Has not played against superb competition (Division II)
-Not at his best when defending the run
-May have to be OK with coaches saying, "Son – you're…"
-Bleeds through his socks
-Struggles with blockers
-Sometimes he'll break a nail but toughs it out
A lot of people like Bass' upside as late round draft pick. His 40.5 career sacks should not (and did not) go unnoticed. Sacks are sacks, no matter how much DII's talent lacks. Look for this guy to make the team and contribute. The ways he can be used rushing and in coverage make him a very intriguing prospect. Keep your eye on the Bass, because he's looking to make some noise, folks.
GO LONG:
-Raiders signed UDFA Bobby Cowan (averages over 46 yards per punt) to battle Marquette King for the punting job. Rumor has it they are going to kick it out, and whoever loses is getting poked in the eyes. You heard it here first.

The content of this article comes from the twisted mind of AJ DeMello and is for entertainment and comedy purposes only. For more of his jokes and one liners follow A.J. @humorousfiend