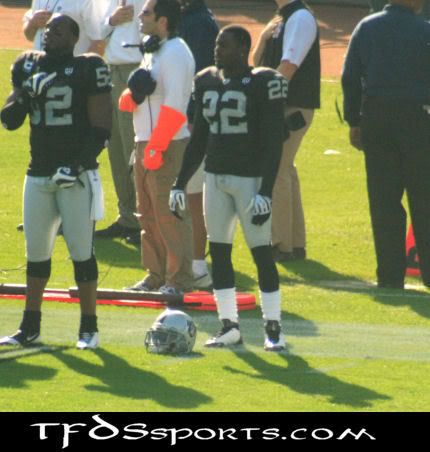 Beyond the starting tandem of Nnamdi Asomugha and Chris Johnson, the questions at cornerback are numerous for the Raiders. Stanford Routt has been questionable at best, but he is one injury away from starting. The fourth defensive back position is a choice between a player who was a wide receiver three weeks ago or a player who was just resigned days ago.
An even bigger question is whether or not defensive back John Bowie remains on the roster. ESPN reported that he had been released by the Raiders. However, Raiders.com and head coach Tom Cable have both denied that report and have said that he is on the injured reserve.
Cable told the local media that Jonathan Holland will be the fourth cornerback ahead of the recently resigned Miller. This is a cause for concern, as Holland has only been a defensive back for maybe three weeks after having been a wide receiver. Not that Miller is much of a better option. He would frequently appear lost in coverage, and was brought back for his return skills.
Miller was undeterred by his release and return to the Raiders. "That's the nature of this business. You've got to understand how it goes. Sometimes it's really not about you as a person, it's kind of just what fits for the team or what's the needs for the team at that point in time. You just kind of take it in stride and be ready for the next opportunity."
The Bowie (non)release is only noticed because he was the player who was selected with the pick the Raiders acquired for a certain high profile wide receiver. This is his third year as a Raider and the third year that he has ended the season on the injured reserve. If it was not for the Moss connection, Bowie would have been long gone.