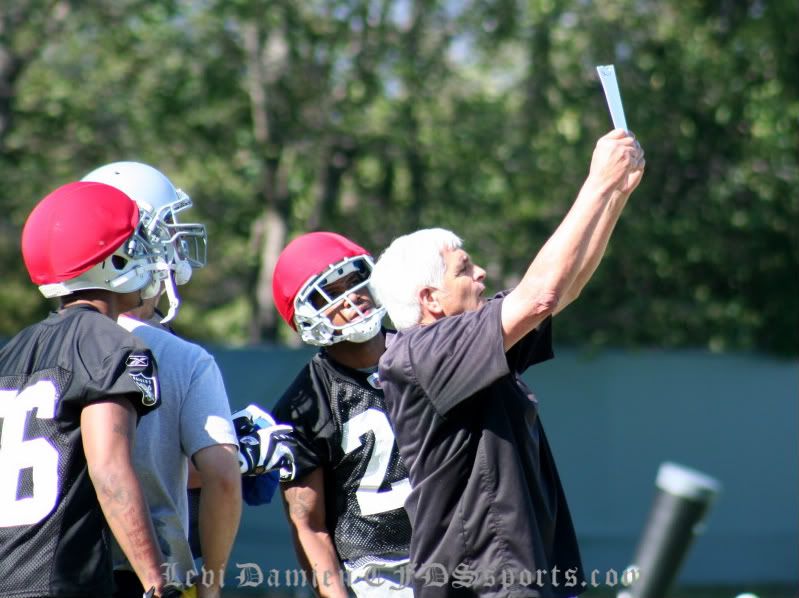 None of the players the Raiders cut yesterday were signed by other teams allowing the team to take their picks of the litter fo their practice squad. The squad didn't need to be announced Sunday for one to know who would be on it. It was basically a matter of who was cut on Saturday that returned on Sunday.
Those players are:
OL Alex Parsons– An undrafted free agent out of USC. He was a little raw and the Raiders hope he will at least eventually become insurance should they lose someone on the roster to injury.
DT Kellen Heard– A monster of a man at 6-6 and 355 pounds, the undrafted free agent didn't make much noise in camp and preseason but the Raiders hope his talent can catch up with his mass at some point.
FB Manase Tonga– The first undrafted free agent signing by the Raiders this offseason as the team made fullback a priority. He looked to have a good shot at the backup fullback behind Marcel Reece but became a somewhat surprising cut. The team is carrying just one fullback (unless you count Rock Cartwright) so there is a good chance Tonga will get called up once Michael Bush is healthy.
WR Shaun Bodiford– The speedy wide receiver has had his ups and downs with the team. He fumbled a kick off in the first preseason game but later showed some good skills as a receiver. He was a terrific player at Portland State which earned him an invite to last year's training camp. Now he is back hoping that his speed and hands can keep him around a bit longer.
CB Joe Porter– Was a long shot to make the team but he is good on special teams but it every team needs a corner on the practice squad and it was between Porter and Joey Thomas of the Raider cuts.
LB Slade Norris– Another surprising cut as the team chose the long time underachieving Sam Williams over him. The former 4th round pick is a bit of an underachiever himself but he was having a good camp and had at least looked good on special teams. He was called up for the final few games of last season so expect the same this year.
S Stevie Brown– He was all over the field in the preseason making interceptions and fumble recoveries. He was the final cut from the team and he was so surprised that he had already had an interview in which he had said how excited he was to have made the team. Brown played at Michigan where he switched from Safety to Linebacker. His hitting ability shows his linebacking abilities but his ball hawking skills are those of a free safety, which is where the Raiders saw him playing. His selection to the practice squad is the best news of all because he has shown a great deal of potential.
The rumors that were started by South Florida radio host, Andy Slater, of Stevie Brown being favored to make the team over Mike Mitchell seem to have picked up some steam. This is due to the fact that Slater also had inside information that Trevor Scott would be moving back to defensive end and Quentin Groves would be starting at weakside linebacker– information that was proven true at practice today.
The Raiders have Scott listed on the roster as a defensive end and Groves was indeed running with the first team at linebacker. This development lends at least some truth to his report that the coaching staff was unanimous in their want to keep Stevie Brown and cut Mike Mitchell. However, as several have pointed out since then, it seems more likely the staff would look to trade Mitchell than cut him. If any of the retained safeties were in danger of being cut, it would be Hiram Eugene. But either way, as Cam Inman pointed out, this news has Mitchell as a "marked man" among the fans. Mitchell should be happy the team was able to sign Stevie Brown to the practice squad because if Brown had gone to another team and had success, Mitchell would never live it down. In much the same way that John Bowie was always referred to as the player taken with the 4th round draft pick acquired from the Patriots in the Randy Moss trade.
UPDATE: The Raiders have also added TE Kevin Brock who was released by Cowboys and was on the Steelers practice squad last season. With there being just two tight ends on the Raider roster, Brock could hear his number called at some point this season.
ALSO SEE:
2010 Oakland Raiders final roster breakdown
Analyzing what the final roster cuts mean for the Raiders
Follow Levi on Twitter @LeviDamien or befriend him on Facebook