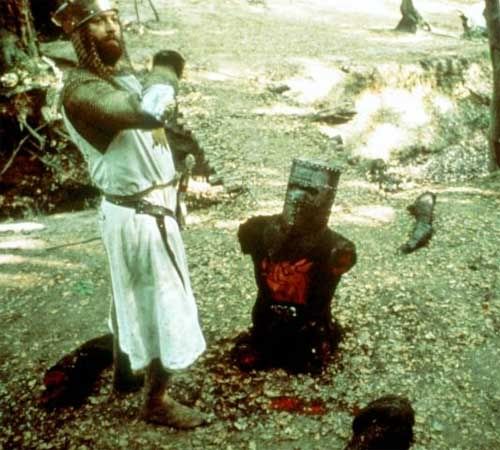 In the past few weeks, the Raider have made some extremely questionable decisions regarding the players on their roster.
It has always been difficult to gauge was the Raiders will do from day to day and Al Davis has always been known for a few head scratchers. But this off season one would think that with the uncapped season, Davis would be the one NFL mind that would be in his element. Afterall, the way the free agent market is right now is almost exactly the format it was back when Al was still considered a genius; back when the Raiders ruled the NFL; back when almost every acquisition and trade they made turned out to be the right move.
But lately, it appears that not only has the NFL passed Davis by, but whatever prowess he had in his heyday has long since passed him by as well. And to call the recent moves "head scratchers" is akin to the Black Knight in 'Monty Python and the Holy Grail' calling losing a limb "a flesh wound."
The first string of odd moves happened when the tenders were handed out. Show me another team that would give a top tender (first and third round picks) to a backup corner, then turn around and give an original third round tender to the starting middle linebacker and team leader in tackles in four of his five years in the league. Bet you can't find one– besides the Raiders.
Giving a high tender to backup corner, Stanford Routt, because the team doesn't want to lose him is fine. But the highest tender? I would venture to say that a first round tender would have been MORE than enough to keep other teams away from him. Even a second round tender may have sufficed. And hey, Routt was drafted in the second round so they could have even made it an original round tender and saved more money. He certainly hasn't exceeded second round value. Would anyone even say he has lived up to second round value? If I were the Raiders and a team wanted to give up a second rounder for Routt, I would take that deal. Clearly the Raiders didn't want to risk losing him. But there wouldn't be a single team that would bang on the Raiders door to get him for a first rounder alone.
Then after way overvaluing Routt, Kirk Morrison gets insulted with an original round tender. This for a guy who was drafted in the third round and has surpassed any expectations of a third rounder. Granted, he hasn't been spectacular at middle linebacker and the Raiders are looking for an upgrade. But a third rounder?! Come on! I have heard of inviting teams to come take a guy, but seriously, that is shooting fish from a baby. The Broncos are inviting teams to take their problem child receiver Brandon Marshall from them but they are doing it with a first rounder. If the Raiders want to move on from Captain Kirk for some new blood, at least a second round tender would be getting closer to his value. And if no one will offer a second rounder, you can listen to some other offers. Perhaps a third and late round pick? But as it stands, with a third round tender, he is gone for exactly that. Even if that third rounder were the last pick of the round, it makes no difference. So much for the hope of moving Kirk to outside linebacker to utilize his speed. The lifelong Raider fan will be swooped up and be suiting up for another NFL team next season. Count on it.
While Morrison is being ushered out with an offensive third round tender, there were the mysterious second round tenders handed out to Thomas Howard, Ricky Brown and Jon Condo.
First off, Thomas Howard was drafted in the second round so an original round tender would have accomplished the same thing with a lower price tag. So going with the second rounder tender instead of original round tender makes zero sense.
Second off, Ricky Brown is an overachieving back up who can't seem to stay healthy. He has played well at times at strong side linebacker but has never been able to unseat Morrison as the starter in the middle. A third round tender would pretty much guarantee no one would be trying to sign lil ole Ricky Brown off the Raiders injured reserve list.
Last off, Jon Condo is the long snapper. A second round tender for a long snapper?! That sounds like some kind of joke. Like pulling a high tender and a random position out of the air with the Raiders as the punch line. Leno? Letterman? Kimmel? Who wants to take that one for their opening monologue? Actually, Conan can have that one when he gets his show on FOX.
Not so funny was the cutting of Justin Fargas. Granted he is 30 years old and granted he has always been prone to the injury bug. But when he is healthy, he is the best running back on this team. Michael Bush may have surpassed him but McFadden is not a between-the-tackles, every-down back like Fargas is. McFadden is a split-out-wide, throw-in-a-wrinkle, change-up back. So basically all the Raiders have now is Bush back there to carry the load. Fargas was due $1.7 million if he was retained so this was clearly a money decision more than anything despite the official word from the Raiders being "failed physical." But even with the bump in pay, Fargas comes extremely cheap.
The 30 year old threshold doesn't really apply to Fargas. He only played about one full season in at USC and wasn't a starter much of that. He came into the NFL after 5 years in college due to sitting out a year when he transferred from Michigan. He played sparingly until the 2006 season. He was the primary starter for the Raiders for one full season in the NFL (2007 in which he had 1009 yards). Do the math and you will see that he has carried the equivelant of about three full seasons. What this means is that he doesn't have the same wear and tear on him that a lot of 30+ backs have on them. He still has good years left in him and now he is visiting teams like the rival Chiefs as a possible destination for his services. I for one do not want to see him in a Chiefs uniform. It is reminiscent of seeing Marcus Allen in ketchup and mustard. Not pretty.
The news of Fargas' likely release came out along with the rumor of the likely release of Gerard Warren. The two of them could be more diametrically opposed. Fargas gives everything he has on every run and Warren shows up now and then while jogging and staying out of the way the rest of the time. Fargas was sent packing but Warren is still on the roster. Go figure.
After that came the re-signing of Khalif Barnes. This is the guy that originally held out for more money only to come crawling back to Alameda when no other team wanted to shell out large amounts of money for his overrated @$$. Then he bitched and moaned and all but refused to play at right tackle in training camp. Then he got injured and was out half the season. Then when he came back from injury, he looked truly terrible. So terrible in fact that he had us wishing Cornell Green would come back (Green just signed with the Bills by the way).
So now it appears the Raiders are pinning their hopes on Barnes as being the answer at right tackle. But unless he can make extreme strides from his performance last season, those hopes will be dashed very quickly. And yes there is always the wildcard hope that the Raiders will draft an offensive tackle to play the position. But I have my doubts that they will consider drafting an OT in the first round and after that, it becomes unlikely the player they draft will be able to step in and start as a rookie.
And the most recent news was that the Raiders have released Javon Walker and Greg Ellis. Ellis was injured part of last season but when he was healthy, he was as advertised. He actually surprised me as my expectations of him were low. So much for the Raider history of taking in a great veteran player and finding the talent he still had left in him.
And that goes for Javon Walker too. When he signed his monstrous contract two offseasons ago, it was clearly a mistake. But after he re-structured his contract to take a huge pay cut, it seems like a far more manageable situation. Many of you may recall him coming back from his secret surgery last offseason to dazzle the media in training camp. He looked like he was back to full form and there was no word from the Raiders to suggest otherwise. He was also lauded by his younger teammates for his veteran presence and the advice he imparted on them. Then the regular season came and Walker didn't see the field. He was active for just two games all season and I can recall seeing him line up just one time with no catches. This despite injuries to Chaz Schilens and Jonnie Lee Higgins and the struggles of the two rookie receivers, Darrius Heyward-Bey and Louis Murphy.
Last season it finally looked like Walker had fully recovered from the traumatic experience of his friend dying in his arms. Finally, it looked like he he had turned the corner. But the Raiders don't need that right? They needed to be the team that signs him to an enormous free agent contract during the most troubled year of his life, bench him when he says he is playing pain free for the first time in years, and cut him when this team really needs a veteran presence at receiver. Genius.
In the end the Raiders have simply no sense of the true value of the players on their roster. They ship out pieces they should keep like Kirk Morrison, Javon Walker, Justin Fargas and Greg Ellis while overvaluing current backups and special teamers. All the while, we watch as other organizations manipulate the current free agent market to keep the players they want while adding supplemental free agents.
What the Raiders are left with is a head and torso with no arms and legs hopping after the rest of the NFL screaming: "Come back here! I'll bite your bloody legs off!"