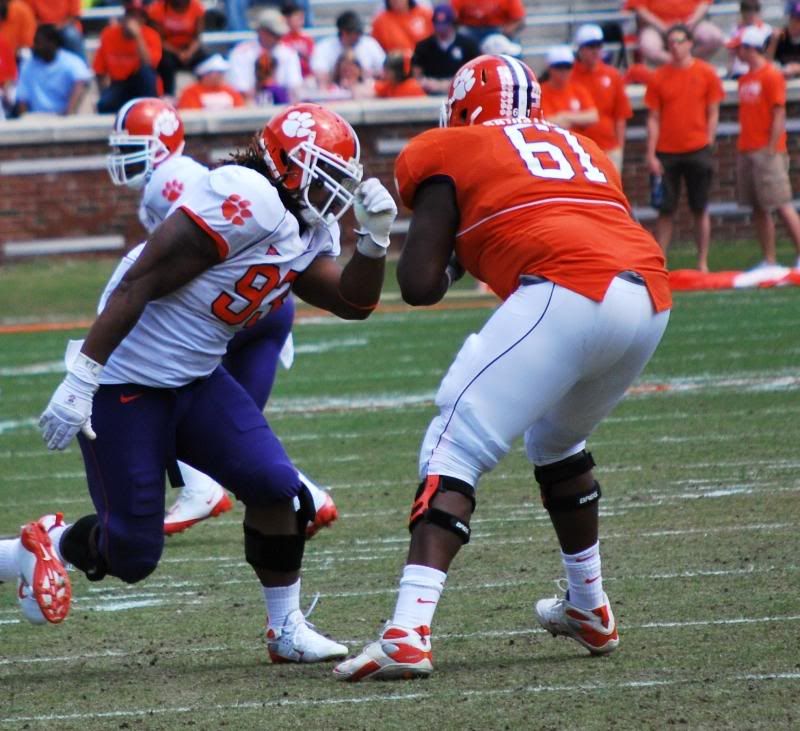 With the draft quickly approaching, NFL GM's and coaches are fast at work finding out all they can about potential candidates coming from college to come in and compete to make their 2011 rosters. While the owners and current players duke it out, Al Davis and Hue Jackson are honed in on taking the next step to making the Raiders a serious contender in 2011. Yesterday and today, that agenda included scheduling visits with two potential draftees, offensive tackle Chris Hairston from Clemson, and defensive back Chris Culliver of South Carolina.
Hairston was a three year starter at left tackle for the Clemson Tigers who started 36 games. During that time, he made the All-ACC team twice. He is considered a very cerebral player, clearly has a ton of experience, and has a massive frame with quick feet. Hairston had 29 pancake blocks last year and led Clemson in snaps played during his senior season with 754 snaps in twelve games. He projects well at the next level, but has to do some serious work on his game. He is 6'6″ 323 pounds, but is not considered to be in the greatest shape.
Hairston also could slide into the later rounds because he is said to have poor technique. Another pitfall for Hairston is the fact that he struggles against high caliber competition. However, Al Davis has been known to take players who can be coached up at the next level. He expects his coaches to be able to properly train and mold athletes in his organization. The New England Patriots are said to have taken a strong liking to Hairston early in the draft process also. There's certainly something to be said for the fact that he started ever since the first game of his sophomore season. That proves Hairston is a dedicated hard worker, something Al Davis admires and covets. Add that to the fact that he had daily practices against potential top defensive end pick Da'Quan Bowers (above) and you begin to realize how much potential this guy really has.
Chris Culliver is a six-foot 200-pound free safety from South Carolina who started seven games of his senior season at cornerback for the Gamecocks. Culliver was initially projected to go in the fourth round, but several teams including the Browns, Raiders, Chiefs, Vikings, and Texans are more interested in his press coverage potential as a cornerback at the next level and it's causing his stock to rise into the third round range.
Culliver has had impressive workouts, providing a 38 ½" vertical as well as a 4.36 forty-yard dash. He is also considered a factor as a return man – posting a career record as the Gamecocks' all-time kick return leader with 2,476 yards. He is a multidimensional football player who originally played wide receiver coming into college. He actually started his first collegiate game on offense. His next 24 starts were as a free safety during which time he earned second team All-SEC honors as a junior in 2009. His lanky frame, speed, and discipline make him an intriguing prospect at press cornerback at the next level.
However, it's also worth noting that the Raiders appear not to be in the mix to re-sign their current starting free safety Michael Huff. Regardless of the future status of Nnamdi Asomugha, the Raiders will need more quality competition in the defensive backfield this year.
_NNizpJO3gk[/youtube]
Both of the South Carolina prospects are projected between the third and fifth round of the draft and both are on the rise. It's interesting to think that neither of these guys are second round or better prospects, perhaps further confirming that the heaviest eyes in the second round for the Raiders may be looking at Stefen Wisniewski. Between just these three guys, you could have a second consecutive very productive draft.
Follow me on Twitter: Raidersblogger
Look for us on Facebook: Thoughts from the Dark Side
Put it in my box: Bret@TFDSsports.com