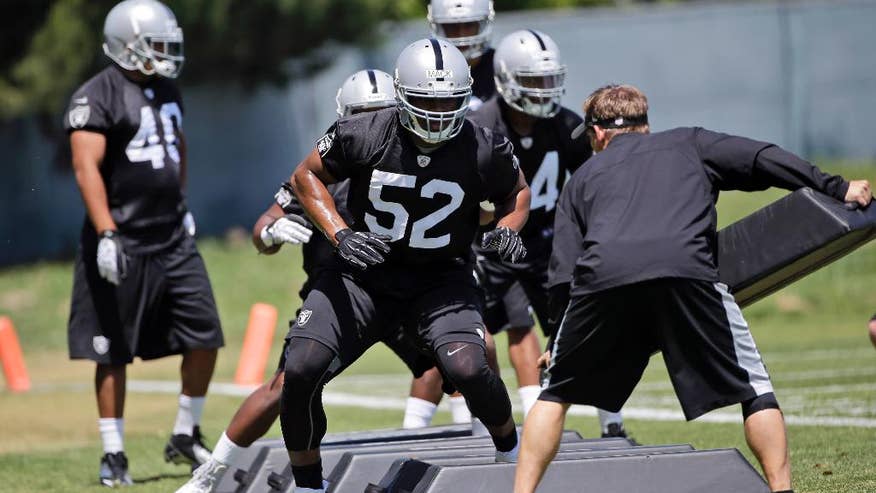 Raiders first round pick, LB Khalil Mack, wrote about his transition from a small school to the NFL in this week's MMQB. There wasn't much different included in this piece than he's said in other recent interviews except, perhaps, his QB sack list.
Mack has previously said that sure-to-be-first-ballot Hall of Famer Peyton Manning tops the list of guys he'd like to sack.
In the MMQB piece, Mack added two additional names: sure-to-be-first-ballot Hall of Famer Tom Brady and the top QB taken in the 2014 Draft (and the only QB taken in front of him) Jacksonville's Blake Bortles.
Mack has a chance to cross the two future HOFers off his list this season as the Raiders play Denver twice (Nov 9th and Dec 28th) and face New England on the road week 3 (Sept 21st).
Even if Mack is able to get both Brady and Manning this season, it's unlikely that he'll be able to completely be done with the list because Oakland isn't scheduled to play Jacksonville this year. The only way that Mack will be able to sack Bortles would be if both Jacksonville and Oakland made the playoffs and drew each other, an unlikely proposition.
In fact, the most likely scenario is that the Raiders won't play Jacksonville until 2016, when the AFC West and the AFC South will face off against each other. It's possible that they would be scheduled in 2015 as a "strength-of-schedule" opponent.
So, Mack's sack list will most likely be a multi-year affair. Mack has plenty to focus on in the short-term, however, as he recently told Raiders.com that his primary goal for this year is to be defensive rookie of the year, a feat no Raiders player has accomplished except for Charles Woodson in 1998.
With Woodson likely coming to the end of his career this year, it would be a fitting transition and would bode well for both Mack and the Raiders.