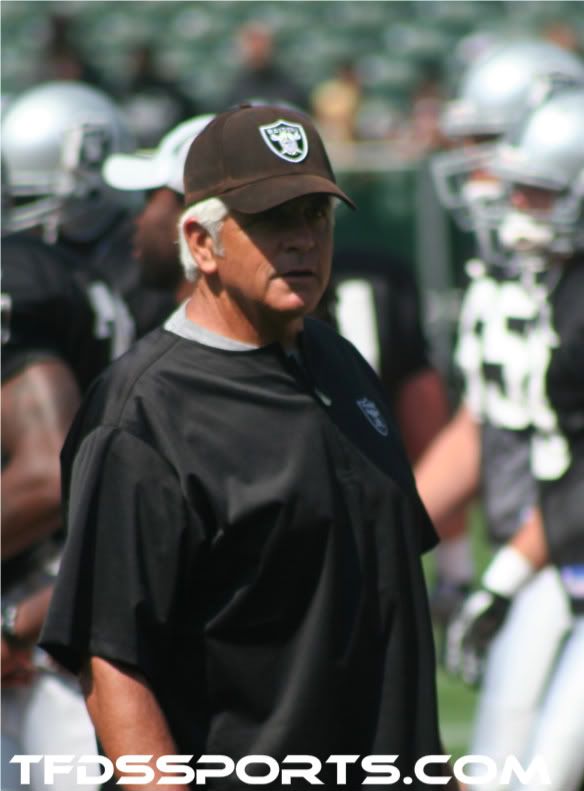 For those of you who are reading this, I give you a lot of credit. A lesser fan would be sulking and not want to read anything about the team after this massacre at the hands of the New Orleans Saints. An even lesser fan would have turned off the game by halftime with the Raiders down 31-0 even after the Saints starters had long since left the game.
The Raiders knew they had their work cut out for them against the number one offense in the league. But no team should give up touchdowns on the first three possessions. The biggest joke is that the Saints didn't field either of their two starting running backs Reggie Bush and Pierre Thomas. Then, after quickly going ahead 21-0, the Saints sat their starters. This was midway through the second quarter. The Raiders kept their starters in until midway through the third quarter and still allowed another 17 unanswered points to the Saints second team. The Raiders didn't score a TD until the fourth quarter against players that will be on the unemployment line in a few days.
Therefore, this weeks Ballers and Busters is simply to try and remove a few players from the blame and shine a light on those who are most responsible for that disguisting mess we all witnessed on Saturday.
Ballers:
Zach Miller
Unfortunately, it seems that when the Raiders offense is struggling the most is when we see Miller make the most plays. When JaMarcus is running for his life and other receiver are dropping passes or can't get open, Zach is there. But he can't do it all by himself and on Saturday, he was the lone bright spot on offense for the Raiders. His first catch was his biggest. He managed to sneak to a spot in which he was wide open in the middle of the field for a 36 yards completion. Russell would fumble on the next play and end any hope of capitalizing on it. He started the second half with a huge gain on a perfectly thrown ball from Russell for a 27 yard gain. That drive stalled after a false start and a dropped ball by JLH. Zach lead the team with 5 catches for 74 yards.
Greg Ellis
Ellis topped the Baller list last week and he is back again. He has been superb during the three Raider preseason games and is looking like one of the best free agent pick ups for the Raiders in a while. In this game he had 2 quarterback pressures, and run stuff tackles for a loss or no gain. I think I have to eat my words when I said that the Raiders should not sign him…at least for now. After the game, he spoke to the media and began calling out his teammates. This can be seen as a good thing in one regard. They need to be called out. But, after being known as a complainer (which is why I didn't want the Raiders to sign him), this could backfire on him. I hope not. I hope his teammates listen to what he has to say and take heed. He has earned it. The guys he is calling out, certainly have not.
Nnamdi Asomugha
He went out early again for the second straight game with an injury. This time he has a chipped bone in his wrist. It is not the kind of injury that will keep him out of games but will no doubt give him considerable pain and could hamper him when trying to make interceptions (that is if Qbs even throw his direction). You could see why he injured himself though. He was flying around the field trying to make up the lack of effort by his teammates. He made the first tackle of the game when he came up from his corner spot to stop an end around for a short gain that, had he not been there, would certainly have gone for a considerable distance further. A few plays later he stuffed a run at the line for a short gain. On the next series, he hit his receiver right when the ball got there to knock it right out of his hands and made him pay for it. This was the play he received the injury on. He made it count, that's for sure.
Gary Russell
He wasn't put in at running back until the fourth quarter but by that time he had already made a couple plays on special teams. He was the gunner on two Raider punts and tackled the return man immediately for little or no gain each time. Then when he was finally given the rock, he made a couple of nice plays as well. His best play was a run that was designed to go right but when the hole closed he cut back left and ran for 26 yards. He also had a 9 yard run, a 7 yard run and a couple of catches.
Busters:
Tom Cable
This team's biggest problem was they were unprepared. Drew Brees mentioned that every time the Saints offense would be set, the Raiders defense was still trying to figure out what was going on. And it was evident in the way they picked apart the Raider defense and took whatever they wanted. The offense was not balanced at all. Which could have been intentional but why would he do that? Isn't the point of the third preseason game to get the first team game reps? Without a balanced attack, the Raiders offense in the first half was on the field for less than ten minutes while the Saints had the ball for over TWENTY minutes. More than twice as much time to work. That is very poor management by Cable. Another big indication of poor planning was that Michael Bush was supposed to be given the start but was only given ONE carry in the game before he was replaced by Darren McFadden. That is not really what anyone would consider as being a starter.
Ricky Brown
Just last week, I was singing the praises of Ricky Brown for his intensity. Against the 49ers terrible passing game, he played great but no amount of intensity can make up for bonehead miscues and domination he fell victim to in this game. He was the only member of the Raider defense that actually thought there was good communication. And that responsibility falls squarely on the shoulders of the middle linebacker. So let's break this down shall we? On the first drive to start the game Ricky gave up a 7 yard catch on one play and a 21 yard catch on the next play. Then he was nowhere to be found when the Saints ran off left guard into the end zone for a touchdown. Two drives later he was blocked on an 11 yard run on third down. The drive ended in the Saints third straight touchdown. A few drives later he was blocked on a 16 yard run which ended in a Saints field goal to put them up 24-0. The second drive of the third quarter was another doozy for Brown. He was out of position on a 13 yard run to start the drive. Then later he was called for holding and two plays later he was blocked on the Saints touchdown run. So if you are counting, that is 24 of 38 points on drives that were either kept alive by Ricky Brown or were scored directly through him. Sigh.
Louis Murphy
In the week leading up to this game, it was looking as if DHB and Murphy had traded places in the hands department. Last week Murphy let a touchdown pass bounce right off his hands. Then in practice he dropped a few more passes including a few would-be touchdowns. All the while DHB was grabbing everything in sight. I didn't want to make too much of it then but now we know that was no fluke. Murphy caught three passes but he dropped just as many and fumbled one of those catches back to the Saints. One of his drops, he had the ball in his hands and took a step and a half only to have the ball mysteriously fly out of his grasp. He was lucky that was not ruled a fumble as well. For the second straight game, he was given the ball on an end around that went no where. He appears sluggish and lost on these end arounds that are more suited for a player like Heyward-Bey or Nick Miller. If only his hands were as big as his mouth. He may have not slipped to the fourth round.
Cornell Green
Although I don't think JaMarcus Russell was quite Baller quality in this game, I think he did well. One of the main reasons he couldn't get anything going (besides the dropped passes ehem) was that the pocket kept collapsing on him. And one of the big culprits was Cornell Green. The first time was the worst one too. Green gave up a big sack that Russell didn't even see coming and it caused him to fumble the ball away on what was a very promising first drive up to that point. The next Raider drive ended with Green being called for an illegal formation. Most of the Raider olineman were not on their game. In fact, every single starter had a miscue. But Green had Russell running for his life more than the others. Then add the sack and forced fumble and he earns this weeks dishonor.
Greyson Gunheim
Back on the list despite even more limited duty than before. He just seems to look worse and worse. He has almost no shot to make this roster even though there is only one clear cut starter at the defensive end postion (Ellis). He came in the game for the first Saints drive of the fourth quarter. On the second play, he was blocked on a 23 yard run. A few plays later he was blocked on a 5 yard run. The drive ended in a Saints touchdown. When the Saints got the ball back he was blocked for an 11 yard run. Gunheim's one and only tackle was the final tackle of the game after the Saints had already picked up the first down to end the game.
John Marshall, Mike Haluchak, Dwaine Board
Remember when I said last week that, if the Raiders played like they did against the 49ers, we were all going to suddenly know the names of a few Saints bubble running backs? Well, how is Lionel Hamilton and PJ Hill for ya? Both of these nobodies had nearly a hundred yards rushing each. Last week Gore only had 2 carries and this week both of the Saints starters didn't even play so Hamilton and PJ Hill were going against the Raiders first team defense nearly the entire time they were in the game. Hamilton averaged 5.9 ypc and Hill averaged 6.9 ypc. All the while the Saints were racking up all of these rushing yards, they were also working the raiders to the tune of 252 yards passing in the first half alone. Hell, Mark Brunell had 86 yards passing of his own. I would lean the blame towards Marshall for the same reason that Tom Cable deserves blame and that is not properly preparing his players. But since the linebackers and Dline don't look any better than before, Haluchak and Board remain as Busters too.
Stanford Routt
He just never stops disappointing. I am still wondering how he ended up beating out Fabian Washington for the starting job. Was Washington really that bad? For the second straight game, Routt was inserted into the starting lineup after Asomugha went out with an injury. Last week he was covering crap recievers trying to catch balls from the likes of Alex Smith, and Faith Sean Hill. This week he faced the best passing offense in the league. Well, sort of considering most of Routts mistakes were against the Saints second team. His first play was a pass defended that he was lucky was not called a face guard because he didn't turn around to knock the ball down. A few plays later, he was not so lucky as he WAS called for face guarding pass interference. Two plays after that, he was called for pass interference again. Those two penalties put the Saints in field goal range and they converted to go up 24-0. Two plays later, Routt played too far off of his receiver, Robert Meachem and when he tried to come up and make the tackle, he whiffed and Meachem took it 71 yards to set up a touchdown. I sure hope the Raiders have another "Chris Johnson" they can dig up to replace Routt.
—————-
"Players to watch" update
Nick Miller– Had one nice return of 33 yards and one catch for -1 yards. The game was a come backer that saved Garcia from either getting sacked for a huge loss or an interception. He had a decent game but not enough to raise his stock. Good news for him is he seems to be back to battling JLH for punt return duties. Still not sure about his status.
Justin Miller– Didn't come in the game as a corner (at least not that I noticed). Most likely because Cable wants to see what he has in his other corners. This is good news for Justin because he seems to not have too much to prove.
Ryan Boschetti– Had 3 tackles in the game which was the most of any defensive tackle. Also didn't make any big mistakes. He hasn't been unable to unseat William Joseph but Boschetti seems to have the inside track if the team keeps five DT on the roster.
Michael Huff– Hiram Eugene gave up a wide open 40 yard touchdown while Huff made no mistakes of that magnitude. Although Eugene also had a nice interception and played the run well as usual. Huff is looking better but the competition is still neck and neck.
Michael Bush– So much for watching Bush start. With just one carry, it was kind of difficult to see guage.
Javon Walker– Also didn't play. He trotted out on the field at one point but was pulled back off the field and wasn't seen again.
Darrius Heyward-Bey– Had a nice catch for 12 yards. He got open a couple of times but was not found.
Trevor Scott– Looked better than the first two games (which isn't saying much) but he still wasn't great. There is no one stepping up to take his job though so he will likely remain the starter by default.
Marcell Reece– Looked good in blocking so he could edge out Luke Lawton for the backup fullback position.
David Nixon– While he had some nice plays here and there, but he had more bad plays. Some of which, really hurt the Raiders. Expect to see him among the final roster cuts and signed to the practice squad before the season opener.
Napoleon Harris– Was with the Raiders all of 4
days and was released the morning of the game. The Raiders re-signed UDFA LB Chris O'Neill to fill the roster spot.
Jerome Boyd– Didn't have the standout game he had in the previous two weeks but he has earned the right to play in the final preseason game at least. If we see a lot of him in the game, look for the Raiders to keep him on the regular season roster. If not then the Raiders are trying to hide him so he will clear waivers and be eligible for the practice squad.