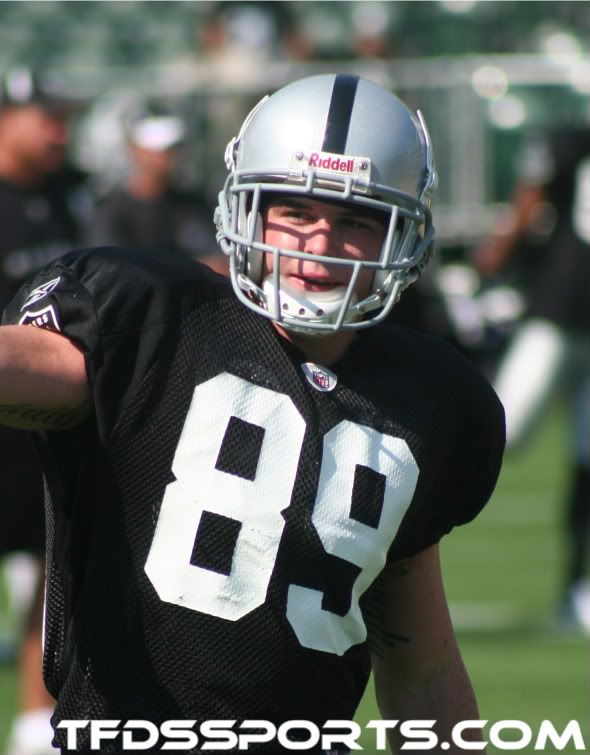 As we head into the third preseason game we are just days away from the first cutdown. This is also the game in which the starters will play the most minutes. The first team will likely play well into the third quarter before we see the second team begin trickling in.
A lot of things are on the line here for many players. Some players are looking to keep their starting jobs and have just over a half game of football to prove they deserve it. Other players are trying to make it past the first cutdown and have just of a quarter to show they deserve to play in the final preseason contest which carries with it, a shot at the regular season roster.
For the most pivotal game of the preseason, here are the players you should keep an eye on in the game. And if they do what they should do, you won't have to do much searching to find them.
Nick Miller
He had a brilliant camp and preseason right up until the two minute mark of last Saturday's game against the 49ers. That was the moment he fumbled the punt to give the Niners the ball back and allow them to run out the clock to take the win. This team will keep five, maybe six receivers on the roster. Whether they keep six, depends a lot on how much they like Nick Miller. As an undrafted free agent, he will have to go out and make the coaching staff forget all about that little fumble. A few more plays like that 47 yard diving grab at the goal line in the first game would certainly give the coaches some selective memory.
Justin Miller
Sure Justin Miller had two return Tds last season in just over a half season with the Raiders. But if his coverage skills as a corner are lacking then it is hard to justify keeping him. He will be a player to watch simply because he has Nick Miller breathing down his neck for the kick return duties. Initially the thought was that Nick would be trying to take the punt return duties from Jonnie Lee Higgins. But Nick has been working a lot in practice as a kick returner. If the coaches think that Nick would have more to offer as both a receiver and a return specialist, than Justin does as a corner, Justin will be looking for another team again.
Ryan Boschetti
He was the lone free agent defensive tackle signed by the Raiders in the offseason. He received high praise from Cable initially but has been unable to unseat William Joseph for the primary backup job. He has also been passed up by undrafted free agent gem Desmond Bryant. So Boschetti is now in a battle with Terdell Sands to hang on with the Raiders. Sands may not be offering much competition but if Boschetti doesn't step it up, the Raiders may just decide they only need to keep four DT on the roster and dump him regardless. The team also just signed DT Joe Cohen who was on waivers from the Dolphins which could be another indication that the they are not sold on Boschetti as their guy. Saturday's game will make or break Boschetti as a member of this team.
Michael Huff
Hiram Eugene is out of Saturday's game with an ankle injury so Huff is getting his first shot at the starting job since five games into last season. He had a great first preseason game against the Cowboys. His interception in the game was Pro Bowl calibre stuff and makes you wonder where that has been all this time. His play in practice had Tom Cable saying he is a "grown man". He was drafted out of Texas in '06 as a free safety but the Raiders attempted to move him to strong safety out of desperation at the position. Last season, after two failed seasons at strong safety, and with the addition of Gibril Wilson, Huff was moved back to free safety. He struggled more than the coaches had hoped. They apparently thought he would take to it like riding a bike considering he had so much success there in college. So now Huff will have the chance to prove that all he needed was a bit more time to acclimate back to free safety. We will find out on Saturday.
Michael Bush
Justin Fargas and Darren McFadden both had their turns to start for the Raiders and now it is Bush's turn. Everyone seems to agree that despite no starter being officially named yet, that McFadden will be the guy. But while McFadden may get 20-30 touches a game, many of those will be in the receiving game. So who will line up in the backfield after McFadden is given the audible to line up in the slot? Fargas is more of a grind it out guy. Bush is a load as a blocker or a ball carrier so he could get considerable carries regardless of who "starts" for this team. Saturday we will get our first look at how he performs with the first team Oline opening holes for him.
Javon Walker
He's back folks. After a long wait, he is back. And I mean like "first year in Denver" long wait. He says he is finally back to pain free football. We will be watching a few things with him. Is he back mentally? And how is the miracle knee surgery going to hold up to some hits? He claims that if he has a comeback player of the year type season, a lot of players will be asking him about his surgery. But the scary end of that spectrum is if that knee does not hold up. Because that would be the end of his football career. Now that's a nail biter.
Darrius Heyward-Bey
As if DHB isn't always a player that everyone is watching anyway right? The difference is that all week in practice this week, he has looked like he has really turned the corner. He is not only no longer dropping balls but he has been making some pretty spectacular grabs. He appears to have figured something out. He always was good at fighting off of the line and burning corners to get open (well, except for Nnamdi) but now he is catching effortlessly balls that would previously bounce off of him. He will be starting again this week and with the news that JaMarcus Russell has also looked great in practice, hopefully we can see a couple of really nice grabs from Heyward-Bey in the game.
Trevor Scott
Plainly put, if Scott has another game like he did the first two weeks, he will lose his starting job. I have no doubt about that. The team will put him back as a situational pass rusher as they had him during his great season last year. If third round pick Matt Shaughnessy were healthy, he would likely step in as the starter right now. At this point, Scott has the job by default because there is little or no competition for the spot. Jay Richardson is as good as it gets otherwise and he fairs no better in run support than Scott. Although, these days it looks like Richardson is getting a lot more pressure on the quarterback too.
Marcel Reece
With the release of Lorenzo Neal, the battle for the backup full back position behind Oren O'Neal seems to be wide open. Last season Reece was placed on the practice squad but when O'Neal went down with an injury, it was Luke Lawton that was re-signed, not Reece. The question now is just how much the coaches think that Reece has progressed since last season. Reece is a fomer TE so we know he can catch the ball out of the backfield and protect the passer. The big question is run blocking. As full back, that will be his most important job so his making this team will hinge upon that aspect of his game alone.
David Nixon
Nixon was out with injury in last week's game after a stellar first game. Any missed time can be disastrous for an undrafted free agent such as Nixon. But if he can really step up on Saturday, he could make up for some lost time and put himself in the hunt for the backup weak side linebacker spot.
Napoleon Harris
Harris has looked pretty bad in his couple of days in Raider camp so far. The main interest here is in the fact that he will be back in a Raider uniform after being drafted and traded in infamy. The infamy comes in that he was the player the Raiders chose with the pick they acquired in the John Gruden trade to Tampa. Then he was traded along with a first round pick to the Vikings for the unmentionable cancer receiver of which a rolling stone will not gather.
Jerome Boyd
This experiment has gone much better and much faster than anyone expected. Especially the coaches, I'm sure. they were taking a chance that they could convert this linebacker into a safety simply because of his lack of linebacker size. Then the plan would be to stick him on the practice squad while he develops. However, he has taken to the position change like gangbusters and now he has the coaches considering him for a roster spot this season. If I were Tom Cable, I would be very leary about any intentions of putting him on the practice squad because after the way he has performed in camp and in games, he would likely not make it through waivers. If he has a game comparable to his first two, he will be staying put.