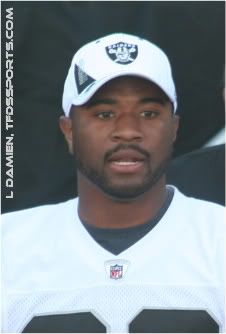 A year after Raiders corner Stanford Routt received a sizable contract to the tune of five years, $54.5 million with $20 million guaranteed, he has been released.
Routt's base salary of $5 million would have been guaranteed had he been on the team as of Friday. His salary was set to be $11.5 million over the following three seasons, 2013-2015.
This move shows the team is serious about clearing out and restructuring the big money contracts that are currently on the books. They are looking to free up money to enter the free agent market.
This move is a bit of a shocker in some regard. But as we are now finding out, Reggie McKenzie is to be taken at his word that this whole team is going to go under the microscope to find out how it can be made better.
Routt becomes the first casualty of the Raiders' new regime, though I wouldn't count out the possibility he re-signs at a more reasonable, cap-friendly contract.
Follow me on Twitter @LeviDamien or befriend me on facebook.