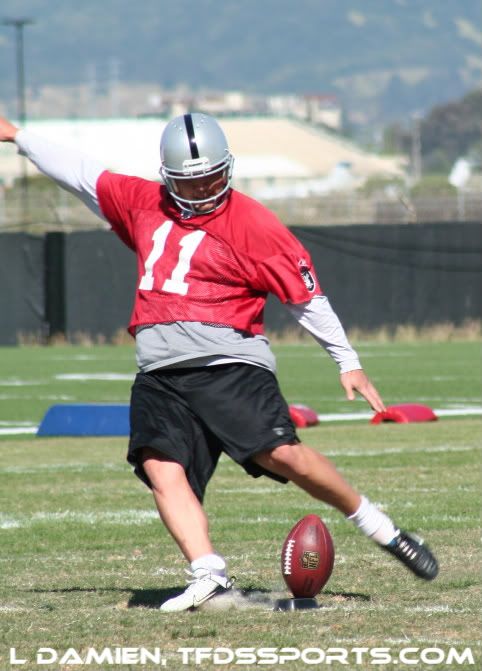 The Oakland Raiders signed kicker Sebastian Janikowski, the longest tenured player on the team by six years, to a 4-year contract extension today, the team announced.
Per CSN's Scott Bair, the extension pays Janikowski just under $19 million over 4 years with approximately $8 million in guaranteed money in it's first two years.
There is some speculation that the contract may also give the Raiders some cap relief this year but there has been no confirmation of that at this time.
Janikowski told the press gathered at training camp that McKenzie had contacted him during the offseason and told him he wanted to re-sign him. Janikowski was very open to that, despite the Raiders recent struggles, saying, "Where else would I go? I love California, I love being here and I see the changes. I think we're moving in the right direction. We've got the right coaches and players. People are going to be surprised, I think, this year what we can do."
When told by the press that he needed just 10 field goals of over 50 yards to tie the NFL record, he said that he wasn't aware of how close he was to the record but that now that he knew, he wanted to make that mark.
Janikowski said, "Obviously I didn't know. But now I'm going to think about it. I'm going to be pushing for it." He added, "You want to hold the records."
Re-signing with the Raiders was a goal for Janikowski, who said, "To play with one team is awesome. I love it being here and I want to finish here." It was obviously a priority for Reggie McKenzie, too, and now he's locked up his already-longest tenured player for an additional four years.