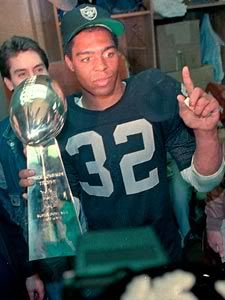 The Raiders came into this came with an offense that was on the rise. In the playoffs that year, they seemed to be sneaking up on a lot of teams and their run game combination of Kenny King and Marcus Allen had become downright unstoppable.
But the Raiders offense was about to face their toughest challenge yet in the Redskins who hadn't given up a 100 yard rusher in 7 consecutive playoff games leading back to their Super Bowl winning season the year before.
That Redskin defense featured Hall of Fame corner Darrell Green along with Redskin greats Dave Butz, Charles Mann and Dexter Manley along the defensive line and linebacker Monte Coleman, and safety Mark Murphy behind them. They were formidable opponents to say the least and were a dominant unit all season long.
The Redskins were as advertised to start the game while the Redskin offense was struggling against the Raider attacking Raider defense. But eventually the Raider offense would literally run away with the game.
Ballers
Marcus Allen
As I mentioned before, the Redskins hadn't given up a 100 yard rusher in 7 straight playoff appearances. Marcus Allen would change that in a big way on that day. In the first half, Allen would just chip away at their defense with a few yards here and there while all the big plays were made on defense and in the receiving game. His biggest run went for 17 yards and the offense stalled three plays later. But as the first half wore on and the Redskin defense wore down, those little 3 and 5 yard runs turned into 7 and 8 yard runs. On the Raiders first drive of the 3rd quarter, he had a 7 yard run to set the Raiders up at the 11 yard line. Three plays later he would take a hand off running right, cut it left through the line, make a juke that completely left the prospective tackler lost in space, and scored nearly untouched. It put the Raiders up 28-9 right after the Redskins had come out of halftime and scored a touchdown. After that, it was Marcus Allen time the rest of the way. 
He had several nice runs and catches in ensuing drives. But the one run that every Raider fan, and probably every SPORTS fan, has seen many times was his 74 yard, reverse field run for a touchdown. The entire TEAM including Allen were going left but the Redskin defense played it perfectly and Allen had at least three defenders bearing down on him for what looked like a broken play and a good 5 yard loss of yardage. So he completely reversed field, just barely eluding the arms of a would-be tackler and took it right up the middle of the field 74 yards to the endzone. It was a highlight for the ages and the longest run from scrimmage in Super Bowl history at that point. He would go well over 100 yards on that run and the Raiders stamped out any shred of hope the Redskins had of pulling out the unlikely victory. Allen would have one more brilliant run of 39 yards to finish the day with a Super Bowl record 191 yards rushing to go along with 2 touchdowns.
Cliff Branch
Nearing the end of a brilliant career that saw him in all three Raider Super Bowl victories, he wanted to make sure we knew he wasn't just window dressing in this game. He came to play. He didn't see the ball through the first quarter but with the Raiders up 7-0 in the 2nd quarter, the sleeping "giant" was awoken. The Raiders had a three play, 65 yard drive with two of those plays and 63 yards of it were on Branch catches. He burnt his man up the left sideline and Plunkett put a perfect ball right on his hands in stride for a 50 yard reception. Two plays later, Branch was rewarded for his efforts when he broke wide open in the endzone and Plunkett hit him for a 13 yard touchdown strike. He would have several more short catches to move the offense through the 2nd and 3rd quarter. My favorite being when he caught a 7 yard out and the linebacker who tackled him looked down at him and tried to intimidate him. Branch got up and went all "crazy son-of-a-bitch" on him. His tiny frame jumping in the guy's face and barking until another Redskin come over and pushed him away. It was pretty damn funny and the message was clearly sent. Branch's final act was sprinting downfield to lay the final block needed to spring Marcus Allen for his 74 yard touchdown run. "Though he be but little, he is fierce"
Frank Hawkins
Speaking of blocking, Hawkins did some masterful blocking in this game. It can be a thankless job outside of perhaps his own teammates. But if you ever get a chance to watch this Super Bowl, take a moment to watch Hawkins when Marcus Allen is breaking off some of his runs. I can guarantee you, Allen would have gotten nowhere without this man. I counted four different runs for a total of 69 yards of offense in which he was directly responsible for clearing the way. And that is not including the plays he himself made. On the final Raider drive before halftime, he was all over the place. First he blocked on an pitch play to Marcus Allen that went for 11 yards, then he blocked for Allen to run for 8 yards. and the next play he caught a 12 yard dump pass. Those three plays enabled the Raiders to drive deep in the Redskin territory and pin them against their own goal line and led to the Squirek interception for a TD before halftime.
On the Raiders first drive of the 3rd quarter, he caught a 6 yard dump pass to put the Raiders in 1st and goal at the 5 yard line. Allen would punch it in on the next play. In a drive late in the 4th quarter he would spring Marcus Allen for his 39 yard run and then finish the drive blocking for George Pruitt take the ball 11 yards to the 1 yard line. Chris Bahr would knock in a chip shot field goal to give the Raiders the highest scoring game in Super Bowl history as well as the largest margin of victory.
Ray Guy
Sure, he isn't on offense but he is a Baller none the less. Call him the top baller of the special teams. Nearly all of his punts in this game were vintage Ray Guy. They were towering shots with enough hang time for the Raiders to have lunch on the field before making the tackle. He had two especially good moments in this game. The first was the coffin corner punt that pinned the Redskins against their own goal line and set up Squirek's interception for a touchdown. The second was when long snapper Todd Christensen snapped the ball way too high and Guy leaped up, using every inch of his 6-8 frame to snatch the ball out of the air with one hand and with one motion brought it down and punted it perfectly. He ended his day with a moon shot that traveled 55 yards and landed untouched at the 16 yard line. Tremendous.
Honorable Mention
Jim Plunkett
He only really had a couple plays in this game that jump out at you. His 50 yard bomb to Cliff Branch being the most notable. But he managed the offense(I know that is a dirty phrase these days) and he let the defense and run game take this game over. He didn't make a single mistake all day. The Redskins were desperate for Plunkett to make a costly mistake; it was their only chance. But he didn't. He just kept plugging away and commanding the offense efficiently. He let the game come to him, as we so often hear.
Busters
Charley Hannah and Bruce Davis
These two made up the left side of the Raider offensive line. Davis played the left tackle spot and Hannah was at left guard. And on this day they did little to make anyone forget about the glory days of Art Shell and Gene Upshaw. Davis got this started off in the first quarter when he was called for a holding that would stall a once promising Raider drive. Next possession it was Hannah's turn as he completely whiffed on a block attempt on third down that had Marcus Allen tackled in the backfield for a loss. The two would team up a few drives later and BOTH get burnt by their respective defenders resulting in Plunkett getting swarmed and sacked. A little later they would team up again to allow a run stuff. Then Hannah would get Marcus Allen eaten up at the line on two straight 3 and out possessions to start the 4th quarter. Luckily the rest of the team picked up the slack.
CLICK HERE for the Super Bowl XVIII Ballers & Busters: DEFENSE
Follow me on Twitter @LeviDamien or befriend me on Facebook