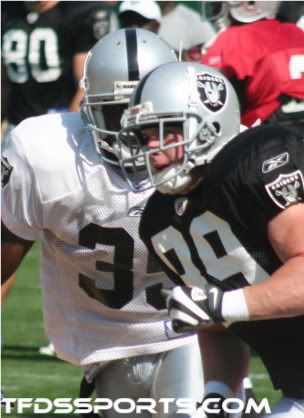 With the injuries that have occurred through the first part of this season, there were a few players that the Raiders had to sign to either fill in for them or add depth at certain positions. This also meant that there were other players that had to be dropped to make room. So now, with the reintroduction of some of those injured players, the Raiders will be looking to cut some of the dead weight and sign other players they think could help them the rest of the season.
Coming into the season, Nick Miller had won the primary kick return duties. He made last year's kick returner, Justin Miller, expendable in the process. Then Nick Miller got hurt. And the duties have belonged to a few different players thus far in the season. The most recent being Jonathan Holland.
"[Nick Miller] will first start at kick-off return", said Tom Cable. "I like it now, though, because it gives us some competition with he and Johnnie Holland."
And considering the former receiver-turned-corner has not done the job as the coaches had hoped, there really is no competition. Up until last game, when he had his first decent return on the season, he rarely returned the ball past the 20 yard line. This could very well spell the end Holland's time with the Raiders. At least for now.
And that means that there will be a spot to fill at the corner position. There were rumors earlier in the season that the Raiders might sign former Pro Bowl corner Chris McAllister. That is always a possibility. Unfortunately, there are not many good options at corner out there so the Raiders could end up opting to just stick with Holland. But that just shows you how extremely thin they are at the position.
Nick Miller also proved that he could be a very reliable receiver for this team which is one of the main reasons that he was chosen for the job over other options. And with the return of Chaz Schilens as well, the Raiders have a glut of receivers on the roster. Seven to be exact, which is two more than most teams carry. Which means that one of them is likely to be released. The most likely candidate would be Todd Watkins. Although with as little playing time as Javon Walker has been getting (almost none), I wouldn't be too surprised if he was cut instead.
Another question upon Schilen's return is "what will his role be?" He plays on the same side as Louis Murphy and Cable said that Schilens will start and Murphy will move to slot receiver. I would suspect that Nick Miller would be worked in as a slot receiver eventually in the mold of Wes Welker, Brandon Stokley, and Austin Collie.
On the opposite side of things, a position that has serious issues right now is linebacker (I know, 'what's new?'). Namely, strong side linebacker. Ricky Brown is out for a while and his replacement, Jon Alston just had his second concussion this season and may not play either. Tom Cable expressed concern with Alston's status and may not play him next week against the Chiefs just as a precaution. If he doesn't play, either Isaiah Ekejiuba or Sam Williams will step in as the starter. But Williams and Ekejiuba are the only other linebacker on the team which could signal the need to bring someone else in. The most likely calls would be to this year's fifth round pick Slade Norris or perhaps undrafted free agent rookie David Nixon; both of whom are on the Raiders practice squad. A long shot but not to be ruled out would be giving Derrick Brooks a call. He was released by the Bucs at the end of last season and has surprisingly not been picked up. His leadership alone would be worth giving him a shot. Another slightly less appealing move could be to bring back Morlon Greenwood who was signed in the preseason and didn't make the regular season roster.
The offensive line is set to get two starters back in Robert Gallery and Cornell Green. Chris Morris slid over from the center spot to keep Gallery's left guard spot warm while Samson Satele has occupied the center position. Morris has struggled at times at lefft guard while Satele has come into his own at center. Cable has stated that Satele will keep his job at center with Morris returning to his more familiar role of backup center/guard. Green was initially replaced by Eric Pears at right tackle but when Khalif Barnes was fully healthy, he stepped into the starting role. The Raiders also brought back Langston Walker to add depth. Both Pears and Barnes have struggled mightily as the starter which means that Green is most likely in line to get his job back although that move may be another week away. But even if Green doesn't start, that will leave an odd man out. That would most likely be Eric Pears but I wouldn't be all that surprised if Langston Walker's stay in Oakland comes to an end…again.
All of this means that there could very likely be three players that are made expendable in the coming days and weeks. That is a good position to be in for the Raiders and it could mean a couple of important additions to the team. Add to that, the fact that the best players on this team will be back where they should be, and the Raiders could be much improved by next week when they face the Chiefs.