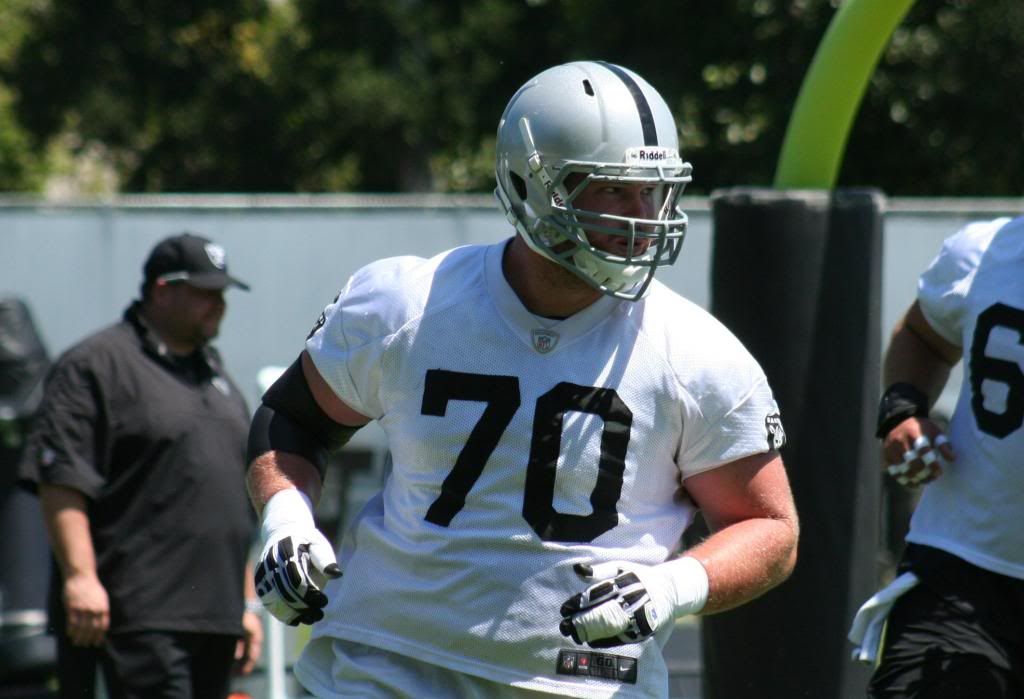 Tony Bergstrom is getting something this year that he never really had last year even though he was the first draft pick taken by the team in 2012 – a chance to start.
Last season, Reggie McKenzie re-signed veteran guard Cooper Carlisle to man the starting left guard position and Carlisle held that position all year. Bergstrom was able to get onto the field, first as a blocking tight end and then alternating at right guard with fellow rookie Lucas Nix.
The competition between Bergstrom and Nix has carried over to this off –season, where the two second-year players are splitting reps with the first-team offense, alternating series.
That battle for the first-team became very one-sided in recent practices as Lucas Nix has been out with an injury and Bergstrom has been able to take all the first-round snaps.
Still, Bergstrom declined to declare that he was winning the competition, saying, "I don't know what's going on in any of the coaches' heads… I just basically go in and try to do the best that I can and the biggest thing is I just want to help the team win in whatever way I can." He added, "Obviously, I want to be that guy and whether we're rotating or not, when I step in there I want to be at my best."
Bergstrom admitted that there was a steep learning curve from college to the NFL. He recalled his experiences going against the first-team defense for a few plays last year to get his feet wet. Bergstrom stated, "I remember, last year, lining up and they threw me in with the ones a couple of times and it was one of those that they'd snap the ball and D-line would be already past me and I'd just be like, 'Whoa! Where'd you come from?'"
When asked about how he prepared for his second training camp, he said that nothing in the NFL comes easy, saying, ": From college to the NFL, you realize every practice you kind of have to go into it like a game. There's no such thing as a practice where you go out and you just go through the reps." He followed that up, saying, "That's kind of the biggest thing with preparation – you have to be on it every day for practice."
Bergstrom said that all the offensive line players were given a list of things to work on in the time between OTAs and training camp and that he worked on his footwork in pass sets and run formations over the break but that not everything can be corrected working on his own – much of the work needs to be done in training camp with pads on and then he and his fellow offensive linemen will review the days' work with their coach, discuss what needs to be worked on and come back out the next day, trying to be better and compete – with Nix, with the defense and, potentially, with other teams.
Before he can get to playing other teams in the regular season, he must beat out Nix. Bergstrom was emphatic that he believed the teams' focus on competition was the right way to go. Bergstrom finished the interview saying, "I'm not sure what'll happen. I'm just hoping he comes back and he's healthy. He's a teammate. I relish the competition and I know he does, too."