The season is nearly here and the Raider-Nation can surely feel it!  First, however, the Raiders head to their Napa Training facility for training camp. Camp is where the men are separated from the boys when the 2012 team really practices with pads and contact for the first time.  I'll be giving you a look at camp battles, dark horses to start or make the squad and my thoughts on the team going forward.
Camp Battles: 
Backup QB– Matt Leinart vs Terrelle Pryor. 
I'll start off by admitting it;  yes, I am a Ohio State fan and I'm rooting for Pryor.
However, it's not solely because of that reason (while it might help).  I'm rooting for him because of the work he is putting in to be better.  This off-season he was to meet up with Rich Gannon and he's shown great work ethic, being the first to show and last to leave the facility each day. 
I don't think he beats out Leinhart, however much I'm rooting for him, though.  Matt has more experience as a starter and played in a similar offense in Houston. Also, this isessentially Pryor's rookie year with him missing training camp and not being able to practice with the team for 6 weeks last season, so for now he'll be a "Project" at QB3.
Winner: Matt Leinart
Backup RB– Taiwan Jones vs Mike Goodson.
This will be one of the most interesting in my mind heading into camp.  We all know Taiwan has got wheels but he hasn't seen the field as much.  Mike Goodson has all the tools but hasn't been on the field regularly and has struggled with fumbles.
So who will win?  I'm going to go with Goodson – he played some games as a starter back in 2010 for the Panthers and had back to back 100 yard games, where he showed burst, the ability to break tackles and to be a factor in the passing game.  He's not had many carries, recently, as he has been stuck behind Carolinas great backfield (Jonathan Stewart and Deangelo Williams) and last year also had an injury.
With Jones it's more the case that I haven't seen enough of him playing to really know what he's got.  He could show up to training camp and nail down his place behind Mcfadden but in the ZBS and with what I've seen of him my winner is Goodson.
Winner: Mike Goodson with his one-cut running will be good fit in the zone blocking scheme (ZBS).  If Mcfadden goes down I'm confident he can do the job, short term.  If it's a long term injury, the team will need to sign another back.
Starting Fullback: Marcel Reece vs Owen Schmitt
This one will be interesting: while Reece is a matchup nightmareom cpverage he isn't a great blocker while blocking is Owen'sstrength.  Both can be factors in the running game with the ball in their hands but Schmitt wins in the run-blocking department hands down.
In the passing game, Marcel is a step above Schmitt as he was a receiver in college.  He runs nice routes, has great speed (4.40) with soft hands.  Schmitt can be in on passing downs, also, but doesn't hold a flame to Reece.
I think Reece wins out but I think both will make the squad and switch in and out depending on the situation.
Winner: Marcel Reece but in certain situations swap with Schmitt for some run downs.
 
Slot and Backup WRs – Jacoby Ford, Juron Criner, Rod Streater, Duke Calhoun, Derek Carrier and Eddie McGee.
I believe WR will have the best competition with all the young talent at the position.  I project DHB to be the "Z" and that "X" will be Denarius Moore as a base alignment (He'll line up everywhere) and I project there will be three spots on the squad left.
Jacoby Ford is lightning quick, can make catch in traffic, beat his man in one on one matchups and can line up all over the field but he hasn't spent enough time on the field because of injury.
Juron Criner, drafted this year out of Arizona in the fifth round, doesn't have the usual Raiders WR speed that the others have but he makes up for it with great hands, the ability to go over the middle and make that special catch.  A standout during OTAs, I'll be interested to see if he produces the same with pads on and the DBs being able to press him at the line which was one of the knocks against him coming out in the draft.
Rod Streater also stood out in camp.  I don't really know much on Streater coming out of Temple so just going off what Dennis Allen said "He's caught the ball extremely well. He's run very good routes. He knows how to get open. He's been explosive as a receiver. Again, he's still a young guy, he's still learning, he's still making those rookie mistakes, but from an athletic standpoint, from a skill set standpoint, he's really impressive." and with him getting first team reps when Moore went down Streater could be a name to watch.
Another possibility is Duke Calhoun.  I don't know much on Duke but he has 4.40 speed and can play on special teams,has played 7 games not started any.  It'll be interesting to see if he fits in with the squad.
Derek Carrier was a Division III standout who rewrote the record books at Beloit College.  He's a bit of a tweener at 6'4″, 238 pounds but he ran a 4.54 40 yd dash and earned standout numbers in most drills.  He could instead be used a flex tight end but Raiders have him listed at WR for now.
Eddie Mcgee is only in his second year playing receiver after being brought in as a "project" after playing QB in college at Illinois.  He has prototypical size and speed for the position but he has a lot of work to do to learn the ins and outs of the position.
Those are the main players at the receiving position that I think have the best chance to make the roster but you never know.  Undrafted free agent rookies Brandon Carswell, Thomas Mayo or Travionte Session could also surprise.
Winners: DHB and Moore as the starters.  Jacoby Ford in the slot with Juron Criner and Rod Streater as backup WRs , Carrier(as a TE) with McGee or Calhoun making 6 WRs plus Carrier as a TE.
 
Starting Tight End– Brandon Myers vs David Ausberry
Brandon Myers does a lot of things good but nothing spectacular.  Myers has starting experience filling for Zach Miller in 2010 and Boss in 2011.  He isn't elite at anything but has shown that he can block and catch adequately at the NFL level.
David Ausberry, on the other hand, has the tools to be something special at the tight end position.  While he definitely has the stuff in the passing game (being an ex-WR), he will need to become a better blocker to be a third down player but can be used as a flex TE for now.
Winner: Brandon Meyers but it might not his spot for long.
Starting Left Guard: Cooper Carlisle vs Tony Bergstrom
Cooper Carlisle had been a mainstay at RG with Raiders since 2007 and only missed one game during that time.  While he has always been a solid pass-protector, his run blocking has been inconsistent.  The Zone Blocking system that is returning to Oakland is more suited to his strengths in the run game, however, so he may improve in this area.
Tony Bergstrom was selected out of Utah with the Raiders first pick in the draft, 95th overall.  He was touted by some draftniks as best ZBS guard prospect in draft.  Bergstrom met with assistant line coach Wisniewski after the Senior Bowl and Wiz obviously believes Bergstrom has what it take to be starting guard in Raiders uniform.
Winner: Cooper Carlisle will hold the spot this year with Bergstrom pushing him more next year.
Starting Right tackle: Khalif Barnes vs Joseph Barksdale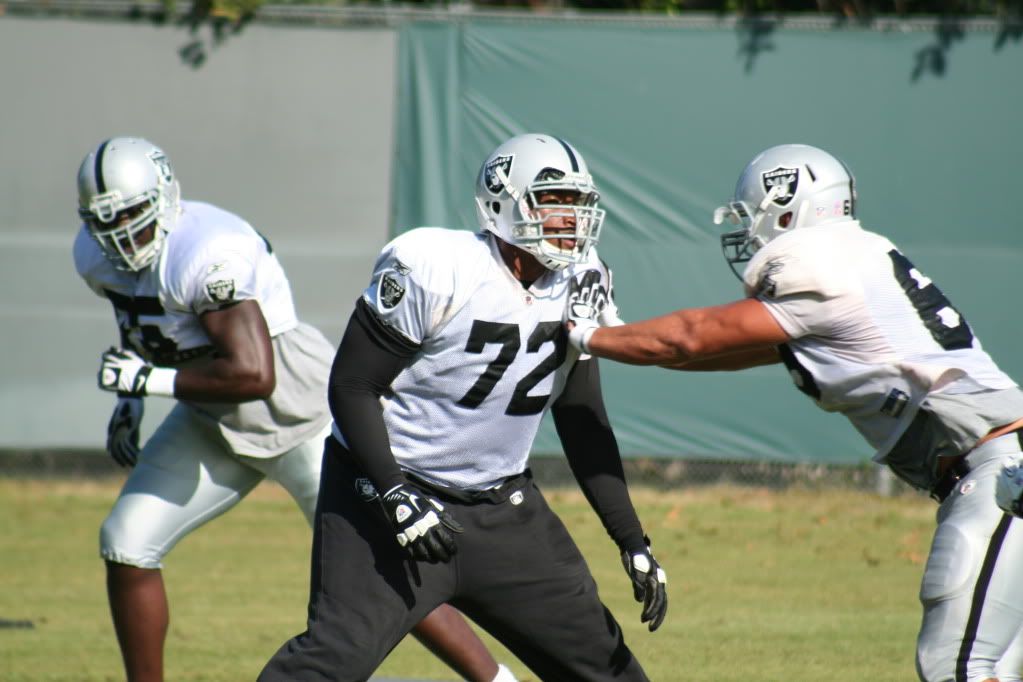 Khalif Barnes also should suit the ZBS more then the Power blocking scheme that was in place last season.  He was also solid in pass protection but average in run blocking.  It's possible with new RG Mike Brisiel next to him, he'll improve in run blocking, however.
Joseph Barksdale is fan favorite to win this battle.  Barksdale has the stuff to be solid starter with a good first punch, hand placement and movement laterally.  Just saying he has those skills is not enough, however.  He still needs to get more aggressive. 
Barksdale is versitile and has the ability to play left tackle and so could backup Jared Veldheer as well.  With the ZBS being installed and Mike Brisiel coming into the team, moving him to guard is unlikely.
Winner: Joseph Barksdale, but this one will be close. I'm hoping Barksdale finds a mean-streak as it'll really up his game if he finishes blocks more and will help solidify his spot at RT.
Dark Horses to start:
 Richard Gordon TE:
Gordon was selected by the Raiders in the 6th round last year and he hasn't been known as much of a pass-catcher, previously, but showed some improvement in that area during OTAs this offseason.  If Gordon continues to improve his receiving ability from the tight end position and keeps up with his blocking skills he could his name scribbled on to the depth charts ahead of both Myers and Ausberry.
Zach Hurd OL:
Hurd would make a nice offensive guard in a power blocking scheme but with Raiders going to ZBS he's a better fit at tackle.  Hurd is a beast in the run game having paved the way for multiple 1000 yard rushers at UCONN and he shows great "get off" at the snap, drives smaller men back, possesses great vision at the second level by finding his man and driving him off of the ball.  His Pass-protection needs refining and he doesn't do well against speed rushers.  If he shows his stuff in the run game and improves in pass-protection he could be a dark horse to win the starting right tackle position.
Dark Horses to Make the Squad:
WR Duke Calhoun- Special teams standout,big size and speed.
C Colin Miller- Smart,great burst of the snap,suited to ZBS.
WR Eddie Mcgee- Good Size,Speed will need good camp.
Top 5 Questions heading into camp:
– How will players adjust to new West Coast Offense?
– How OL will adjust to the ZBS?
-Do the Raiders need to sign another RB?
– Can Juron Criner show up consistently like he did in OTA's?
-Are the TEs we have on the squad good enough?
For more Raiders analysis from Tyler, follow him on Twitter @Raiderpedia