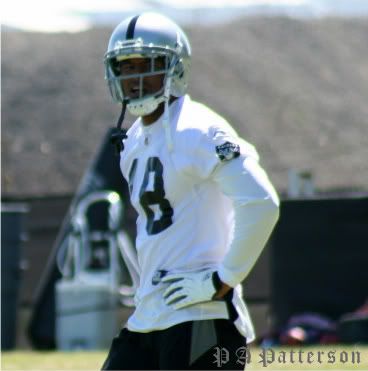 As camp rolls on there becomes fewer and fewer new things we learn about the squad the Raiders will field. We do, however, get more of a feel for who won't be making this team and who will make it great. As they say "the cream rises to to the top." And with each passing day, we see less and less surprises as to who performs well in practice and who continues to disappoint.
This weekend the Raiders were back to practice for the first time since their preseason opening win over the Dallas Cowboys on Thursday night. The Raiders came home at least partially happy because they came out ahead on the scoreboard, 17-9. The happiness came from the performance of the Raider defense. The offense was a completely different story though, as they were unable to score until late in the game when mostly 3rd team players were on the field for both teams. This weekend's practices were no different. In fact, what looked like progress on offense prior to the game, seems to have regressed since then.
I wish I could tell you it was because the Raider defense just continues to get better, but that would not tell the whole story. Sure, the defense does seem to be playing extremely good football, both in practice and in games, but the offense is struggling even without the defense on the field. And that is
cause for some alarm by Tom Cable
and Hue Jackson.
Saturday morning practice was canceled and the players spent the morning looking at film of Thursday's game. When they came out for afternoon practice, Rolando McClain was not with them. He had been excused due to what is reportedly a serious family illness. We wish he and his family well and hope for the best.
Even without McClain in the lineup, the first team defense looked strong and focused. A new attitude and some confidence seems to be the culprit. When they are in 7 on 7 drills there is no question the defensive squad is better. That doesn't mean the offense can't put things together before the season but for right now, they are way behind.
The first step in putting things together on offense is for the receivers to stop dropping catchable balls. It did not go well in that department on Saturday, and Sunday it looked even worse.
Saturday's practice started with good news as Gradkowski returned to practice from his groin injury along with Chaz Schilens from his myriad of nagging injuries. But that good feeling wore off pretty quick when the offense took the field and promptly had two of the first three passes fall incomplete. The first was an easy swing pass to new fullback Alex Daniels that he dropped and the second was a nicely placed pass the Nick Miller just let go right through his hands. After Boller had a really nice, in stride long pass connection to Todd Watkins(that was completely missing from the Cowboy game), Darrius Heyward-Bey gave up on a route that was nearly picked off by Nnamdi Asomugha.
Sunday brought much of the same. In fact, it was even worse. Not only were the receivers missing easy passes, but the punt returners couldn't field punts and Jason Campbell was throwing like he had been possessed by JaMarcus Russell.
It started with the punt return follies. Jonnie Lee Higgins dropped one, then Yamon Figurs, and then Nick Miller bobbled one before managing to bring it in. Jacoby Ford, who was back in the lineup after being out a week with injury, was the first of the four the actually field one cleanly. Things went smoother from there.
In the receiving game Schilens was one of the lone bright spots. He was back for his second practice. He was at about 3/4 speed Saturday and receivers coach Sanjay Lal would like to keep him there. At one point on Sunday Lal even told Schilens to slow down a bit. Can't be too careful.
The drops by the other receivers were plentiful while I am sure the Tums were running out in Cable's medicine cabinet. Murphy got it started when he dropped a long pass from Campbell. Then Ford dropped a long pass too. And this was against NO DEFENSE mind you– just running routes. This is about the time Russell Campbell started falling apart. He overthrew Rock Cartwright on two short passes in a row. Then Campbell threw one on target but Bush has it go right through his hands. At this point it is getting really ridiculous. I counted at least four other instances that Campbell either overthrew, threw too high, or threw behind his receiver. One of those high passes bounced off Higgins' hands and was intercepted by Hiram Eugene.
When Louis Murphy couldn't come down with a high but catchable ball from Gradkowski it seemed as if Hue Jackson might blow a fuse. I can't blame him either. This weekend's practices combined with Thursday's game has the offense looking probably worse than it has looked all camp. They clearly have a lot of work to do and for the most part it appears to be a mental thing.
I mentioned Schilens as one of few bright spots among the receivers(as he usually is). Well, Kyle Boller continues to be the most pleasant surprise in camp among the quarterbacks. Not to say that Campbell and Gradkowski have not played well at times. But Boller has been getting progressively better with each day. He had a great week last week and then showed it in the game on Thursday. He continues to plug away, making the hard throws and working with precision.
The team signed Colt Brennan last week to fill in for the injuries to Gradkowski and Frye but Cable apparently felt much more comfortable with Kyle Boller in the Dallas game and Brennan didn't see the field. Brennan will remain on the team with Frye not likely coming back anytime soon. But with the way Boller is playing, Brennan has little chance to unseat him as the team's 3rd string quarterback.
At the running back position it is Michael Bennett who continues to show he still has the speed and elusiveness of years past. He had over 100 yards total offense in the game last week and continued to look good in practice this weekend. He has the speed to take the edge as well as find seams in the line and shoot through them.
But despite the few bright spots in the offense, the defense ended practice the same way they began it. On four of the final five plays the defense dominated. First Lamarr Houston broke into the backfield to stop Bush for a loss, then Chris Cooper got through and chased Boller until he threw the ball away. The next play Chris Johnson read a Campbell pass intended for DHB and broke it up. The play looked just like the first play of the Dallas game and had the same result. Practice ended after Boller attempted a long pass into the endzone that Huff batted down.
Back to the drawing board.
ALSO SEE:
Cable: I think we can fix the offense quickly
Raiders young defensive line shines in win over Cowboys
Follow Levi on Twitter @LeviDamien or befriend him on Facebook