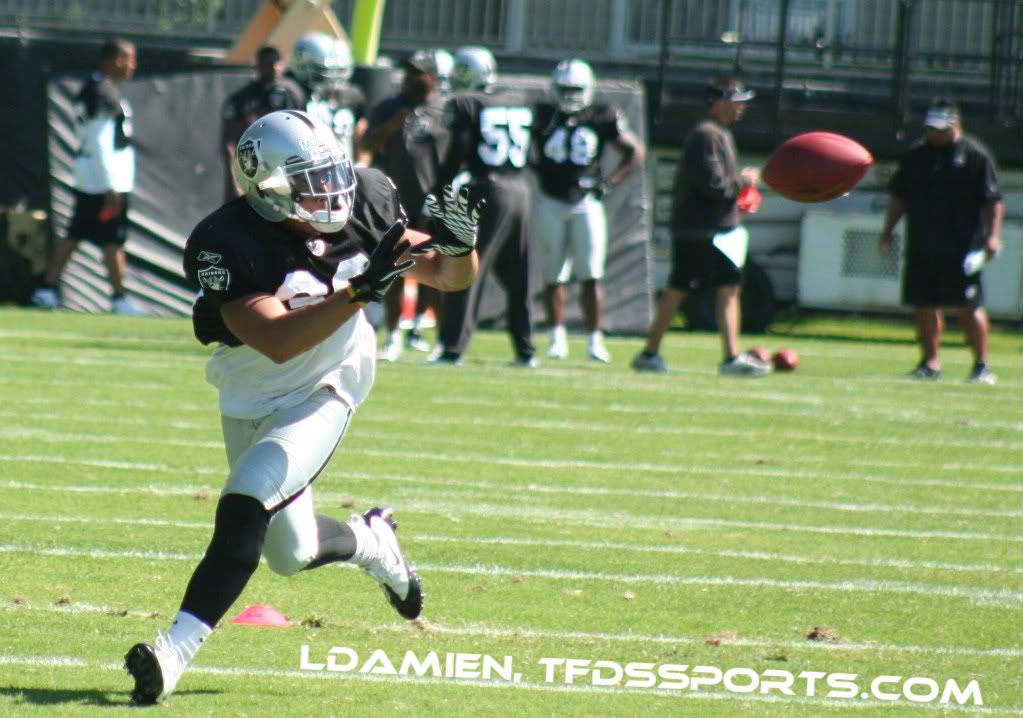 After a few days in which the offense looked to be getting the better of the defense in the passing game, the defensive backs pushed back today. Several corners and safeties looked good but rookie undrafted free agent Sterling Moore stood out especially. And he couldn't be happier about it.
All through camp he and rookie phenom Denarius Moore had a nice rivalry going. Up until yesterday's practice, Denarius was the only Moore worth mentioning. Unless of course you were mentioning who Denarius made catches on. Sterling had this to say about the rookie Moore rivalry:
"Yeah, we go at it every day. Sometimes we'll stay after practice and work on our own releases. So we've got a little thing going where it's a little rivalry. You know, he got the best of me yesterday and I got him in one on ones a couple days ago so we go back and forth."
But yesterday, after Denarius pulled a double move on Sterling and beat him for a deep touchdown catch, Sterling wasn't having it any more. He came back with a pass defended on Denarius and he didn't have another big catch on him.
Today it was Moore of the same. While Denarius continued to make eye-popping catches, Sterling was getting his. He had a couple passes defended and an interception on a ball that was behind him. He also didn't fall victim to any big catches — to Denarius or otherwise.
"I felt good, real good," said Sterling. "I mean, once you start understanding the defense, everything starts to slow down on the field so you can play a lot faster."
This is a dream come true for Sterling. He is a local product who went to Deer Valley High School and Laney College in Oakland before moving on to Southern Methodist University. The Raiders were his team growing up and he considers it a blessing to have an opportunity to play for his favorite team and be so close to home.
The other receiver — not named Moore — who is turning heads is rookie tight end David Ausberry. He continues to prove how savvy a receiver he can be. He is the best looking tight end in this year's camp.
The former USC wide receiver seems to be flourishing as a tight end. Ausberry was considered too big and therefore not quite fast enough as a wide out, but as a tight end, he is a mismatch. He is big and muscular so he can handle himself as a blocker and he has the speed and athleticism to beat most linebackers. He is certainly giving the Raider linebackers and safeties all they can handle.
Coming into camp, he was still a little light for a tight end at 245 and the coaches have asked him to add ten pounds. But according to him, he is already closer to 250 in just a week and a half.
"[At] SC I was about 232… When I was training for Pro Day I weighed in at 243 and ran really fast so I'm carrying it pretty well… They want me to try and put five or 10 more pounds, but if they ask me to put on a little bit more weight I think I can still carry it."
The other rookie tight end Richard Gordon has no trouble with weight. He is a solid 265 pounds and is showing some great hands. Initially he was thought of as having a better shot to make the team as a blocking tight end over Ausberry. But with the way Ausberry has been playing, it could be Gordon on the bubble.
Their main competition is Brandon Myers who has looked terrible catching the ball all camp. Myers' only shot to make the team would be due to his standout special teams play. The third tight end spot will come down to Myers or Gordon and what the team values most in the two.
Quick Outs
Samson Satele has been running with the first team at center. The "next great Raider center" Stefen Wisniewski has been running with the second team and a few times at left guard with the first team. I wouldn't read too much into it long term. Wisniewski is just not ready yet.
As Hue explained it, "It's respect… You have to earn your way up here. We're not just giving anybody anything. You're gonna earn it, and he's in there competing. He is doing a tremendous job – he did a great job before Sammy got here, and he's done a great job since Sammy's got here."
Trent Edwards is still getting used to the Raiders offense. That alone is expected but what one may not expect is that he would look about the same as Kyle Boller. Boller was not in rhythm and was making some ill advised throws. At one point he went right and then threw left across his body and Chris Johnson was waiting there to pick it off for a returned touchdown.
Overall the offensive line was unsettled. Most of the day the first team was LT Jared Veldheer, LG Daniel Loper, C Samson Satele, RG Cooper Carlisle, RT Khalif Barnes. Stephon Heyer had some time at right tackle as well as running at left tackle with the second team.
Injury update
Jason Campbell was out of practice today. After practice yesterday he had ice packs on his shoulder and hand and today Hue said he was "throwing a lot" and he was basically just giving him a rest.
Hue also said that Louis Murphy is "getting close" to coming back from his minor injury.
Undrafted rookie receiver Derrick Jones went down in practice yesterday and was carried off in a motorized cart. It looked bad at the time and it is. He has a torn ACL so that ends his camp. He will likely go on injured reserve and could get another shot next year. We'll see.
Darren McFadden's fractured orbital bone sounds terrible but is not a major fracture. According to Hue, he "looks handsome" which is what we had noticed after practice yesterday. He may have a broken eye bone but you wouldn't know it by looking at him. He may just be out only a couple weeks after all, which in preseason terms is three weeks.
Other injuries include Chimdi Chekwa (shoulder), Jacoby Ford (broken hand), Trevor Scott (ACL), Taiwan Jones (leg), Rolando McClain (unknown).
Follow me on Twitter @LeviDamien to keep up with my in-practice tweets. Or you can befriend me on Facebook.