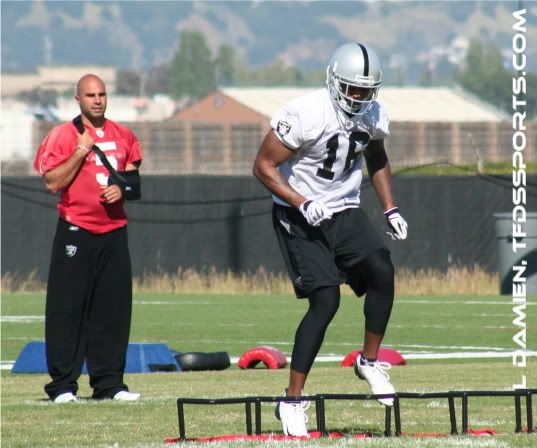 Bruce Gradkowski was back at practice again today. It is his fifth practice since returning from a groin injury that had him sidelined much of camp. The groin injury came not long after he had returned from a torn pectoral muscle that had him watching mini camps and OTA's with his arm in a sling. Prior to the torn pec, he missed the final three games of last season after going down with an injuries in both of his knees.
Needless to say, he has barely seen the practice field with his Raider teammates since early December of last year. There is a lot of rust that can build up during such a considerable amount of missed time.
Since Gradkowski had become injured last season, a lot of roster changes have occurred at the quarterback position. In fact, he is the only quarterback still on the Raiders practice field since that time. The Raiders dumped JaMarcus Russell, traded for Jason Campbell, signed free agent Kyle Boller, Charlie Frye suffered a serious wrist injury, and the team signed free agent Colt Brennan. That is a big change in landscape.
While all this goes on around him, Gradkowski falls farther and farther behind in his reps. All the while Jason Campbell has cemented himself as the new starter and Kyle Boller continues to prove his worth. Campbell becoming the starter may have happened regardless but now it looks as if Boller might give Gradkowski some seious competition to be Campbell's primary backup.
When Gradkowski came back from his torn pectoral muscle at the start of training camp, he seemed very confident that everything was on schedule.
"I don't think it put me behind at all," Gradkowski said. "It took a couple of days to get back out here and work with everyone again, getting your timing back and the little things for what camp is all about, working with everyone, getting your timing back. But I feel good. Mentally, I'm there. I know everything I need to know and gotta keep working on it. You can never know too much so I feel right in place and getting ready to start the season."
Less than a week later, he was out with the groin injury.
It remains to be seen if he still feels that way after missing more practice time as well as the preseason opener last Thursday. But if I had to hazard a guess I would say he is not feeling as confident this go round.
In practice today, both Boller and Gradkowski were taking snaps with the second team offense. And while Boller looked very sharp, Gradkowski looked anything but. I could only count one nice completion from Gradkowski while he had an interception and several off target incompletions and passes batted down by defenders. After practice, Tom Cable tried to put to rest any ideas that he was concerned with Gradkowski's progress.
"Well, first of all, like I said the other day, Bruce isn't back all the way yet," Said Cable. "We're bringing him back. That's really more the issue than anything."
So obviously, and rightfully so, Gradkowski will be given the benefit of the doubt for now. But that benefit will grow thinner with each passing day if he doesn't regain his accuracy and confidence pretty soon.
Boller is playing well and looks to have earned a spot on this team. If Brennan begins playing well, it is conceivable that Gradkowski could end up a surprise cut come September. It may seem like a far fetched idea that Gradkowski could go from possible starter to the waiver wire but stranger things have happened. It really comes down to whether the Raiders think he can stay healthy consistently. If they see more upside in Brennan as the third quarterback, there could be a very difficult decision to be made. Gradkowski absolutely cannot afford to get injured again. So long as he remains healthy, he should be fine.
That thing got a hammy?
Speaking of oft injured former starters, Darren McFadden is still not practicing after he strained his hamstring in practice last week. He was running agility and speed drills with trainers today at practice. He also jogged a couple of laps around the practice field just for good measure. His injury kept him out of the preseason opener and he is all but officially ruled out of Saturday's game in Chicago. In fact, from the sounds of it, he may not play again this preseason. McFadden admits that he is still not able to perform at full speed and there is no timetable as to when he will be 100% again.
"At this point it's something I just need to take care of just so I don't have to deal with it all season so I'd rather get it healthy now and then it won't bother me all season." McFadden said.
Tom Cable echoed that statement;
"We've all seen what [McFadden] is capable of when he's healthy. So we want to make sure we don't rush it, and bring him back when he's ready to go again."
Translation: He won't be back anytime soon. And with the way Cable has been extra careful with even the slightest tightness and soreness this camp, that should come as no surprise to anyone.
On a side note, I sure hope we haven't "seen what [McFadden] is capable of." That would be some serious bad news considering he has had just one game in two seasons in which he rushed for over 100 yards. And if Cable is trying to say that McFadden has been healthy for all of one game in his career, that isn't good news either.
William Joseph doesn't like pancakes
There was a pretty big fight in practice today when Samson Satele pancaked William Joseph in non-contact drills. Joseph was pretty angry and they rolled around scrapping for a couple minutes while teammates attempted to separate the two very large men.
I imagine both have plenty to be angry about. Joseph is fighting to stay on the team, a fight he will likely lose. And Satele is fighting to retain his starting position as the Raiders center. Satele doesn't really have any immediate threats to take his job but as Rod Tidwell said in Jerry MaGwire he is "hanging on by a very thin thread" and coaches and fans definitely do not "dig that" about him. He needs to step it up or rookie Jared Veldheer may take his job a bit sooner than anyone anticipated. A few of those pancakes during games would certainly help Satele's cause.
Disabled veterans
Both Charlie Frye and Jay Richardson underwent surgical procedures today and will be out an indefinite amount of time. Tom Cable had this to say on the matter:
"An update on Charlie Frye, there's an issue with the wrist. I don't know the medical terms of it. He's having a procedure tomorrow. We'll know more after that. Jay Richardson saw the specialist. He had his knee scoped today. Not sure [about Richardson] until we get a chance to talk to the doctor after the procedure and all that. So we'll know, again, something tomorrow."
Charlie Frye is all but done on the Raiders with the emergence of Kyle Boller and the acquisition of Colt Brennan. Richardson's injury will open the door for other guys to take their shot at making this team and possibly taking reps from him. The two guys that would benefit from Richardson's absense are Chris Cooper and Greyson Gunheim.
Schilens didn't practice again and is questionable for Saturday's game in Chicago. Darrius Heyward-Bey tweaked his hamstring in practice yesterday and didn't practice today. Cable says he was simply resting DHB and that he will be back to work tomorrow. This could be something to monitor as it pertains to him retaining his unearned starting job again on Saturday. Although, most viewers probably wondered if he was even on the field last week anyway. But let me assure you, he was. He was the guy that Jason Campbell forced the first pass to that was nearly intercepted by Terrence Newman. After that, he didn't see another pass. And with his lack of effort in practice lately, perhaps a bit more "rest" is just what he needs.
Follow Levi on Twitter @LeviDamien or befriend him on Facebook