The Raiders shuffle off to Buffalo for a meeting with the Bills on Sunday. The Bills played a tremendous game last week in beating the Chiefs. The Raiders also won their season opener though not in the same lopsided fashion. But based on what we saw from these two teams last week, here is a list of a few Raiders and how they should perform in fantasy football this week.
Must start:
Darren McFadden
There is only one running back in all of football who is more of a must start this week than McFadden and that's Adrian Peterson. McFadden broke off huge chunks of yardage against the Broncos and their 2010 31st ranked run defense. He had two runs of 20 yards and a 47 yard run to finish with 150 yards. He is currently the NFL's leading rusher. Now he will meet up with the 2010 32nd ranked run defense in the Bills. Granted the Bills have an improved run defense with the addition of highly touted rookie Marcell Dareus. But the Raiders will still give them a heavy dose of Run DMC. He was suffering from a sore shoulder after last week's game but that will not get in his way and I suspect neither will the Buffalo Bills.
Sebastian Janikowski
If you got him, start him, especially if you are in a league that awards more points for longer field goals. His confidence is at an all-time high after he tied the NFL record for the longest field goal (63) last week. The coaches' confidence in him is also sky high, which means Hue Jackson will not hesitate to send him out there to kick a field goal if the Raiders are inside the Bills' 45 yard line. This game should also have a few field goals in it just as last week.
Could make some noise:
Kevin Boss
He is back from an injury that kept him out the latter part of the preseason and the opening game of the season. He may be just back but he looks to be playing in this game and that means he will instantly be Jason Campbell's favorite target. Campbell loves the tight end. With the Raiders' gameplan looking to be similar to that of last week's, we should see a lot of short passes to running backs and tight ends. Boss is a bit of a risk since he is listed as questionable this week, so if you feel you have a more solid option, go with that other guy.
Not a bad option:
Jason Campbell
This is a risky start because as I mentioned the Raiders will be running the ball a lot in this game. However, they ran the ball a lot last week, and despite Campbell only racking up 108 yards passing, he also had two touchdowns and no interceptions. Depending on how your league scores, he topped Darren McFadden for points. In this weeks' game, Campbell will probably have more passing yards while perhaps not as many touchdowns. Having Kevin Boss at his disposal will help his numbers, too.
Sit 'em:
All Raider wide receivers
The Raider receivers were an afterthought in the opening game against the Broncos and you can expect that to be the case again. For instance, the Raiders' leading receiver was Darrius Heyward-Bey with 44 yards. That is four points in leagues not scoring on receptions. Sure, the Raiders will surprise the Bills a couple of times by going to a receiver but we don't know who the surprise passes will go to, and it will likely not be enough to make them worthy of a start.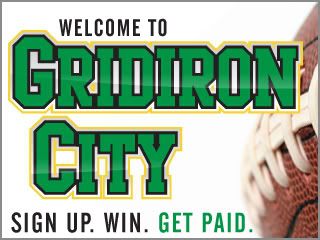 Do you think you can predict the best players each week? Head over to www.sportsfantology.com and prove it. For a $5 entry fee, you could win up to $300 each week for picking the group who scores the most fantasy points in that week. The game this week couldn't be easier. Just pick six quarterbacks and three team defenses. There are cash prizes for the top three each week. Good luck!
Follow me on Twitter @LeviDamien or befriend me on Facebook.