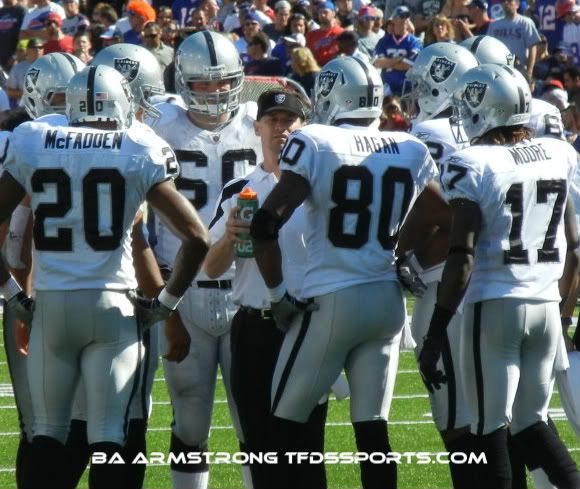 The undefeated New York Jets will travel to Oakland this weekend to battle the reeling Oakland Raiders in a contest that could have playoff implications for both squads. The O.co will be stacked with people from floor to ceiling as the Raiders have sold out the stadium this weekend. Nobody is going to believe the Raiders have an opportunity to get a win this weekend until they go out there and actually do it. The biggest factor in the outcome of this game will be the Raiders passing offense against Darrell Revis and Antonio Cromartie, and the Jets passing defense.
In some ways the Raiders and Jets are a lot alike. Hue Jackson and Rex Ryan have a very similar philosophy: hit somebody hard in the mouth, but throw in some pizazz and sizzle to confuse the opponent. But Jackson gets his real release from watching his team score points, while Ryan gets his kicks out of watching his defense stop teams from scoring, making this a very intriguing game to watch.
Thus far, Raider quarterback Jason Campbell has not faced a cornerback tandem as talented as the Jets will serve up Sunday. Revis and Cromartie are two of the best man-to-man cover cornerbacks in the NFL. It wasn't long ago that people were saying that if Nnamdi Asomugha had ended up with the Jets, Cromartie may have donned the Silver and Black this season. Revis is said by many to be better than Asomugha, whom Campbell faced daily in practice last season, and Cromartie is probably in the top five in the league, if not a solid third.
When asked if he would shy away from Revis Island this weekend, Head Coach Hue Jackson said, "I respect him, I think he is a tremendous football player, but that's the challenge of pro football, you got to go play. We're not going to all of a sudden go away from him… I mean they got a good player on the other side, too. We respect Revis, but we got to go play. We think we have some good players too."
The Raiders do have a more substantial wide receiver group than they have had in the past. This position was one of the deepest they had in training camp and that depth came to light during the final roster cuts when they decided to keep seven receivers.
"We got a legit five to six guys in our receiving corps, and as a quarterback you don't just drop back and say, 'Oh I need to try to get the ball to this guy,'" said second-year Raiders quarterback Jason Campbell. "You pretty much just drop back and read the coverage–because [you should] understand that I trust every last one of those guys to be where they are supposed to be and make a play on the ball."
Although the Raiders could still potentially be without Darrius Heyward-Bey, Louis Murphy, and Jacoby Ford this weekend, the rookie fifth round pick, Denarius Moore, has proven to be the reason why the Raiders are still thinking six points through the air on every play out there. If there is a rookie in the NFL that can make Revis earn his paycheck, you have to believe it is this young man.
But passing to the rookie isn't the only way for the Raiders to get their air show going this weekend. Running backs Darren McFadden and Michael Bush can also chip in and do their part by not only catching balls out of the backfield, but also by running effectively and keeping the Jets' patented blitz packages off their quarterback in pass protection.
"They're a defense that always gives you different looks," Campbell told the media Wednesday. "Like every two or three plays it's a different look. We just have to play within ourselves and everyone has to know what they have to do and be on top of it."
In addition to Bush and DMC, the Raiders have a third viable threat out of the backfield in fullback Marcel Reece. Reece presents a match-up nightmare for every team in the league, including the Jets and other great defensive teams. Reece can end up with the ball up the field for 60 yards and a touchdown just as quickly as any receiver or running back on this team if left unaccounted for.
The Raiders definitely need their passing game to be as efficient as they were on Sunday in Buffalo if they want a chance to win this game. If it is not, they may find themselves being the team that is down 21-3 at the break, and you can bet the Jets are not going to lift their foot off the throat of their opponent in the second half as the Raiders did.
"Guys understand the fact that it's the Jets coming in here," Campbell continued. "It's an AFC game, we're coming off a loss, and you got a sour taste in your mouth. Guys want to do everything they can to get rid of that."
And get rid of that they must. One thing they don't want is to have Jets quarterback Mark Sanchez eating hotdogs on the sidelines during this game like he was during his last trip to Oakland. That would leave a good taste in the mouth of their opponents.
"Hopefully we can make it more interesting for him so he doesn't have to eat hotdogs," said Coach Jackson. "Hopefully we can take the mustard, the ketchup, and the relish, and put it away."
———————–
This game may be a sell out, but we still have tickets available at Dark Side Tickets. Just make us an offer. Seriously, we have several tickets available and all you need do is tell us what you want to pay. We give you five different zones in O.co stadium to choose seats, you pick a zone and make a bid. Simple as that.
For instance, for this game we have one-star, upper-level seats behind the Raiders bench. Those tickets list for $56; however, TiqIQ recommends offering $35 with NO FEES. If you want tickets and you only have a certain amount to spend on them, take a shot at it. Or if you know what tickets go for elsewhere, try this route first and you may just end up paying a lot less for your tickets. Just click the green IQ button below and check it out.
Or you can head over to Dark Side Tickets

and see what other deals we got going on.

Follow me on twitter @Raidersblogger