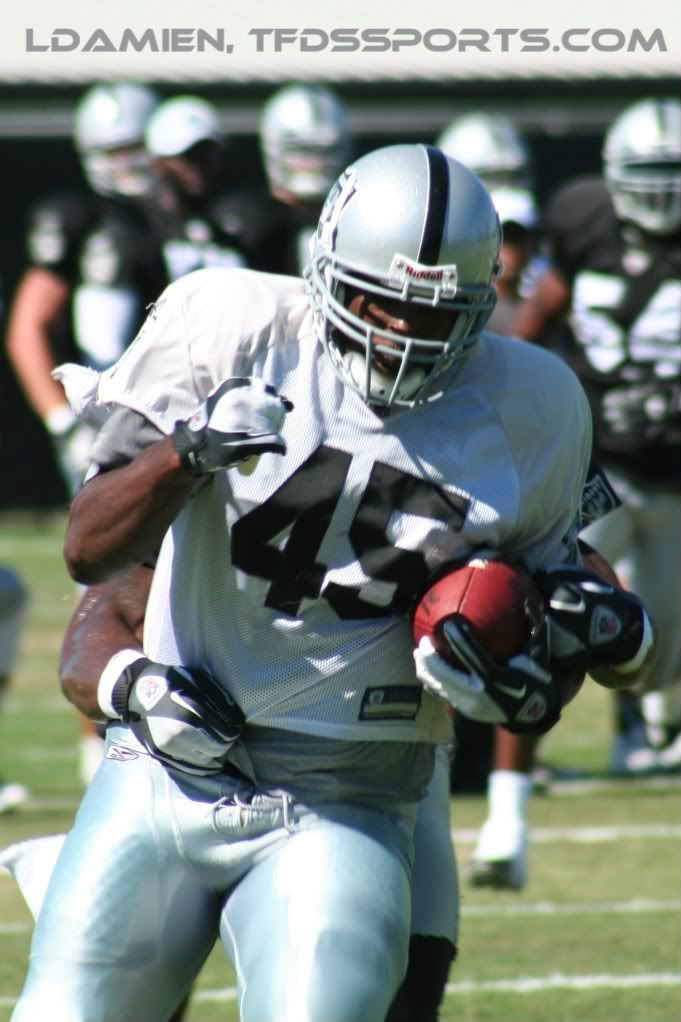 Last season, Raiders' fullback Marcel Reece was the team's best kept secret. The Raiders have been without him most of the 2011 season after he was sidelined with an ankle injury in week three versus the Jets. He returned to practice this week for the first time in a month.
Last season Reece broke out as a mismatch for opposing teams as an H back coming out of the backfield. He was too fast for most linebackers to keep up with and too big for most corners to handle.
As offensive coordinator at the time, Hue Jackson had a versatile toy to work with from the fullback position. He could keep Reece in as a blocker, have him as a relief valve on dump offs, use him on screens, and split him out wide as a receiver.
Reece has great speed for a fullback and great hands as well. These tools are not a new discovery though. He played wide receiver in college at Washington, and the Raiders initially signed him to play tight end. But as fast as he is, he wasn't fast enough to play NFL receiver. As big as he is, he isn't quite big enough to play tight end. It was only by necessity that the team tried him at fullback. And what a discovery that turned out to be.
He is virtually unguardable as a fullback. Typically you expect a fullback to block and catch the occasional dump pass and rumble for a few yards. But Reece catches and runs like a receiver. If a linebacker shadows him, he will outrun them. If a corner shadows him, it frees up a receiver to get open. This has created serious problems for opposing defensive coordinators to set a game plan.
His return will open up a lot of options for the Raiders. After the bye week they play the Broncos for the second time this season. They met up with the Broncos in the season opener on Monday night and Reece had three catches, one for a touchdown along with one rush for 11 yards. He also had several key blocks to help spring Darren McFadden to have a huge game. The Raiders won the game 23-20.
His return should go a long way to helping the Raiders give the Broncos all they can handle. And with the trick plays Hue Jackson and Al Saunders have designed into the game plan, he is an important piece.

Follow me on Twitter @LeviDamien or befriend me on Facebook.