It has been a tumultuous last two months for Raiders' starting middle linebacker Rolando McClain. It all started on December 1st of last year when he was arrested on several charges including assault and discharging a firearm in city limits while visiting his hometown of Decatur, Alabama. It hasn't gotten better for him since then.
In the week leading up to the Raiders' week 13 matchup with the Dolphins in early December, McClain was excused from practice to attend his grandfather's funeral. The plan was for him to skip the entire week of practice while in Alabama and meet up with the team when they arrived in Miami. On Wednesday of that week he was arrested after an alleged altercation with a childhood friend. The report stated that he punched the man, put a gun to his head and threatened to kill him before firing the weapon next to the man's head.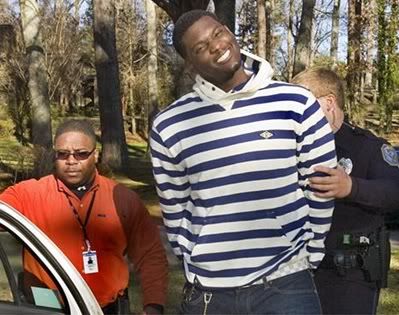 Immediately following his arrest, some unsavory pictures came out in which he was grinning like a fool while cuffed and being placed in a squad car. His mug shots also showed a very telling smirk that suggested that at very least he didn't grasp the gravity of the situation.
He then met up with the team in Miami as originally planned. Following the incident and amidst the allegations, Hue Jackson benched him… well, sort of. He would enter the game after a couple plays and was essentially the starter. If there was a lesson to be learned by McClain, it would not be learned on that day.
The Raiders would get blown out by the Dolphins due in large part to a defense that played with little semblance of discipline, individually in the case of McClain and as a team in part because of McClain. That loss started the Raiders on a downward spiral that saw them lose four of their final five games and miss out on the playoffs.
Immediately following his arrest, McClain waived arraignment and his lawyer entered a not guilty plea. Since then, his trial has been set for May 17. The charges are third-degree assault, menacing, reckless endangerment, and discharging a firearm in the city limits.
Surprisingly, all the charges are misdemeanors in the state of Alabama. He is extremely lucky in that regard especially when you consider Plaxico Burress received two years in prison for shooting himself in the leg in a New York nightclub.
McClain's attorney, Billy C. Burney II, has said the linebacker denies firing a gun and said he wasn't involved in the fight.
The alleged victim is one Christian Tapscott, a childhood friend of McClain's who filed a lawsuit on Wednesday with the Morgan County Circuit Court seeking unspecified punitive and compensatory damages from McClain and the other alleged attacker, Jadarious Willingham.
The suit claims Tapscott sustained broken bones, bruises, and lacerations, adding that McClain "smiled and laughed as he pointed a gun at Mr Tapscott and Mr Tapscott begged him not to kill him."
McClain now could surrender a sizable amount of his money for the incident whether in losing the suit or in settlement. This is, of course, on top of the sizable lawyer fees he will pay defending himself.
Additionally, depending on what comes to light in the criminal case, McClain could face suspensions handed down from NFL commissioner Roger Goodell. As we have seen in the past, suspensions handed down do not depend upon guilty verdicts. Goodell reviews the details of the case and if in his view McClain is guilty of wrong-doing and/or his actions shine a negative light on the NFL, he will be suspended.
Also consider that the charges being misdemeanors in Alabama is completely irrelevant in regards to how he is punished in accordance with the NFL. It is the National Football League not the Alabama Football League. Goodell will see to it that he picks up where Alabama law left off.
Outside of the destruction of his public image, thus far the most that has happened to the Raiders middle linebacker is being arrested and benched for two plays. He is facing a great deal more repercussions in the coming months. It will be up to him if this damage is temporary or permanent.
Follow me on Twitter @LeviDamien or befriend me on facebook.