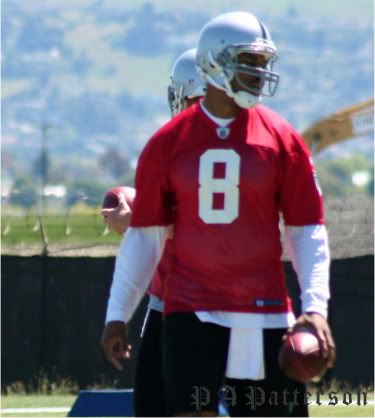 (P A Patterson/ TFDSsports.com)
Now that JaMarcus Russell has been given his walking papers the Oakland Raiders quarterback situation becomes that much clearer. There are still four quarterbacks on the roster, but only two of them have a realistic shot at winning the starting position.
The acquisition of Jason Campbell from the Washington Redskins during the draft was seen as the final death knell for Russell's disappointing tenure, and Campbell receiving a one year contract extension before his plane landed in Oakland would seem to give him the inside track to the starting job in 2010.
His chief competition for the starting job is Bruce Gradkowski who started four games for the Raiders in 2009 before succumbing to injury at halftime of the week 14 loss to Campbell's Redskins. He was by far the best quarterback on the Raiders' roster. He won the respect of his teammates and became a folk hero among the fans.
TFDSsports.com
---
Related Articles
Fighting it out for the third quarterback position will be last year's third quarterback Charlie Frye and recent acquisition Kyle Boller.
Charlie Frye was a late acquisition in the 2009 offseason who had signed a one year deal to have the chance to prove himself. His strong preseason netted him a roster spot out of camp. After Russell's benching and Gradkowski's injury, Frye started the last three games. Of those last three games he only finished one: A loss to the Cleveland Browns. In his four halves of playing he only had one touchdown against four interceptions and a 65.3 quarterback rating. His play was better than Russell, but he did nothing that would make him a lock for 2010. Over the offseason he was offered and accepted am original round tender.
Partner site:
---
Examiner.com
Kyle Boller was brought in as an unrestricted free agent from the St Louis Rams when Gradkowski suffered a torn pectoral muscle. Boller was originally a first round pick of the Ravens. He is a strong armed quarterback who never found his groove in Baltimore amassing a 70.6 QB rating.
Head Coach Tom Cable said clearly that the minicamp and OTAs had absolutely nothing to do with who was going to win the job, but conventional wisdom gives Campbell the inside track to the starting job. However, Gradkowski is going to give him a real dogfight come training camp.