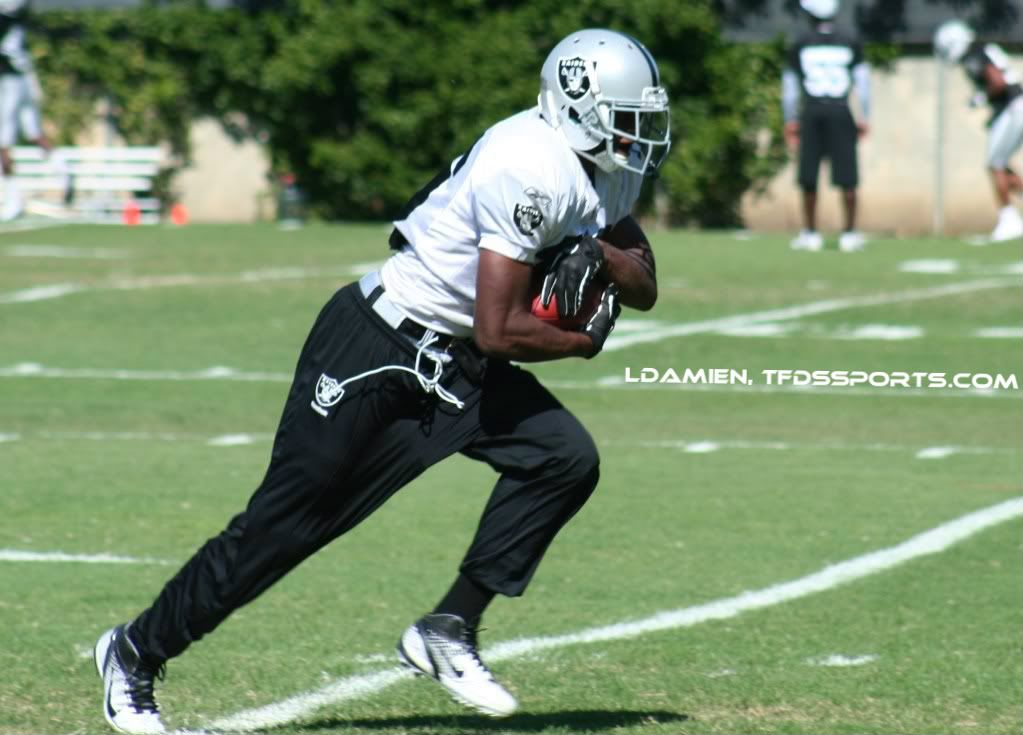 Raiders rookie running back Taiwan Jones came to the Raiders as a lightning quick star runner. He was an MVP and all conference performer at Eastern Washington and ran right into the hearts of Al Davis and the Raiders. But as a pro, he is learning to be a complete player for the first time in his life.
"This has been my first time really taking pride in special teams and playing a lot of different roles I'm not used to, but like I said before, whatever I can do to be out there," said Jones. "I thought my role here was a running back, but you know things change and they need you at certain places and you gotta be ready to take advantage of the opportunity they do give you to get on the field. And if I'm out there blocking, being a decoy, whatever it is, I'm willing to do it."
Jones has been a star at every level prior to the NFL.
At local Deer Valley High School, he was the Contra Costa Times Player of the Year and was named MVP of the Bay Valley Athletic League. He set his school's single season record with 19 touchdowns as a two-way starter. He rushed for 1,466 yards (9.3 yards per carry) and 13 touchdowns, and also scored three touchdowns receiving and two on punt returns.
As a junior at Eastern Washington, he had 2,345 all-purpose yards which was good for second-most in school history. He finished the 2010 season with 1,742 rushing yards and 14 touchdowns to help Eastern Washington win the National Championship season. His play helped earn Jones first team All-America honors as well as Big Sky Conference Co-Offensive Player of the Year.
For a guy who is used to being the star of his team, he is quite literally learning his new utility role on the fly.
The work he has put in became evident last Sunday when he laid a block to help spring Jacoby Ford on a kick return. Then, he showed his speed by catching up to Ford on the return, running alongside him for 60 yards, and laying the final block to release Ford to go the remaining 40 yards to the end zone.
The return helped Ford earn AFC Special Teams Player of the Week, but Taiwan deserves a great deal of credit for helping him earn that award.
"Whatever I can do to spring [Jacoby]," said a humble Taiwan. "I mean, he did a good job tightroping the sideline, so I thought if I can get that block I can spring him I'll do it."
The blocks were impressive enough, but what really impressed was his speed. We all knew he was fast. You can look at his tape from college and see that. Then his 4.28 40 yard dash time in workouts cemented it.
But we also know Jacoby Ford has world class speed. Ford had the fastest 40 time in the 2010 draft, posting the same 4.28 40 yard dash as Jones. And while Taiwan was not invited to the 2011 combine, his 40 time was clearly legitimate. And on a team of track stars, he fits right in.
"Every play I'm out there, I'm trying to prove my speed and what I can do… I definitely think that play showcased my speed and what I can do when I do turn it on… Being here with the Raiders there's so much talent here it's hard to put everybody on the field at the same time, so sometimes you gotta take unusual routes."
But even with his new utility role, Hue Jackson has a few plays set up to showcase his young speedster. On a team full of guys who can take the ball and break away for a big gain, Taiwan is the one guy who has yet to break open and really give the other team something to think about.
The Raiders have had Marcel Reece as their X-factor but he is injured. Taiwan will undoubtedly have his number called soon, but Hue is waiting for the right moment to do so. Taiwan knows it and some unlucky Raider opponent will soon know it too.
"I mean each week it could be out there, so we'll see," said Taiwan. "I'm hoping just like you."
Until then, we can look forward to more contributions like we saw from him last Sunday.
Follow me on Twitter @LeviDamien or befriend me on Facebook.