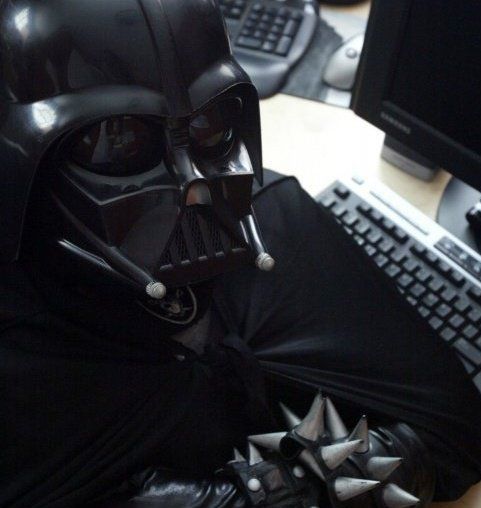 My second home was louder than roaring cannons, Sunday.
My voice was hoarse.
My skin was sweaty.
My armor, heavy.
My family, happy and for once. Optimistic.
It seemed like that Oakland magic was about to rear its pretty little head again. You all have seen it before.
After security took my lightsaber away, after I attended the Coliseum minutes late, after yards were given away like candy, all was about to be forgiven. Balance in the Force was about to be restored. Then, our linemen collapsed! GAME OVER!
Offense:
Yes, I can feel your hatred for Carson Palmer once again, Nation. I can feel your disgust for turnovers. I can sense your displeasure every time the man tries to force a pass, rather than take the sack or work harder at throwing the ball away. I am here to tell ALL of you average Joe fans, that's just not him!
He is notorious for taking shots when he has to. He is determined to make a play and will do whatever it takes to get the job done. If you do not believe that, simply look at his stat line: 39/61 for 414 yards with FOUR Touchdowns! Hell, we scored 32 points.
His arm is hurting today. The main reason he had to throw so damn much? Darren McFadden went down early in the 1st Quarter (shocking). It's hard to tell if he will return quickly.
What people do not understand is actually WHY CP3 throws the interceptions he does while with our team. The Lord of the Sith, Master of all Evil shall educate you:
Sometimes, sure, he simply gets carried away in trying to fit the ball into a tight seam. But what I have witnessed mostly is this; he's simply not getting enough time to throw the important conversions. In a nutshell, the linemen are just not getting the job done.
I have heard from Ex-players, announcers, fans and analysts across the county stating the same thing. If you run the tape slowly you'll find Willie Smith getting pushed back constantly. He was also responsible for getting a TD called back for a holding penalty. You will notice Cooper Carlisle missing blocks completely. Even powerful Jared Veldheer gets beat often. Mike Brisiel was the main reason Palmer threw that last INT. He looked as if he was playing in Roller Skates.
What the Hell happened to this squad? These guys were the main reason this offense was ranked 10th in the NFL last year. Now? They are getting pushed back all too often and can't seem to get the run game going.
The obvious reason is the new zone blocking implementation. But truth be told..isn't blocking simply about beating your man? Even despite the tactics?
Reggie McKenzie should be monitoring this group very closely. If not, he better do it quickly because HALF of the season is now in the books.
A pat on the back goes to DHB (74 yards, 1 TD) , Brandon Myers (2 TDs) and my main man, Marcel Reece, (95 yards, 1 TD) for having a phenomenal game. I shook his hand during a Warrior/Laker game, ya know? (Dark Side powers passed thru to him)
Defense:
The defense was the main reason they didn't get the job done, Sunday. The Stockton Menace, Doug Martin, hit all 3 Beast Mode, Power up, and Turbo buttons!
He ran through the Raider defense like a machete through tracing paper. Two hundred and fifty one yards given up by our D?! Holy Toledo!
Needless to say, It was NOT pretty. You simply have to respect special players like that once in a while. I thought he was the 2nd coming of Napoleon Kaufman. Others compare to Ray Rice.
Tyvon Branch had a decent game with 9 tackles and 2 assists but… yeah. Who is looking at anything positive from THIS squad's performance? They went from 11th to 21st in the NFL in stopping the run after this game. This disastrous day will be hard to forget. But we must.
Notes from NFL game summary:
The Raiders then got a defensive stop and took over at their 38 with 2:42 to play. But on second down, Palmer threw off-target looking for Rod Streater down the left sideline and Black came up with the second of Palmer's three interceptions.
"Mistakes like that you can't overcome and you can't make and me being the quarterback you can't do that," Palmer said. "I can't throw that ball. You just need to take a sack sometimes if things are off of the same page and come back the next play."
Martin then ran three straight times to score his fourth touchdown and put the game away.
Josh Freeman threw for 247 yards and two touchdowns as Tampa Bay scored at least 28 points for a franchise-record fourth straight game and reached .500 at the midpoint of Schiano's first season to match last season's win total.
"It's fun, man," receiver Vincent Jackson said, who scored Tampa's first touchdown. "We have a lot of different weapons. The coaches do a great job of just giving teams different looks, spreading the ball around. … It's fun to play in an offense like this that can be very explosive.
The Raiders, coming off two straight victories against one-win Jacksonville and Kansas City, had no answers for Martin and the Bucs, allowing the three long runs in the second half when Martin gained 220 of his yards.
"They were kind of backbreaking scores there late, long runs after long runs," defensive end Dave Tollefson said. "We just have to get some stuff cleaned up. I don't think they've burnt down the facility in Alameda yet. I'm not trying to make light of it. We've got another week, and the crazy thing is we're still in this thing, in the division."
Along with the loss, the Raiders had to deal with another injury to McFadden, who left in the second quarter because of his ankle. X-rays were negative but McFadden did not return and his status was unknown. He missed 19 games in his first four seasons with foot, toe, shoulder, knee and hamstring injuries.
But McFadden would have been no help trying to stop Martin, who broke James Wilder's franchise record of 219 yards in 1983 despite the absence of All Pro guard Carl Nicks, who was placed on injured reserve last week with a left toe injury.
Martin helped break open what had been a close game with his huge second half. He gave Tampa Bay the lead for good with a 45-yard TD run on the first possession of the second quarter and then added the two other long runs as he continually faked out the Raiders' front seven and outran their usually speedy secondary.
"He's turned into a heck of a player here these last two weeks," Bucs safety Ronde Barber said. "He's really jumped onto the scene, just the way he's handled the pressure that he's had to be the main guy here in our offense these past couple of weeks. It's impressive, man."
The Raiders scored in the final two minutes of the first half for the eighth straight game this season to take a 10-7 lead at the break on a 25-yard TD pass from Palmer to rookie Rod Streater.
To read the entire game summary, Click here:
Raider Nation, we are now half way through the Season. We have seen some bad things, we have seen some good.TRY to focus on the good in them! I know I will.
Baltimore is just days away and this teram can only win with belief. Everyone knows the Ravens have a good offense (11th in points) and decent D, even without crazy Ray Ray, polluting the field with his violent breath. Let's get it done!
Go Raiders! Today and beyond!
-Darth Raider